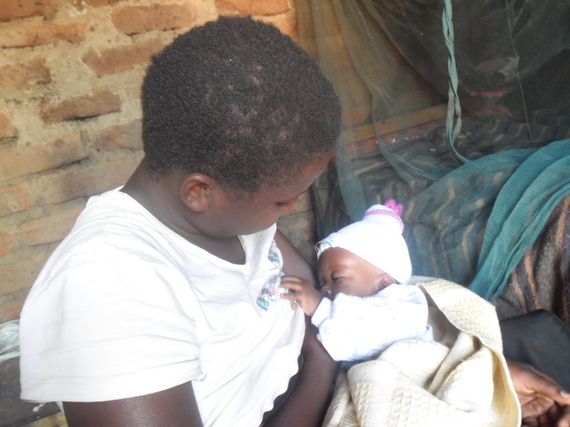 Kalekye breastfeeding baby Regina
As a mother of two children, Mary Johnson knows the challenges and risks of giving birth, especially in Kitui County, a rural farming region in southeast Kenya, where less than 30 percent of women give birth at a health facility and maternal mortality rates are high. She is deeply passionate about keeping her fellow mothers and their families alive and healthy, which is why this community health worker travels door-to-door by foot, seeking out pregnant mothers in her community, providing basic health information and educating them on the importance of antenatal care and delivering at a health facility with a skilled birth attendant. Mothers like Mary are among the best emissaries for promoting this lifesaving information.
It was during one of her home visits that Mary met Kalekye, a young woman who was several months pregnant with her first child. Like many women, Kalekye was hesitant to listen to Mary and the information she offered. Not only because the local health facilities and the services they provided had a reputation for poor quality of services and recordkeeping, but also because she was scared and in denial of her difficult situation.
"Kalekye was in denial of her pregnancy and ran away each time I brought up the topic. But I never gave up," Mary said. As part of her training under the APHIAplus KaMili project -- funded by the United States Agency for International Development (USAID) and led by Jhpiego -- Mary and her fellow community health workers were trained how to provide women with basic information about reproductive health, nutrition, maternal and postnatal care, as well as family planning and the importance of giving birth with a skilled attendant. The project also provides technical support to the health facilities to improve their record-keeping and quality of care so more women will choose to give birth there.
After several visits to Kalekye's home, the results of Mary's persistence paid off. "She agreed to attend her antenatal clinics as long as I accompanied her. She delivered in a hospital a few weeks later," recalls Mary, beaming.
This young mother of a healthy baby girl named Regina will not soon forget Mary's help.
"Mary is a life saver. If she had not intervened I would have delivered at home. I could not have had the courage to go to the hospital as I was too embarrassed to be pregnant at my age. After Mary talked to me, I was able to deliver in a hospital with a nurse, exclusively breastfeed my baby and ensure she gets all her immunizations. I am also on a family planning method as I do not want to get pregnant again," Kalekye proudly explains.
Inspired by Mary's patience and support, Kalekye is now paying it forward, serving as a peer mentor and advising other young women about family planning and the importance of receiving antenatal care and delivering at a health facility. With the dream of becoming a teacher, Kalekye cannot wait to share the information she's learned from the APHIAplus KaMili project.
"I do not want any girl my age to become pregnant due to lack of knowledge," Kalekye explains.
To date, the APHIAplus KaMili project has trained more than 1,900 community health workers in 38 community units across Kitui County. In addition, the number of women visiting the local health facilities for antenatal care and deliveries has increased dramatically.
On Mother's Day, a day when families recognize and give thanks for the love and support of their mothers, Jhpiego is also celebrating Mary, Kalekye and mothers around the world who understand the challenges their fellow mothers face and work tirelessly on their behalf to ensure they stay alive, healthy and able to care for their children.