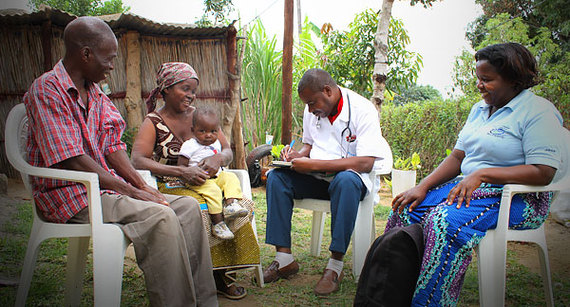 Guilhermina Marcos (right), a lay counselor in Mozambique, travels door-to-door bringing HIV testing and counseling services and health information to families where they live. Photo by Leilo Albano
This week, as we mark continued progress in reaching an AIDS-free generation, I want to introduce you to Guilhermina Marcos. She is among nearly 200 lay counselors, who go door-to- door, bringing HIV testing and counseling services to Mozambicans where they live. Guilhermina and her colleagues are on the front lines of an innovative and determined effort by the government of Mozambique to save lives and ensure HIV positive citizens receive the care and treatment they need to stay healthy and reduce the chance of transmitting the virus to a partner or child.
These lay counselors are doing extraordinary work, having reached more than 1.2 million Mozambicans. Their success exemplifies the 2014 World AIDS Day theme -- "Focus, Partner, Achieve: An AIDS-Free Generation." Mozambique focused its efforts on high prevalence HIV areas and, with funding from the U.S. Centers for Disease Control and Prevention and support from Jhpiego, engaged local organizations in a unique partnership to test and counsel residents in their homes no matter where they lived.
Through the dedication of these lay counselors, Mozambicans who tested positive for HIV or TB were linked to treatment and follow-up care. This accomplishment is particularly significant when you consider that Mozambique has one of the most serious shortages of health workers and less than 25 percent of Mozambique's 23 million people know their HIV status.
Counselors also screened residents for other health conditions, such as Tuberculosis, and referred 147,997 people to health facilities to receive further care. Guilhermina and so many others like her are making a real difference in the lives of millions of people around world. In honor of World AIDS Day, join Jhpiego in fighting for continued progress in realizing the goal of an AIDS-free generation.