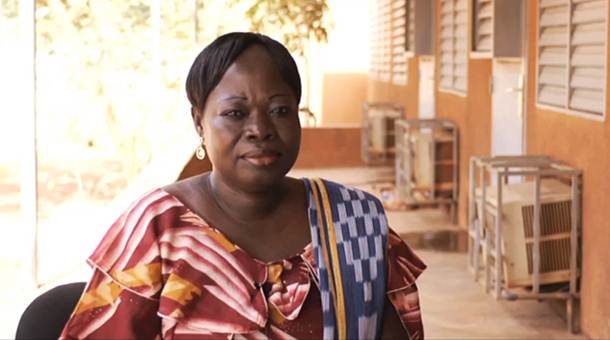 Today, World Cancer Day, I am remembering nurse Elyse Bila Ouedraogo. We met for the first time last winter while I was visiting the physician who has championed Jhpiego's single visit approach to screen and treat for cervical cancer at the Yalgado Ouedraogo Teaching Hospital in Burkina Faso. Madame Ouedraogo was at the hospital that day, not in her role as a clinical nursing instructor, but as a patient. Diagnosed with cervical cancer, she had just returned from Morocco where she had traveled for treatment because of the advanced stage of her disease. I was humbled by her strong spirit. The 48-year-old mother of three children was upbeat and smiling, confident she would recover.
Unfortunately, her story is not unlike many women in the developing world. Despite her training as a nurse, Madame Ouedraogo had never thought to be screened for cervical cancer. It was only after a fellow nurse insisted that she finally visited the hospital's cervical cancer prevention program. Madame Ouedraogo never expected the screening would be anything but routine. After her cancer diagnoses, she said she shared her experience with neighbors, family and colleagues, urging them to get screened. Madame Ouedraogo was thankful her friend had insisted she do so.
Over the holidays, while again in Burkina, I learned sadly that this brave woman had lost her battle with cancer. Madame Ouedraogo is among the estimated 270,000 women who die annually from this disease, many because they lack access to basic screenings that are routine in the developed world. According to the Union for International Cancer Control, if left unchecked, by 2030, as many as 430,000 women in the developing world will die per year from cervical cancer.
That's why, today, on World Cancer Day, I join with other leading global health professionals in raising awareness and dispelling the misconceptions surrounding this disease. With early screening, cervical cancer is 100 percent preventable and treatable. Jhpiego's low-cost screening approach that uses vinegar to highlight precancerous lesions on the patient's cervix and if found, offers patients' immediate treatment during the same visit is helping save lives every day. Please join me in honoring the memory of Elyse Bila Ouedraogo by visiting http://www.jhpiego.org to learn more about this silent killer of women.