What happens when you meet up with a new friend for coffee? If you asked the co-founders of The Everygirl, they might say -- well, their company.
When Syracuse University alum Alaina Kaczmarski sauntered into a Chicago Christmas party in December 2010, a mutual friend introduced her to the woman who would become her fellow co-founder of a lifestyle blog: California native Danielle Moss.
Though from different parts of the country, Kaczmarski and Moss connected instantly. They both blogged and wanted to start new careers. The duo met over coffee soon after to brainstorm new entrepreneurial ideas. That chapter became The Everygirl.
Last week The Everygirl team celebrated their first anniversary with about 300 readers at Chicago's West Elm in Lincoln Park with giveaways, champagne and bite-sized desserts on a snowy Thursday.
"We had 100 gift bags that were gone in the first five minutes of the event, and the room just kept filling," Kaczmarski, 27, said. "It was amazing considering the weather forecast that night."
The pair established The Everygirl LLC in August 2011, and the online women's publication went live the following February. Within a year, the small Chicago-based company grew into a fashion, lifestyle and advice blog for "Everygirls."
"Starting the site really didn't cost us as much as it could have," Moss, 30, said. "If we weren't both graphic designers, I don't think starting the site would have been possible."
According to Moss, the duo saved $5,000 to $10,000 by designing the online publication themselves and only paying for a programmer to code the site. They began The Everygirl on a budget of less than $8,000.
With nearly one million page views per month, the site has obtained not only a national, but also an international reach. Most readers perusing content are from Chicago or New York.
Moss and Kaczmarski owed the blog's popularity to social media.
"Everything is organic," Moss said. "We've never paid for advertising... when we do features, our subjects do a great job of spreading the word and tweeting our articles."
Word-of-mouth is usually considered the best form of advertising, and social media has taken this to the next level.
"Social media has definitely had the biggest impact," Kaczmarski said.
You could say it is the new 'word-of-mouth' -- people sharing stories on Twitter and liking our links on Facebook has helped grow and garner a loyal readership. Twitter is essentially free marketing for brands, if you know how to use it.
After four months The Everygirl had caught the attention of Forbes and was honored with coveted spots on such lists as "Top 10 Sites for Millennial Women" and "Top 100 Sites for Women." Most recently DailyTekk ranked The Everygirl in the "Women" sites section alongside Gwyneth Paltrow's Goop and Zooey Deschanel's HelloGiggles in the list of "100 Best, Most Interesting Blogs and Websites of 2013."
Kaczmarski and Moss said they aspire to give 20-somethings the same guidance and lifestyle advice they wish they'd been privy to at age 23. The publication's appeal to an "Everygirl" makes it unique.
"Most of our ideas come from (1) personal experience and (2) talking to friends," Kaczmarski said.
As the youngest of three children, Kaczmarski recognizes that standing out means lengthy hours spent perfecting a skill -- as well as pushing the limits to become extraordinary. In both Moss's and Kaczmarski's interactions with writers, interns and each other, they strive to hold ideas and content to a certain standard, Kaczmarski said.
"If an idea has potential but isn't there yet, I like to promote discussion and talk about how it can be perfect. How it can have 'The Everygirl' angle," Kaczmarski said. "I think anyone who is type-A can agree that's necessary to be successful and proud of your work."
Kaczmarski's motto: "Push the boundaries, push limits and inspire."
Twenty-two-year-old Caitlin Brown substantiated the virtue of this motto. Having been one of The Everygirl's first interns in 2012, Brown saw firsthand the type of work ethic that differentiates Kaczmarski and Moss from the others.
"Even when we're watching movies together, they're always working on something whether it be a blog post, graphics or copy for a new feature on The Everygirl," Brown said.
And this type of dedication and talent is what transforms a casual conversation over coffee into a Forbes-recognized company within a year.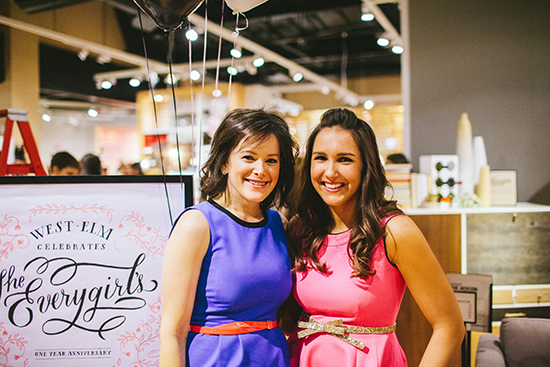 Photo credit: Stoffer Photography
Danielle Moss and Alaina Kaczmarski at The Everygirl's first anniversary celebration at West Elm in Lincoln Park.