Color, light and luscious painterly brushstrokes have long characterized the works of California artist Leslie Toms.
Born in 1951 and raised in the quiet suburbs of Sacramento, her interest in art began at a very early age. This passion progressed through college degrees, a graphic design career, commissions, awards and exhibitions to a full-time pursuit of painting. She studied with and was influenced by some of America's finest painters such as: Wolf Kahn, Joseph Raffael, Wayne Theibaud and Gregory Kondos, to name a few. In search of subject matter she often travels, working on location to complete studies which are later refined in the studio. Her work recalls influence from Impressionistic and Fauvist traditions as well as those of her native Northern California area. In Toms' ongoing pursuit as a colorist, her subjects become more symbolic than real. Her deft use of materials with these compositions compels the view the share that spirit.
"A Beach Day," oil on canvas, 11" x 14".
On this day I drove to Carmel, CA to paint and try to escape the stress of a three-year-long divorce. I love to paint outdoors with the sun in my face and the wind in my hair, and that day was no exception.
As a contemporary painter I focus primarily on color and composition. I don't look for the subject as much as the subject speaks to me. There was this young woman sitting alone on the beach looking out to sea with her life before her. She even looked much like my younger self.
She sat very still and I painted her quickly before she discovered me. Or before her orange umbrella toppled in the breeze.
"A Beach Day" is available through Nancy Dodds Gallery in Carmel, CA.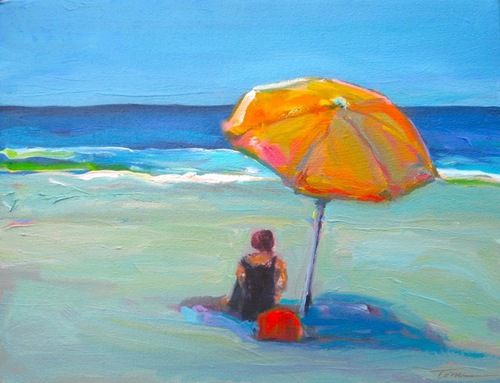 Are you 50 or older? Want to submit your own art or photography for consideration? Send us your work at 50arts@huffingtonpost.com. See here for more details.