This is Banned Books Week and though I've never had any of my twenty-five books banned, one of my books was sidelined in an insidious way that amounted to a ban. That's because it touched on a taboo subject. I'm the son of Holocaust survivors and I wrote a memoir about coming to terms with Germany, something I never expected to do, and something that disturbed a lot of people.
I grew up the son of Holocaust survivors and Germany always seemed to me the apotheosis of evil. I feared and loathed it as a child, adolescent and young adult. Letting go of those feelings prompted me to write My Germany, a combination of mystery, travelogue, and memoir. Weaving together my story with my parents' Holocaust stories, it charts my unusual journey from hatred to reconciliation.
I've been extremely fortunate to be invited to speak about it across the U.S. and Canada at Jewish book fairs, colleges and universities, libraries, churches and synagogues, the Library of Congress, and German cultural institutions. I've also done two exciting book tours in Germany, sponsored by the American Embassy in Berlin and the American Consulate in Frankfurt. And I've been interviewed by the German magazine Der Spiegel International.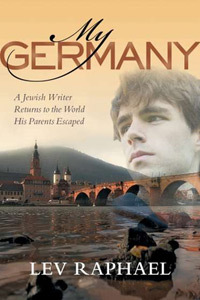 But American Jewish newspapers and magazines, even ones that I did book reviews for over the years, completely ignored the book. I'd been publishing fiction and essays about children of Holocaust survivors for thirty years and Deborah Dash More of the University of Michigan had called me "a leading figure in American-Jewish Literature." The book was published by the University of Wisconsin Press, highly respected for its Judaica and memoirs, which does tremendous publicity and marketing for its titles, so it definitely got out there. But the response from Jewish editors? Silence.
By contrast, the audience response at dozens of crowded readings was phenomenal and gratifying, and so was the fan mail, which came more heavily than for any other book of mine in years.
I didn't write the book to urge anyone to like Germany or visit it. My Germany describes how I emerged from my horror of Germany as an idea and then came to terms with it as a reality. But even that's apparently too much for many Jewish gatekeepers, who still seem to be suffering from collective PTSD over sixty years past the Holocaust. Or in the case of editors, they think their audiences are, and won't risk antagonizing them.
I won't apologize for having German friends and looking forward to my next trip there, whenever it is. Even my Holocaust survivor mother once wondered, in passing, if it might be not be a good idea for me to go to Germany. I wish she had lived longed enough to read the book and hear me talk about my trips there. That in itself would have been an amazing story to tell.
Lev Raphael's latest book is a novel of suspense: Assault With a Deadly Lie.