I'm not a rushed traveler. I don't need to check things off a list to say that I've "done" them or "done" a city.
I'm more what the French call a flâneur, someone who likes to wander and stroll and enjoy himself at leisure. I like museums in moderation, scenic views, churches with intriguing art, sidewalk cafes, good long meals with local wines.
Bruges this past month was perfect for the kind of trip I wanted and needed, and even if I hadn't been researching a book there, I would have spent my time the same way. It turned out I had scheduled my stay the week of Ascension Day when there's a historic, centuries-old parade mixing faith and fun in almost equal measure. I sat in the grandstands in the Markt, a colorful square that might remind you of the Grand-Place in Brussels, enjoying floats, juggling, singing, music, Renaissance costumes, trained horses, a carillon. It was very festive and started in different form many centuries ago.
It was also very crowded, as were certain parts of the city where you heard French, German, Spanish, Italian, and Japanese. Within a day or two I had charted on the map ways to avoid those sections of the city to get where I wanted to go. Luckily Bruges has an official guide with walking tours and plenty of inside information to get you to sites you might miss, like the eerie Jerusalem Church with its replica of the Holy Sepulcher and an altar dotted with skulls. One of the tours is titled "Silent Bruges," and it took me past a wonderful restaurant I ended up returning to a handful of times.
I had picked a well-located but very quiet B&B with only four rooms, a private garden facing a canal, and the establishment itself is on a short street with no through-traffic. I know it's ironic to want to avoid tourists when you are one, but that's part of contemporary travel, I guess.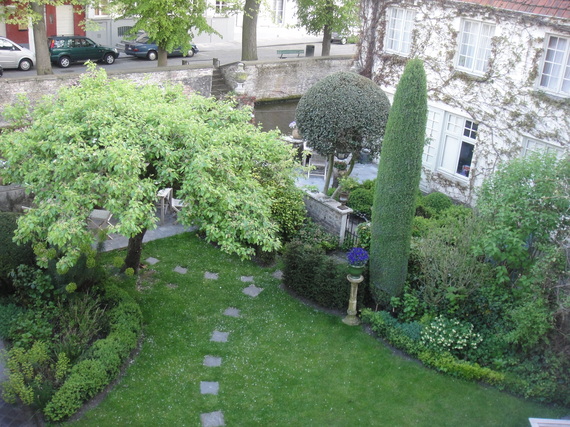 (garden and canal view from my bedroom)
So, I wandered, I took notes, I drank the excellent local beer Brugse Zot, I had languorous meals, I took hundreds of photos of fascinating views and buildings and shrines, but often I just sat wherever I was--inside or outside--savoring a city unique for its Medieval and Renaissance architecture, and for its air of stillness. If you're adventurous and have a good ear, I highly recommend studying some Dutch before you go (and learning the Flemish variants for basic conversation). People were charmed that I could greet them, order meals, and shop--becoming even friendlier than they were already.
I'd dreamed of going to Bruges for almost twenty years. It far surpassed my expectations.
Lev Raphael is the author of the travelogue/memoir My Germany and 24 other books which you can find on Amazon. He is currently studying Swedish.