We all know that writing is a solitary affair -- even when you talk to yourself and your spouse or your dog comes in and stares at you.
That's why it's so much fun for us authors to go to conferences. It's not just about meeting fans, though that's always a treat. It's about communing with our peers. It's about piercing the bubble of loneliness. But there's something even better than being on a panel or hanging out at a bar afterwards or going out to dinner: appearing with a fellow author at a bookstore event. Because that allows for a special kind of intimacy.
Last week I did an event in Ann Arbor with the supremely charming Hank Phillippi Ryan, celebrated TV reporter and thriller writer, at the mystery book store Aunt Agatha's. Hank had suggested we interview each other, and as a former radio talk show host, I grabbed the first question. I couldn't resist asking something lighthearted: who should play her in the movie version of her life story? She opted for Katherine Hepburn, a natural choice for someone so classy. I wanted Michael Fassbender for his long lean looks and flawless diction.
We moved on to more serious topics, talking about childhood library-going, our love of books, how our families encouraged our appreciation of art and literature, even though she grew up in rural Indiana and I grew up in the heart of New York City. Our conversation ranged widely, covering her new book Truth Be Told and my new book Assault With a Deadly Lie, our favorite authors, our inspiration, her work as a reporter, my current work as guest professor at Michigan State University and the writing life.
We flowed in and out of each other's sentences and stories, riffing freely and companionably. If you didn't know us, you might have thought we were already friends, though we'd never met. Or that we'd had a glass or two of wine beforehand -- that's how animated and relaxed we were.
We were kindred spirits. We loved what we did. We loved being there together in a wonderful independent bookstore. And we were having so much fun with each other and regaling our audience with stories about doing what we love that we could have gone on much longer.
The audience didn't know that I had come there after a car accident. A few days before, I'd skidded off a rainy highway into a median and suffered a concussion. I was still feeling the effects and hadn't been able to drive myself down to Ann Arbor (in fact, I felt mildly panicky just being on a highway so soon after the accident: PTSD). But for the hour and half that I was in her company, it was as if my fog and my fear had completely lifted.
That's what the fellowship of a wonderful writer can do for you. I felt calm, happy and as glad to be a writer as I typically am. Because whatever career slings and arrows may come my way (and sometimes I feel like St. Sebastian), I've wanted to be a writer since I was in second grade. And I am living my dream.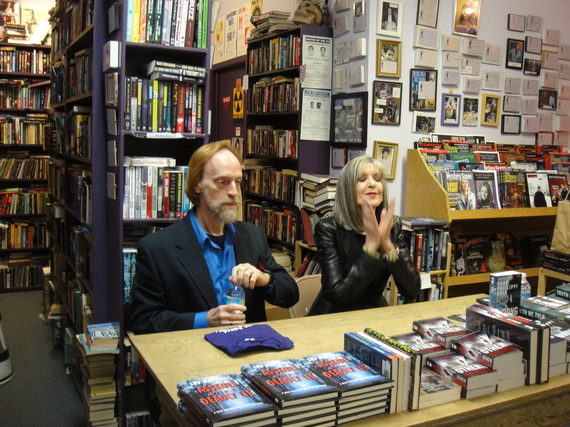 Lev Raphael's 25th book is the novel of suspense Assault With a Deadly Lie.