In a statement released by his attorney, Justice Antonin Scalia, a scathing opponent of today's 5-4 decision in favor of marriage equality, has announced that he and his wife are appealing to the Vatican for an annulment. Grounds for the annulment were not stated.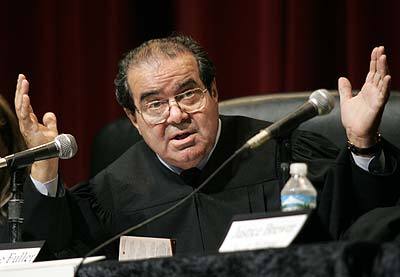 "Though I and Maureen have been married for fifty-five years, even such a marriage as ours can not withstand the Barbarians at the Gate. Democracy is threatened by this judicial Putsch, Civilization is at stake, and yes, as has often been argued--and it's not applesauce!--traditional marriage is crumbling at our feet. My feet especially, given that I did my level best to stamp out so-called marriage equality at every turn. Homosexual sodomy was criminal in every state for 200 years and now this criminal act is enshrined in the sacred marriage bed? What kind of balderdash is that? My lady wife and I can no longer live together under such circumstances."
His eight children could not be reached for comment. His wife is reportedly entering a convent in the D.C. area.
Clarence Thomas, who frequently aligns with Scalia on the Court, is also rumored to be on the verge of a similar breakup of his marriage because of the victory of marriage equality. His whereabouts are currently unknown.
Lev Raphael is the author of 25 books, which you can find on Amazon.