Each year The Corps Network honors Service and Conservation Corps whose accomplishments and projects exemplify the positive role that Corps serve for individuals and communities nationwide.
As a member organization, we proudly represent over 150 organizations that in combination operate in all 50 states and the District of Columbia. Over 30,000 young men and women join these organizations each year so that they can make a difference and gain valuable educational credentials, workforce development, and civic leadership training. They work on a broad range of projects, viewing themselves as the modern legacy-bearers of the legendary Civilian Conservation Corps (CCC).
For those who are not aware of the history, The CCC was a one of several renowned jobs programs created by President Roosevelt during the Great Depression to help rebuild America's infrastructure and economy. It put young American men to work on America's public lands to improve the environment as well as build trails, bridges, visitor facilities, and monuments. Many CCC sites persist to this day as treasured resources. The Corps also provided Corpsmembers and their families with vital wages. The program ended with America's entrance into World War II, when most Corpsmembers entered the U.S. military. Today that mission is relevant again. Service and Conservation Corps have returned to prominence and strength nationwide, given a modern set of challenges and an economic recession that has sent youth unemployment levels soaring to heights of nearly 20 percent. Corps help to address these challenges while providing valuable experiences for young people to serve their communities and improve their lives. The work is broad.
For instance, while Corpsmembers often do trail work on public lands, others help mentor students in schools. Some help provide disaster relief when their communities are in need of assistance. Many do a combination of these activities, as well as others including projects such as cultivating public gardens, planting trees, recycling, retrofitting homes to make them more energy efficient, offering alternative educational opportunities, helping community residents to understand their health care options, restoring wetlands, putting solar panels on houses and buildings, removing invasive plants, building playgrounds, constructing green buildings, sustainable farming, road work, and firefighting.
Unquestionably, all of our Corps have fascinating stories to tell about how they've improved communities, parks, and greenspaces. We ask our members to nominate projects for the Projects of the Year award. Winners are selected by members of our Board of Directors and then honored at our annual National Conference. It took place this year from February 12-15 in Washington, D.C.
In 2012 we are honoring six Projects of the Year. We invite you to read about them and join us in honoring the winners and their dedication to improving our country.
Paddle the Los Angeles River
LA Conservation Corps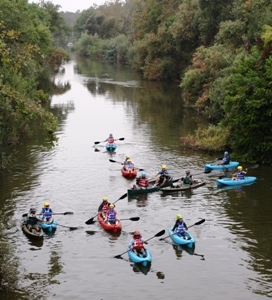 The LA River is an important ecological, economic, and social concern of agencies and entities at federal, state, regional and local levels. Last year, the City of Los Angeles passed a motion requesting a report to investigate the feasibility of a pilot project for non-motorized boating on the Los Angeles River. The LA Conservation Corps (LA Corps), working with a variety of governmental entities and interest groups at all levels, developed a proposal for boating on the River within the Sepulveda Basin. The project, entitled Paddle the LA River, focused on safety, access, and environmental education. The U.S Army Corps of Engineers (USACE) issued a license to the LA Corps, which allowed ten weekends (Friday, Saturday and Sunday) of river access: from July 22 to September 25, 2011. The innovative pilot program represented the first time such an endeavor had ever been accomplished legally on the LA River. Continue Reading
Recycling Black Locust for a Win-Win
SEEDS Youth Conservation Corps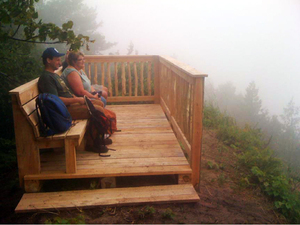 In Michigan lumber for projects often comes from the West Coast, draining valuable financial resources from the state economy and requiring heavy product to be shipped across vast distances, which is a complete loser in terms of emissions and embodied energy. SEEDS generally desires to build things out of resources that are readily available. A perfect storm of opportunity was created when SEEDS learned of the possibility of using black locust lumber. Continue Reading
Desert Tortoise Monitoring
Nevada Conservation Corps / Great Basin Institute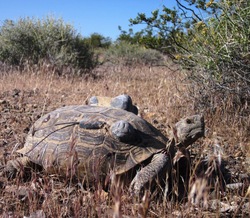 In response to the federal listing of desert tortoises (Mojave population) as a threatened species, the US Fish and Wildlife Service (FWS) instituted a Desert Tortoise Range-Wide Monitoring Program to track the population density of tortoises throughout their range. In 2011, the Great Basin Institute (GBI) coordinated with the FWS to implement line distance sampling to monitor desert tortoise populations in the eastern Mojave Desert of southern Nevada, northwest Arizona, and southwest Utah. By collaborating with GBI and the Nevada Conservation Corps, the FWS is implementing their study at a cost savings of approximately three times less than utilizing private consulting firms while also simultaneously training the next generation of field biologists. Continue Reading
Military Posts to Parks Program
Mile High Youth Corps
The "Post to Parks Program" was a unique collaboration between a local youth conservation corps (Mile High Youth Corps - Colorado Springs), a local military installation (Fort Lewis Army Base) and a National Park (Florissant Fossil Beds National Monument). Conducted during the Summer of Service Program 2011, in Colorado Springs, Colorado, it served a relatively small number of young people (26) with the potential to serve hundreds more. "Post to Parks" engages Corpsmembers and potential future Corpsmembers for their own benefit and that of our National Parks. Continue Reading
San Diego Fire Fuel Reduction Program
Urban Corps of San Diego County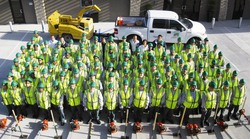 In San Diego, wildfires pose a constant threat. In the spring of 2011, Urban Corps of San Diego County's "Fire Fuel Reduction" program, or FFR, helped clear a path to a better future for more than 300 Corpsmembers. They received paid on-the-job training in the area of fire fuel reduction, while helping create 250 acres of fire defensible space in San Diego County. Continue Reading
Miami Crime Mitigation Program
Greater Miami Service Corps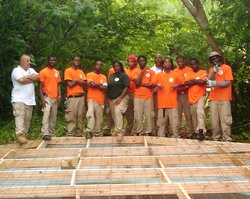 Traditionally, the boarding up of foreclosed and abandoned properties is completed by the banks or private companies. These entities charge exorbitant service fees which are sometimes transferred to the homeowner. To address this problem and to also mitigate crime associated with these kinds of properties (including theft and vandalism), the Greater Miami Service Corps initiated a new project to provide a cost effective, quality service that includes boarding up homes and cleaning the exterior of each property. The value of the support to the Miami-Dade Department of Permitting, Environment and Regulatory Affairs through Code Enforcement and the Miami-Dade Police Department is approximated at over $500,000 dollars. Continue Reading