Want a holiday entertainment but loathing the thought of sugar plum fairies? Tired of standard holiday fare in theater and in the concert hall? Consider catching JUNK- that's choreographer Brian Sanders' acrobatic dance troupe JUNK, currently unwrapping their leaded tinsel show 1.1 Holiday Revue Special is a mini JUNK retrospective with Sanders re-gifting some of his best dances from his days at Momix and Fringe Festival shows.

The chameleon troupe -- Theodore Fatcher, Peter Jones, Julia Higdon, Kelly Trevlyn and the transcendent aerialist Tommy Schimmel -- take the industrially JUNK studio stage in the cavernous Shiloh Church ala Shindig romping around in pjs and nightcaps to bouncy 60s' variety show music. The funsies begin right away, with gift boxes becoming apparatus to vault of off or throw around.
Many of the vignettes are set to martini lounge music the perfect antidote to all of holiday sugar overload. In one segment Higdon is snarkily serving holiday drinks (from Sanders breakout Fringe hit Patio Plastico) to her guests and flies into pirouettes with her tray whirling over her head.
The troupe marches in with crackling plastic soda bottles for dance slipper, that make them sound like a Busby Berkeley cast of hundreds tap line with a pretty squishy time step. Schimmel revives one of Sanders' most famous pieces as the swimmer. This precision dance is from a breaststroke variation of geometric lines and sinewy muscle. And swaggering backstroke and some testosterone poses in between, would get Olympic 10s. Also very sporty, Higdon and Trevlyn, in plaid mini-shirts do some sarcastic highland stepping and mock their own cheeriness with cheekiness.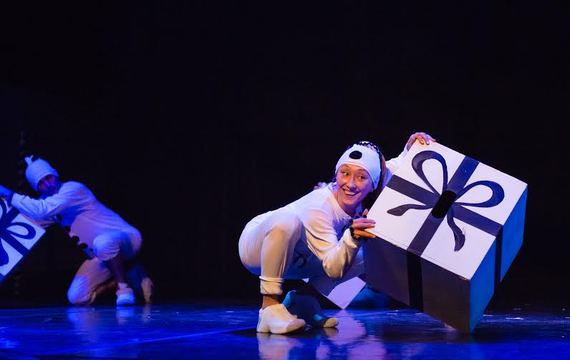 The games continue on the homoerotic team with Schimmel and Fatcher look like they are about to start a wrestling match, but their press against each other and they execute a series of standing tumbling moves and sculptural interlocks and lifts that keep evolving. And the three men are later aloft and their bodies interlocking on a suspended metal pear shaped apparatus and spinning at mach speed as magical as an art deco ornament.
Later, Schimmel revives his solo aerial ballet from their most recent Fringe Festival hit 'Suspended.' He hangs on to candy-cane tubing with inverted suspensions, holding himself with clamped together thighs and spin variations are all pure strength moves, made lyrical by his strength and musicality. Jones and Schimmel on each end of a dangling ten ft. ladder that they counterbalance performing routines on the rungs and eventually propel to a twirl.

Also in mid-air, Trevlyn revives a Sanders favorite from several years ago, suspended in a bungee hammock she flops in out of, twists precariously around, dreamily, to J.S. Bach, then boomerangs herself around the stage locked in Greek goddess poses. Also drunk on a classic is Jones as a conductor leaning off the podium in extremis, trying to get more sound out of the lower strings in Vivaldi's Four Seasons, mocking them by bowing his crazed maestro divo hair. A ribbon on the end of his baton is an animation of the notes right out of a Warner Bros. cartoon.

The visuals kept coming and the kids in the audience were delighted especially with a 6 six lizard that suddenly scales down the trapeze scaffolding and dances with Higdon. The costume and lizardly moves are uncanny. Illusions of backward movement if seen without costuming would reveal its high degree of difficulty, but all of those mechanics, like good dance, are hidden.
And there are even more macabre offerings that are not, to say the least, cookie cutter dance treats. This show, unlike the Nutcracker and other holiday theatrical warhorses are built for post- xmas appeal to wash away post holiday blues through Jan. 3.
www.briansandersjunk.com