After a fun (but dance-thin) summer program, Philly's premier contemporary classical company BalletX (BX) was back full force at the Wilma Theater for a program of distinctively different works and packed with full throttle choreography, inventiveness and sensuality. There were two premieres that impressed from every angle. First, a dance-noir by Italian choreographer Mauro Astolfi followed by a company dance comedy (and instant company classic) by Philly choreographer Kate Watson Wallace. The closer was Switch Phase by BX co-director Matt Neenan.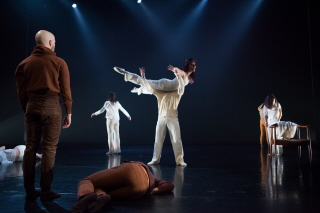 Astolfi's Instant God is in-your-face contact dance, with cinematic atmospherics. There are slo-mo backward drops à la The Matrix, there are explosive layout sequences, martial arts plies that morph into dancy, but menacing assaults. There seems to be some lover angles, there might even be a prison angle (the harrowing soundtrack certainly suggests it), but, who cares this in stream of consciousness, inventive dance pumped with breakneck maneuvers and sharp technique. Configurations involve constant body contact and ensemble sculpturing that is grotesquely beautiful. In the duos and trios, Astolfi often assembles bodies like they were parts of a puzzle. At any given time, he speeds things up. The dancers may have looked like they were attacking each other, but they were attacking this material, which because of schedule shifting over the hurricane, this troupe perfected in just a week. Meanwhile, Astolfi's own company, Spellbound, is performing next week at the Annenberg Center in Philly.
After the intensity of the Astolfi ballet, Kate Watson-Wallace's I Was At A Party & My Mind Wandered Off... couldn't have been more fun. A performance slumber party theme with a punch drunk, erotic and stoner dance tableaux proved instantly infectious. A central couple, Jaime Lennon and Jesse Sanni, circle around each other about to find a room without a view; meanwhile three women, with their hair tortured forward (à la The Ring) swirl their heads like twisted Shindig dancers. As it unfolds, dancers zombie around or they appear to be electrified, or entranced in aural undulations. The dreamy scene leads to a group whirlwinds the ending horizontal pas de bounce by that central couple. This is Watson-Wallace at her most witty, dark, humanistic and choreographically bold. On top of all that canoodling, we find out that BXers can sing too. 
Neenan makes very big ballets from symphonic scores, but some of his biggest hits have been song cycles. In Switch Phase, he scores dances for four couples set to Armenian and Baltic songs performed by Brooklyn Rider. The ballet was hailed in the New York Times when it premiered earlier this year in Vail, Colorado. Neenan should ditch the stark studio prologue of four men marking steps, which are front loaded with his choreographic signatures.
But, past that, this ballet just uncorks those signatures when they are married to folkloric elements inside the music. There is a sublime waltz-time number and particularly rich are two duets in the back half. One, a gypsy tango danced by Tara Keating and Richard Villeverde, is one of his best pas de deux he has created in any style. Neenan is completely inventive within this form. The dancers have such smoldering chemistry with these moves that they are even more sensuous when they aren't wrapped around each other -- now that is dancer contact. Ballet X has several new dancers and this troupe looks better than ever.
Imagine: A moment from Kate Watson-Wallace's witty ballet I Was At A Party & My Mind Wandered Off... Photo credit: Alexander Iziliaev