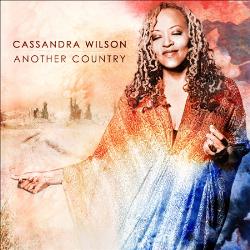 Cassandra Wilson, Another Country, eOne Music
Cassandra Wilson musically takes to the road in her recording Another Country which she recorded in Florence, Italy over twelve days. Wilson, primarily considered a jazz vocalist, continues to be game for mixing genres, even when the results aren't suitable to her voice.
The dessert-blues guitar riffs on 'Red Guitar' has transporting atmospherics, featuring Wilson's flinty acoustic guitar opposite Fabrizzio Sotti's sinewy steel guitar. The lyric Drive my car on black highway/then I play my song on red guitar has intoxicating allure.
There is a freewheeling spirit on 'No More Blues' with the languorous yearning of Julien Labro's accordion and Wilson a simmering blues belter almost mocking the genre.
Wilson's tango arrangement of the Neapolitan classic 'O Sole Mio' is a sultry Spanish café song; this being an aria, it doesn't really bloom through Wilson's voice, but she takes a back seat to the gorgeous framed instrumentation behind her. In contrast, her hypnotic contralto on the flamenco arrangement Passion just smolders.
'Another Country,' the title track, is Wilson's breezy road ballade -- I was traveling in your arms/ when I woke up in the morning you were breathing right by my side/ I found another country in your eyes. The calypso dialogue between Lekan Babalola's percussion and the guitars is just as intimate and supple as the storyline. This has the traction to become a Cassandra classic.
'Almost Twelve' has Wilson in a reedy, almost cooing samba novelty number of lovers getting to their destination breathlessly. The pulse of 'When Will I See You Again' sets up a moody, predictable lover spurned ballad: I'm wasting away for the love of you/why do I burn for the sight of you/when will I see you again, Wilson laments. This one strikes as filler, saved from itself by some bongo cool and sunset guitar bursts. Speaking of guitar, there are two instrumental tracks, 'Deep Blue' and 'Letting Go,' that feel like guitar improvs at sunset under the dessert sky.
Even though Wilson mixes it up on Another Country as she does on many recordings, these ten tracks have a cohesive energy. After Wilson's brilliant reading of 'A Day in the Life of A Fool' on her last recording she continues to build that catalogue. In fact she should record a Latin music album covering her simmering brand of basso nova, neuvo tango and flamenco.