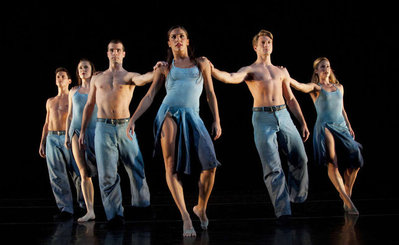 Parsons Dance in "Round My World" Photo by Krista Bandura
Choreographer David Parsons brings his troupe to Dance Celebration at the Annenberg Center every couple of years and each time he can be counted on for something new to present to his avid Philly fan base. But audiences would revolt if the he didn't include his signature Caught --that strobe-lit aerial solo that Parsons himself first danced in 1982.
The concert opened with Round My World, choreographed last year. The episodic piece is a lush and expressive ensemble dance of circles, punctuated with rounded body sculptures and arc pattern communals. Male-female couples pair off for dramatic duets full of slow motion swirling lift patterns. They may look sensual, but the mechanics of their moves are full of force, with much strength from both partners. At its core, the movement template is pure Parsons DNA.
Next, Hand Dance delighted the kids in the audience with its five sets of spotlighted hands making furious fast finger funsies- playing the piano, slicing through the air or depicting divers, etc.
The stunner on this program is choreographed by former PD member Katarzyna Skarpetowska's quartet for two men and two women called A Stray's Lullaby. It starts with traffic noises that the dancers recoil from in slow motion gestures when it reaches a crescendo. Elena D'Amario is left onstage and she does a punch-drunk dance of contortions to the song "There's No Liquor in This Town" by the liquor soaked caterwaul sound of Kenju Bunch.
Stray's central duet with Christina Iiisije and Ian Spring follows with a scenario of desperate survivors in a desperate landscape; the music and clothing suggest the Depression Era. Jason McDonald, in suspenders and pleated trousers, performs a solo about a man on a chain gang in a series of crouched and forward and reverse moves building a movement story of despair.
The ending tableau of the four entwining with each other, suggesting giving each other a helping hand and kindness, might seem smaltzy in another context, but the tender pathos of the movement is an eloquent statement of a perilous time, that may not be too far removed from our times.
Caught is rotated among the dancers, per performance, as it is a dance of precision, endurance and strength. Ian Spring gives first moves spotlight to spotlight, with a series of hypnotic torso oscillations and ritualized gestures, like a martial artist. The strobe starts and Spring appears as if he is moving through the space giving the illusion of walking in air, or floating an endless jete or throwing judo aerials. Spring gives Caughtan unfussy flight.
In the End from 2005 is a set to Dave Matthews Band song cycle. The piece has the look of a Gap jeans commercial. The centerpiece song, "When the World Ends" goes into high gear with Eric Borne doing mach speed, swaggering pirouette runs, punctuated with powerful layouts. The group esprit grows darker and both male-female couples and same sex couples pair off in love will conquer all mis-en-scenes. Parsons may be a contemporary dance elder by now, but he is a young lover at heart, just in time for a thousand dance flowers to bloom.
Learn about Parsons Dance here