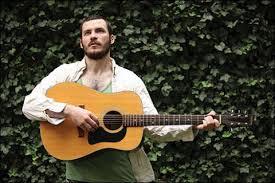 Sean Lally as GINT
EgoPo Classic Theatre usually picks literary themes or theatrical styles to explore on stage in different ways over the course of a season. Last year, their race switched characters in an otherwise literal stage version of Uncle Tom's Cabin, at first touched off controversy, but not only earned deserved critical praise, but touched off meaningful public debates about race. This season they explored works by Norwegian master playwright Henrik Ibsen finishing with Romulus Linney's barn-burner adaptation of Peer Gynt.
In this version, Peer is now Pete Gint, boozing, dealing and whoring lad in the Appalachian Mountains. Ibsen's allegorical tale of the wayward son who keeps pursuing the dream and stories he heard in his mother's arms, to make up for his absent dad.
The play opens as Pete returns home after a soused, lusty hunting trip, with just an onion for his Oldie Mama who has had enough of deceits and carousing of her 'growd up son, she tell him. But, Pete is not deterred, he goes to the wedding of an old girlfriend and seduces the bride and drinks himself into fury. But, dead drunk, he has stabs of conscious induced by wild dreams of razorback pigs devouring him and spooking him enough that he ruins his changes with the lovely and patient Sally Vicks, who, despite his faults, falls for him.
To prove himself worthy Gint is determined to find himself, his fortune and return Sally's love and make his mother proud. First he must clean up some of his baby momma mess. Linney time travels 50 years and those tobacco road songs, wooden houses and the blue mountain mist is replaced by soulless ceos singing California Dreamin' where Pete is cokin' and it up poolside in a silver speedo. But before he can pick up the sun block, he is screwed by his competitors. So it's back east on a rail with demons in pursuit and age catching up with him.
Linney goes to great pains to make points about the exploitation, self-serving, empty life of success while screwing others, including timely topics about environmental waste and a wasteful life. Especially in act II, his heavy-handedness runs out of steam after Pete's booty call in the pool that devolves into sketch comedy. The long goodbye in Gint's descent to hell doesn't hold as play as poetically well as Ibsen's original, but Savadove is always true to text and plays it as it lays.
But, the ideas of Ibsen set on the side of that mountain keep richly conducive to Ibsen's intent, dramatic poetry and themes. Director Lane Savadove is able to showcase EgoPo's broad aesthetic of physical theater and an strong ensemble cast. The physicality of mountain culture is well drawn, along with the uniformly excellent dialects. The language coach is Melanie Julian, who memorably plays Oldie Mama, her diction so musical and deportment gritty, funny and full of heart. Speaking of music, Christopher Marlowe Roche's original music with roadhouse instrumentation and rowdy voices is a great element.
As Pete's true love Sally Vicks, Isa St. Claire is subtle and steely, you see Pete, crucially through her eyes. Griffin Stanton-Ameisen is terrific as Gint's town rival and later tormentor as the ruthless king of the pig people. Sean Lally has played everything from Tennessee Williams' dancer- lover in EgoPo's Something Cloudy, Something Clear to a most earnest Romeo at the Lantern Theater. This is another fine performance from this multi-talented actor. He strips away Pete Gint's bravado layer by layer and gets to the delusional core. His voice may sing that beautiful mountain cadence, but you hear his failing and weakness more than his handsomeness. Especially in his scenes with Mama, Lally and Julian are so natural and true together.