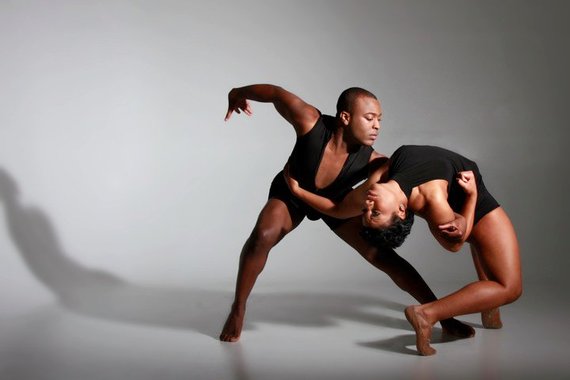 (photo courtesy of Eleone Dance Theatre)
At the Freedom Theater in North Philly, Eleone Dance Theatre presented two separate programs this month, the second concert, The Soul of Philadelphia commemorated the 15th anniversary of the co-directorship of Shawn-Lamere Williams and Dr. Sheila Ward, Eleone's artistic director and executive director, who were members of the company themselves and kept it running after the death of visionary founder E. Leon Evans.
Shawn Lamere Williams was onstage to present the newly created E Awards, in his name and wondered whether Evans would approve of the current direction of Eleone. The answer would be a resounding yes. Just ask any audience member, the dancers, teachers and those in the community that they have inspired.
The show opened with Molly Misgalla's 'For Always and for Ever Luther' (2006) a suite of songs by the neo-soul singer icon Luther Vandross. It is high octane from the start starting with "Never Too Much" with a bass-line that just keeps giving Misgalla has the men and women stream in and around each other flirting, and in jazz/ modern flowing ensembles. Things get more serious with 'A House is not a Home' the women seated in dance expressions of frustration and troubled love. The bittersweet love stories play out on each couple and Misgalla doesn't pull back on intensely athletic and erotically expressive choreography.
Charon Mapp's 'Through It All' (2014 Preview) scored to gospel music by Marvin Sapp and Shekinah Glory begins with Dara Meredith on the outside of a religious gathering trying to reckon with her spiritual awakening and join her chosen spiritual life. You can't take your eyes off her as she expresses acceptance of a renewed spirit. The men's segment follows, with completely different physicality that also reaching an ecstatic and intimate pitch. Mapp's choreography documents the physical language and expressions of spiritual life in the black community.
'Concrete Rose' (2014 Preview) by Meredith with a theme of a violence in the world, grief, betrayal and support begins with a quartet sculpture as fog rolls in and they reach through it. They evoke a disquieted scenario dancing to a Dinah Washington 'This Bitter Earth' vocal that has been rescored to music by Max Richter. The power and precision of this choreography to this music is spellbinding. After the quartet the rest of the dancers are wrapped together in a circular body structure that blooms outward and this piece just explodes with ideas that keep evolving into high velocity and dramatic dance. The end section set to music by Savanji Rooms is a percussive soundfield and dancers fly into mach-speed turns, huge layouts and precarious lift patterns.
Tommie Waheed- Evans' 'Suite Mercy' is the clincher closer. Evans' electrifying version of Carl Orff's Carmina Burana and a driving club version by Karl Jenkins. Evans' mix of Paso doble moves with freeze frame balletics, keeps accelerating to dramatic lifts patterns and pulsing ensemble lines. It is danced with thrilling precision, leaving the audience breathless and panting for more.
In the middle of the program Williams presented Eleone's dance teachers and choreographers the E. Awards, he and Ward were surprised by the appearance of dancer Gary Jeter, Eleone alum, who now dances for Complexions Contemporary Ballet in New York, presented them with his virtuosic solo tribute set to Stevie Wonder's 'If it's Magic' which was a favorite song of E. Leon Evans. The Eleone dancers flowed in, presenting roses to the directors who have carried on Evan's legacy and has over the years become one of the best regional modern companies in the city. The Soul of Philadelphia represented range, technique and ensemble esprit and it is indeed, magic and more.