Elizabeth Taylor: A Shining Legacy on Film
Cindy de la Hoz
Running Press $30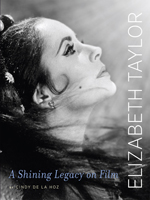 Hands down, the affordable coffee-table book of the year is Cindy de La Hoz' photo-bio of Elizabeth Taylor. Not only does the book have hundreds of private photos of a ravishing Taylor, but the author writes a non-voyeureque, balanced assessment of her films. The author doesn't fawn in her capsule assessments of Taylor and she includes, for instance, the bad notices. The photographs are gorgeous and captivating. La Hoz and the editors have been expert in the print transfers and the book's layout.

Taylor was one of the last standing stars from the Golden days of the Hollywood studio system, but, as these candid photos remind, she always bucked that system almost from the start, whether it was choosing her designers, co-stars or handlers.
Who can resist a story like a 13 year-old Taylor, who didn't like the tone Louis B. Mayer, the head of MGM, took with Taylor's mother on the set of National Velvet? Taylor told him, "You and your studio can both go to hell." La Hoz packs the book with similar anecdotes. The tabloid fodder that trailed Taylor, may be alluded to, but it is upstaged by Taylor's achievements both personally and professionally. For film buffs, it's tons of fun, but for a generation of LGBT readers, Taylor is also beloved as a fearless AIDS activist and champion of gay rights.

The collection also essays an intimate side of Liz that has rarely been acknowledged. Just to mention a few -- listening to director Mike Nichols on the set of Who's Afraid of Virginia Woolf? Taylor and Richard Burton lobbied for Nichols to direct the explosive drama even though he was a first time film director. Taylor and Spencer Tracy on the Father of the Bride set laughing or holding hands with Montgomery Clift as they charge through the back lot of A Place in the Sun. Of Clift, Taylor said she whatever craft she had, she owed to working with him. There are great shots of Liz on the beach in Spain in front of hundreds of crew and cast for the climatic scene of the Williams' Suddenly, Last Summer.
A personal favorite for many will be the smoldering stills from the set of Cat on a Hot Tin Roof, that shows her obvious chemistry co-star Paul Newman. The book has intimate stills from the set of which shows how Taylor focused on challenging, brilliant material as a way to cope in the aftermath of the plane crash that killed Michael Todd, her third husband.
La Hoz, embraces the camp value of Taylor's most forgotten film failures, with equal fascination. For camp fans, there are fabulous drag inspirations from such films as Doctor Faustus, Reflections of a Golden Eye, Blue Bird and the cult classic BOOM! The notorious film adaptation of a Tennessee Williams' jet-setter potboiler co-starring Burton and Noel Coward. Not to mention one of the biggest studio turkeys of them all Cleopatra. La Hoz has also written books about other Hollywood royalty including Lucy at the Movies, A Touch of Grace, So Audrey and Marilyn Monroe: Platinum Fox.