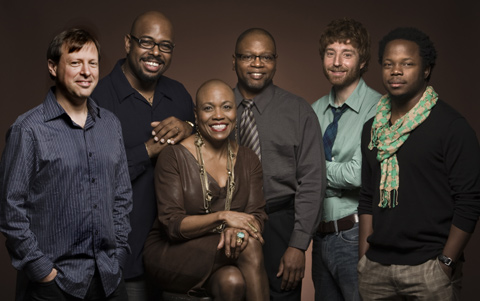 Dee Dee Bridgewater, Christian McBride, Benny Green, Lewis Nash, Chris Potter and Ambrose Akinmusire
Bassist Christian McBride's warmth and the musical excellence was in abundance at the Merriam Theater in Philadelphia for the Monterey Jazz Festival Tour, headed for 40 cities to celebrate the festival's 55th anniversary in presenting the best in jazz. McBride shared top billing with Dee Dee Bridgewater, and they came out together to start the show, but made it obvious that this was an equal parts outfit as they introduced the rest of personnel that made up one stellar band pianist Benny Green, saxophonist Chris Potter, trumpeter Ambrose Akinmusire and drum maestro Lewis Nash.
Of course, McBride would want to be at his virtuosic best because not only was his mother in the audience, but his Philadelphia High School Principal. McBride thanked his avid Philly fans and noted his graduating musical class of '89 included other musical celebrities Joey Defancesco and Boyz II Men.
McBride orchestrated a beautifully crafted, era synergized session (this outfit could bring back bop or cool into the mainstream anytime). McBride, in fact, gave most of the solos and spotlights to the other musicians.
Bridgewater, in great voice, from the opener "All of Me" making it a warm up belter tune. Her rendition of the Billie Holiday composed "God Bless the Child" was a tribute to the fact Holiday was the first vocalist to perform at Monterey Jazz in 1958. Even though Bridgewater can easily channel Billie's phrasing, she chose to honor the song, which Holiday wrote, with a rafter raising blues-gospel reading.
Later, Bridgewater and the band were equally full throttle and vampy on Horace Silver's "Filthy McNasty," but as raucous as this show got, the quieter moments were the richest. Bridgewater showing such range and reserve on such classics as Thad Jones' "A Child is Born," for instance, after telling the audience it was the first song she herself sang at Monterey. The band was so smooth around Bridgewater's impeccable phrasing, the silky low tones of her voice with ending silvery soprano high notes.
Pianist Benny Green soloed on George Gershwin's "The Man I Love" to open the second set. Green, sits bolt upright and sometimes slides askance of the keyboard for some dazzling pianistic contours.
The 'front line' horns as McBride introduced Potter and Akinmusire. Their doubles sounded like a whole section in its sonic architecture. Akinmusire plays with an edge, not afraid to jab notes around, or bust open a line or dissolve something pretty into a disillusioned fade out.. Akinmusire has phrasing ala Miles Davis, but that strikes as just one appropriate effect of an infinite range. Potter's composition 'Salome's Dance' built dramatically and until it Akinmusire ignited in a sublimely scorched central solo.
One of the most interesting instrumentals is percussion transcription of Dizzy Gillespie's "Tonga" was a field day for McBride, Nash and Green. McBride's own composition "Shade of the Cedar Tree" from his The Good Feeling recording, is a neo-big-band classic.
Later McBride breezily showed his luminous phrasing on the variations of Brooks Bowman's "East of the Sun, West of the Moon" making it a completely liberated flight, that soared and only passingly recite the melody. McBride said that he was holding Ray Brown's double-bass before he breezily went into "I'm Beginning to See the Light" as a living tribute to the jazz legend.
For the finale, Bridgewater was able to get out of being bullied into singing a mystery pop number from her past and instead closed appropriately with a Dave Brubeck tune, "Mr. Broadway." Glitzy on the surface, but she got to demonstrate her sumptuous musical parity, indelibly, with these musicians.