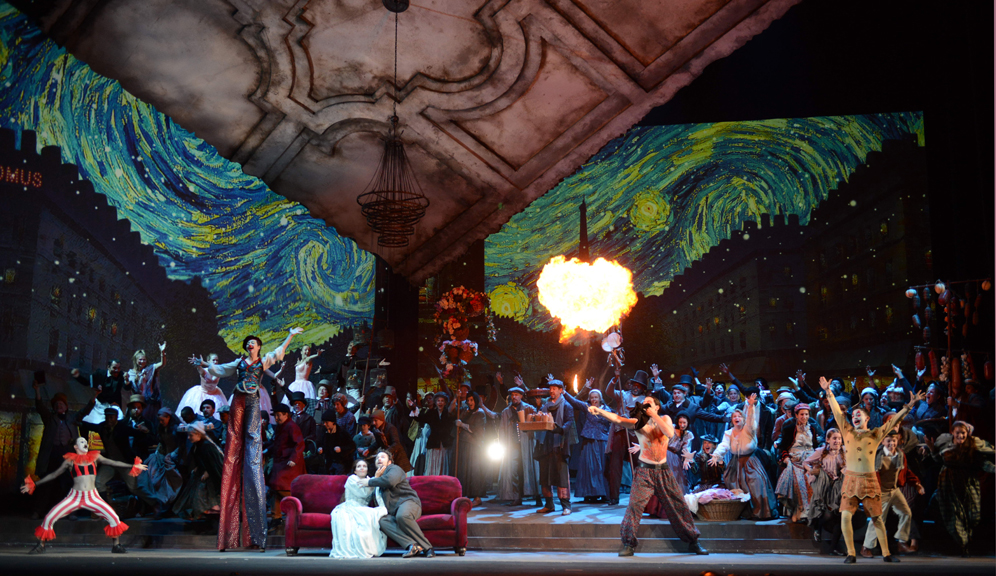 Photo by Kelly & Massa Photography
Philly opera fans are eternally wild about Puccini, so it is so right that Opera Company of Philadelphia unveils their new production of La Boheme as the company enters a new era. Piloted by new general director David Devan the company is moving in several directions with more commissions and events like last year's wildly successful free stadium screen simulcast from the Academy of Music on Independence Mall to thousands of people who stood in the rain to hear Bizet's Carmen.
This La Boheme replaces their warhorse version that was last mounted in 2006. Italian director/designer Davide Livermore's conceives a digital/high-tech spectacle that doesn't cheat the character driven plot. Devan brokered a collaboration with the Philadelphia Museum of Art and famed Barnes Collection for designs which include high-def reproductions and projected animations of paintings from Monet, Van Gogh, Renoir and other work from impressionist masters that figure directly into the opera's story.

The set and costume designs are gorgeously inspired by the hues and textures in the paintings and dazzling in themselves, metallic blacks and browns, golds, ink blues, circus reds, muted greens and yellows. But perhaps the most impressive element of all is that Livermore does not allow all of this art and tech swallow the musical production, which looks perfect in the 1856 opera jewel-box Academy.
La Boheme literally can rely on its arias to be a success, but what is distinctive here is the detailing in the dialogue lyricism, kept vibrant through a cast of strong singer-actors. At the September 30 performance, there were some equalizing and pacing issues in a front scenes, but mostly OCP conductor Corrado Rovaris achieved orchestral drama (buoyed by some inestimable string solos) and cohesive esprit.
John Glavin returns for his flawless, soused turn as Benoit, but that is pretty much the only layover from OCP's rote production of Boheme. Soprano Leah Partridge is in sterling, lusty voice as Musetta and otherwise plays it for sex and laughs as she dumps her rich patron at café Momus and picks up the painter Marcello, sung with virile brio by Troy Cook. During Musetta's waltz, quando me'n vo, Livermore floats her on a rail in front of the café patrons (choreographed in slow-mo bacchanalia). Just priceless.
Soprano Norah Amsellem and tenor Bryan Hymel, as Mimi and Rodolfo, take a while to warm up vocally, but by Act III, when she complains of his jealous nature and he admits to Marcello that he can't be any good for her as she struggles with consumption, they vocally smolder together against the bleak country snow. Assellem seemed to skim shrillness in early scenes, really dispatches one of the most difficult Puccini lyrical passages in the tragic denouement. Hymel gives Marcello big voice and big heart, and distinctively doesn't over-sing. Hymel possesses a fluid passagio and outside of full-throated arias, he maintains incredible line in the sung dialogue throughout.
Act II's café Momus scene just uncorks like champagne shooting out of a bottle, and is one section that may strike as over the Cirque-y top choice, but smart considering the visual impact at the free screening of this production on Oct 6 on Independence Mall. The chorus of drunks, acrobats, hucksters, street kids, slumming ballerinas, a fire-eater, a surreal not altogether un-satiric scene. But, design excess or not, none of it got in the way of the Puccini or these singers.
Here's a peek at the artwork. What these painters would have thought about their work being manipulated is anybody's guess.