For its 50th anniversary season, Pennsylvania Ballet revived John Butler's Carmina Burana, literally back by popular demand for audience members of a certain boomer age who love watching those monks go theatrically wild once again.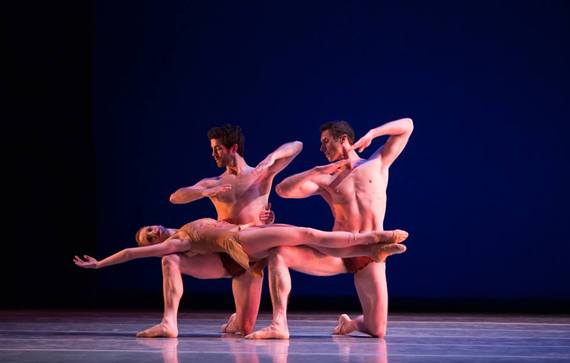 (photo: Alexander Iziliaev)
Scored to Carl Orff's saga of the sacred and profane, Butler can still compete with the equally popular, even fleshier version by PB's galactic update by PB choreographer Matt Neenan, which by now has its own following.
Meanwhile, opening the program, PB's company premiere of George Balanchine's Stravinsky Violin Concerto, held so much fire, depth and dimension that it stole some of the Carmina's thunder. For the past few seasons, the artistic director has programmed the choreographer's most famous 'black and white' ballets -- Four Temperaments and Agon, with distinction -- but Stravinsky's Violin Concerto is more than vintage Balanchine. Balanchine not only is equally movement profound, the inventions and pace has a relaxed quality, which allows the personalities of these dancers to come, in moments, wryly through.
PB principals Lauren Fadeley and Jermel Johnson danced the lead pas de deux conjuring searing chemistry In contrast, Jong Suk Park and Amy Aldridge, the other lead couple, move in more distressed angles, Balanchine deconstructing his own variations. Balanchine's duets are studies in classical technique and transitional movement variation suggesting psychological complexities, or not. At different times, Aldridge's legs are even turned in, as Park manipulates her perfect pointe work. At the time, dance editorial by Balanchine? Who knows. Fadeley, after gorgeous bodyscapes and balletic deportment, spiders across the stage, her torso bowed into an arc and at one pointe, her working leg in a hyperextension with her pointe shoe pressed against Johnson's face. All four leads executed the cryptic configurations with measured attack.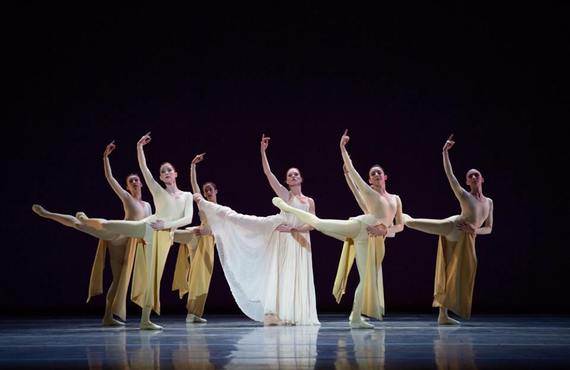 (photo: Alexander Iziliaev)
Meanwhile the corps de ballet flows on- and off-stage with pulsing precision and ensemble esprit. Configurations of a lead woman and four supporting men, alternated with a lead man and four women in signature Balanchine geometrics that keeps evolving, but not with signature Balanchine cleverness, the patterning is earthy and athletic. Razor-sharp unison aerial work from the men's corp, highlighting Balanchine's more distinctive presence of male dancers in his black-and-white era.
The other star of the work is Luigi Mazzocchi's violin solo that lives inside Stravinsky's musical language, as he bathes the opera house with luminous tone.
Pennsylvania Ballet Orchestra and The Philadelphia Singers (under choral director David Hayes) do a great job in equalizing the patchwork structure of Carmina Burana. Conductor Beatrice Jona Affron was also toning down its cinematic bombast and maximizing the lyrical qualities -- with arias by soprano Karin Wolverton, tenor Javier Abreu and baritone Levi Hernandez -- all bookended by the thundering chorale of "O Fortuna" that audiences seemingly never tire of hearing.
Onstage, the choreography has lasting charm, but there are static passages and Butler's literalness can get clammy. Angled bodies and sculptural poses by the leads are all pristinely detailed by the four leads. James Ihde and Brooke Moore have great chemistry: Moore's acting and physicality bringing a needed arc to the redundancy of some of the choreography; and Ihde's steeled presence is a perfect foil to that, together they conveyed a real relationship. Alexandra Hughes and Ian Hussey are less dramatic, bringing another, but no less effective, interpretation.
In the ensemble sections, the corp de ballet couples work with Bulter's slim choreographic template and rich character performance level to avoid having it look like nostalgic pageantry. For the most part, they succeed in keeping it a forward narrative and take every opportunity to nail the ballet's more engaging technical strengths. This program is in repertory this month with PB's production of Marius Petipa's Coppelia.
www.paballet.org