Trumpeter/bandleader Terell Stafford returned to the Kimmel Center Dec. 3 with his 17-piece Jazz Orchestra of Philadelphia , after touring, in a second appearance here, sounding even tighter than they did at their inaugural last January, which is saying something.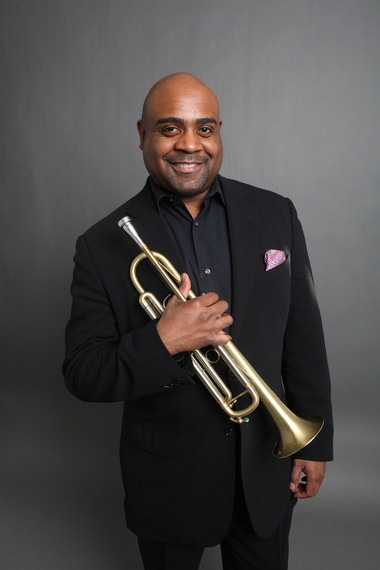 JOP Artistic Director Terell Stafford (Photo: J Ryan)
JOP performed in the more intimate Perelman Theater this time and it proved a perfect fit acoustically, and for showcasing the individual artistry of these musicians. Stafford also represented Philly jazz heritage by headlining 'the three tenors' -- sax tenors, that is -- Bootsie Barnes, Larry McKenna and Jimmy Heath, Philadelphia legends and as they proved at this concert, not resting on any laurel.
The always classy Bob Perkins, equally legendary host of jazz programming on WRTI, introduced the band with one of his epigrams, "It don't get much gooder than this." Many musicians from the Philly jazz halcyon days, including the always dapper drummer Charlie Rice, along younger musicians were in attendance.
The first set was the full Duke Ellington-Billy Strayhorn's "The Harlem Nutcracker," a jazz classic of theme and variation from Tchaikovsky's ballet score. The jazz version is usually performed with facsimile reverence to Ellingtonian orchestral elegance, most notably in its pristine rendering from the Lincoln Center Jazz Orchestra led by Wynton Marsalis.
But JOP completely cracks this nut completely open. "Sugar Rum Cherry" (after "Dance of the Sugar-Plum Fairy") for instance was more soused via a scorching muted trumpets line and Sean Bailey's punch-drunk clarinet on "Arabesque Cookie" (after the "Arabian Dance"), that got us all intoxicated. Bailey is also featured prominently in the sax passages, just one of a line of fine sax players including the muscled voicings of Tim Warfield. But they were not to be outdone by the trombones all of whom distinguished themselves. Among the other outstanding soloist, pianist Josh Richman sounding completely neo-Ellington on many keyboard runs, then sumptuously punctuation ala Duke.

Greg Kittinger on electric guitar had magical interplay with bassist Lee Smith and Chris Beck on drums. The trio's percussive drive surfing in and out of the lush full orchestrals of the Nutcracker's Overture, Peanut Brittle Brigade (March) and Vola Vouty (Russian Dance), for example. The orchestra's full swing that was closer to the Basie Band in ways than Ellington. Throughout, Stafford masterfully contouring this fat brass sound, with razor pickups framing those silky Ellingtonian textures.
The second set brought on the three tenors on Heath's composition "Our Town" recently recorded and another example of Heath as a seasoned but vibrant big-band composer. In a perfect musical world, this music would be at the center of popular culture still. Then each had memorable solo sax tunes with the orchestra, McKenna and Barnes completely commanding with their own indelible sound and virtuosity.
The emotional highlight came as Heath's introduced his own composition, "Mona," dedicated to his wife of 55 years and at 88, Heath's clarity of tone and finish on his solo lines are a sight to hear. The tune itself is a atmospheric ballad that doesn't rest on a musical hook, but has a free flowing musicality that is indelible to Health's virtuosity.
The concert finale, chosen by Heath, was Charlie Parker's "Steeplechase" which not only showcased the three tenors, so distinctive in their styles, but was handed off down the JOP sax line, representative of four generations of Philly musicians.
Stafford is not only a trumpeter par excellence, he is the magnetic force that is keeping a spotlight on Philadelphia jazz heritage. He heads the jazz department at Temple's Boyer's College of Music and is the vanguard of the revitalized Philly scene. He picked up the trumpet only a few times in the concert, memorably, but was more investing in conducting sterling sets that leaves you panting for more big-band music.