Opera Philadelphia is presenting the East Coast premiere of Oscar by composer Theodore Morrison and librettist John Cox. The production is a co-commission with The Santa Fe Opera, where it opened at Santa Fe Opera in 2013 under the stage director Kevin Newbury and Conductor Evan Rogister, who are back for the Philly run.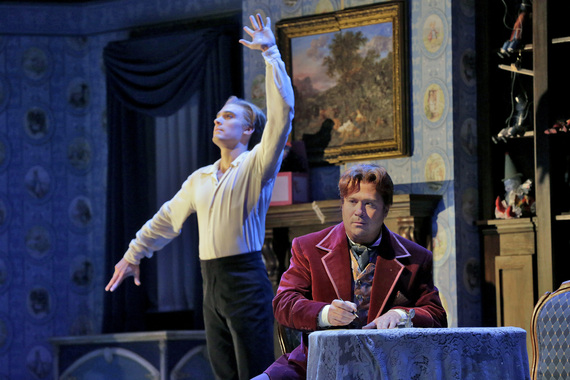 The Opera Philadelphia production features some musical changes and production tweaks. There has been unanimous praise for returning stars David Daniels, a counter-tenor as Oscar Wilde and Australian dancer-actor Reed Luplau as the notorious Lord Alfred Douglas dancing the role of Bosie.
The lead vocal cast includes soprano Heidi Stober as Ada Leverson, tenor William Burden as Frank Harris, and baritone Dwayne Croft as Walt Whitman. Based on the writings of Wilde, the story follows playwright Oscar Wilde's infamous downfall at the pinnacle of his fame in Victorian England. He was outed and pilloried for 'gross indecency' through a series of trials brought by Bosie's father, the unhinged Marquees of Queensbury.
Wilde was jailed in Reading Gaol prison for two years sentenced to hard labor and on his release, lived in France, a broken man, until his death. Wilde is an iconic gay martyr and his works hold a unique place in the pantheon of classic literature.
Two weeks before the opening in the huge rehearsal studio in the Academy of Music, the singers were fine-tuning an anguished scene between Oscar and Walt Whitman, with Bosie, moving around hauntingly. Later Luplau spoke about the challenges Bosie presents.
"In the first production we were thinking of him as more ethereal. This time we thought I'd go as visceral and natural as I could, because he's in Oscar's mind in these scenes. Bosie got away with murder. He treated Oscar horribly. But their relationship, in that time, still showed there was something, maybe even love. It's been a challenge to find the balance of both sides, " Luplau explained.
To achieve some of the psychological aspects of the role, he worked closely with the opera's choreographer Seán Curran, one of the most inventive character choreographers working in dance-theater..

GLBTQ audiences know Luplau from 2013's Five Dances the award-winning film by Alan Brown. Luplau and Broadway star Ryan Steele play two dancers who fall in love. Their screen chemistry and explosive dancing was a hit with audiences. Kevin Newbury saw Reed in the film and thought he would be perfect for Bosie, but unlike his portrayal of the tender lover Theo in Five Dances, Bosie is a beautiful monster and Oscar's emotional opposite. "I was unaware what was going to be expected as the only dancer in the opera, but Kevin and Sean made it very comfortable and it ties in another element, uniquely, into this production."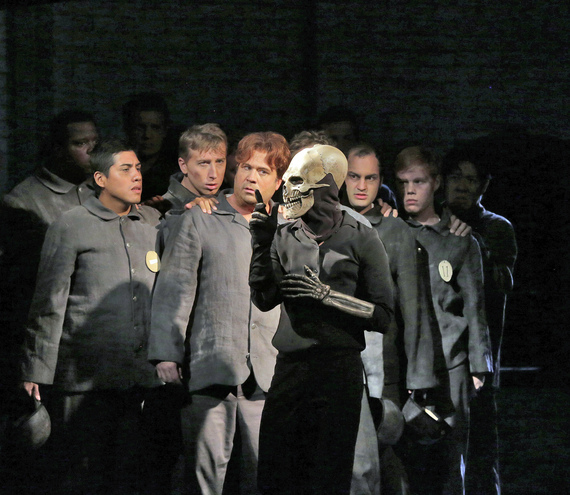 Death (Reed Luplau) haunts Oscar and his fellow inmates at Reading Gaol. © Ken Howard | The Santa Fe Opera

Luplau has been working just as much as an actor as performing in dance, but this is his first opera. "The intimate scenes that I have with David Daniels, is incredible to hear these amazing singers up close and there is nothing like dancing to live music especially when there a whole orchestra in front of you," he said.
He first danced professionally with the Sydney Dance Company, "Such a great starting point, coming right out of ballet school into that elite company. I was only 19 and Graeme Murphy, the director, took a chance with me being so young. I learned so much and I definitely wouldn't be here if it had not been for that experience."
Relocating to the U.S. for more opportunities as an actor and dancer, Luplau showed what a strong lyrical dancer he is as a member of Lar Lubovitch Dance Company. While there he met and fell in love with fellow dancer Anthony Bocconi ("He's Brooklyn-Italian, Reed boasts") and they are now both New Yorkers.

After the Oscar scene, Luplau rehearses a short solo, featuring a jaw-dropping aerial layout, at the end of which everyone wildly applauded. He is trying it out for an audition in New York the following day. The dancer said, "I always kept that one in my back pocket, because it is a good one at a dance party," he joked. As explosive as Luplau is with such moves, he notes that "nice to work in those surprise moves, but tricks are one thing. But the art is what we're actually trying to say in dance," he observed.
Last year Luplau played the Green Hornet in David Henry Hwang's Kung Fu at the Signature Theatre off-Broadway, a play about '70s film star Bruce Lee. "David is such an amazing playwright. It was extremely athletic and we learned different martial arts choreography."

But in Philly, Luplau will not be kick-boxing, but dancing through the perilous trials of Oscar Wilde. Luplau says that Oscar's story is timeless and timely: "The hell that he was put through. It seems so long ago -- but how it still speaks to what is going on now in some ways. To think that in the U.S. and in some parts of the world we're still trying to gain freedom. It's a sad story, still relevant. Oscar is an immortal figure for our community."

Performances of the East Coast Premiere of OSCAR at The Academy of Music Broad & Locust St. Philadelphia Feb. 6-15. For complete information and performance times go to www.operaphila.org