US China relations have their ups and downs (currently, cyber spy vs. hacking spy finger pointing) but the Philadelphia Orchestra is about to continue their series of musical cultural exchange with China. The Fab Phils have been our cultural ambassadors there since the Nixon administration. On May 21, they embark on their 2014 Tour of Asia & China Residency for three weeks, performing concerts and interacting with audiences, arts organizations and local musicians.
On the itinerary are stops in Beijing, Shanghai, Changsha and Shenzhen. A highlight of the tour will be the performances of Chinese composer Tan Dun's Nu Shu: The Secret Songs of Women, commissioned by the orchestra and dedicated to audiences in China. The multi-media composition had its premiere in Philadelphia last fall to wide acclaim. Mr. Dun told the audience that he remembers being completely inspired by the Philadelphia Orchestra while he was in a work camp in China in the 70s.
In addition to the mainland cities, the Orchestra also makes a return trip to Macao for the second consecutive year before continuing on to concerts in Tokyo, Japan, one with special guest violinist Akiko Suwanai. The Orchestra concludes its 2014 Tour of Asia with a concert in Taipei, Taiwan.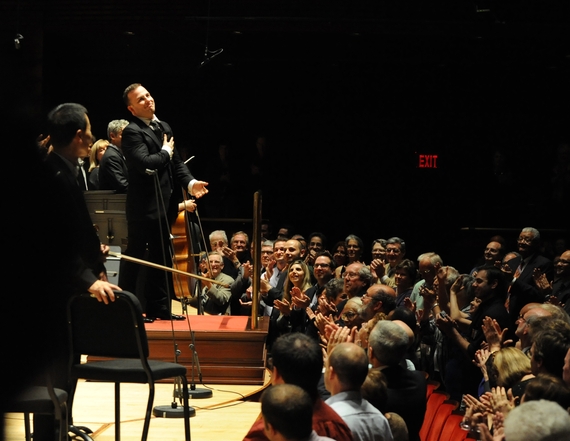 Yannick & the Fab Phils (photo Pete Checchia)
In the weeks leading up to the tour Conductor Yannick Nézet-Séguin didn't merely keep the orchestra warmed up at home and saving themselves for trave, he designed three weeks of ambitious programming. Some of this repertoire primed for tour performances. He started with a mini-Mozart festival, followed by performances of Samuel Barber, Bela Bartok and his recognized specialty, Anton Bruckner, then collaborating with Opera Philadelphia in an elaborately staged concert version of Richard Strauss' Salome.

Nézet-Séguin has not programmed much Mozart since he has been Musical Director, so it seemed very ambitious over one weekend at the end of April to hear three separate programs with overtures (Cosi Fan Tutte, Don Giovanni, Marriage of Figaro;) Mozart Symphonies (39, 40 and 41) and the centerpieces being piano concertos (20,21 & 22) played by Canadian 19-year-old virtuoso, Jan Leisecki, who first performed with the orchestra just last summer at their Vail Bravo! Series.
On opening night, Nézet-Séguin makes the Cosi Overture instantly engulfing, fuels the light surface of the overture, but accents the darker colors in the foundation. It make you want to hear the entire score played just as an orchestral piece.
Jan Leisecki came onstage and just seemed so in the Mozart moment bopping to the lightness of the orchestral opening of the Piano concerto no. 22 His entrance is understated and instantly part of the orchestra's architecture. The 1st movement he plays academically, in the second movement, you pick up some of his subtle accents and throughout the denser keyboard runs, crystalline detail. The 3 and 4th movements are masterfully played -- the orchestral handoffs so clean and Leisecki's ideas in the cadenzas are not overly showy, but exploring coherent musically. Leisecki is a very mature interpreter and his technique refreshingly reserved.
Nézet-Séguin was drawing a huge sound for Mozart's 39th Symphony, the inner drama and sudden shifts of orchestral mood is crisp and driving. The woodwinds especially vibrant. The strings could have had a bit more texture, but those lurching orchestral crosscurrents that appear, are finely paced. Cellist Hai-Ye Ni and Violist Keri Ryan among the many standouts in the lower strings.
Richard Strauss' Salome is such a technically demanding opera vocally and its relentless orchestral structure presents separate challenges. The orchestra collaborated with Opera Philadelphia to mount an erratically stagey concert production. The Orchestra filled the Verizon Hall stage and the opera's scenes were performed on a platform behind the musicians that connected the choir loft. The singers were behind the orchestra, which created added issues, some of it worked and some of it didn't
Soprano Camilla Nyjund doesn't hesitate making Salome monstrous, and vocally, she more than delivers her vanities. Vocally, her performance is a tour de force. Bass-baritone Alan Held as John the Babtist dignified and full of pathos. Vocally, he was the earthy basso foil to Nyjund's piercing delusions. Strong support from John MacMaster and Birgit Remmert as Herod and Herodias, conveying seething decadence that rightly borders on camp.
Strauss also wrote the sung dialogue, not changing much in Oscar Wilde's scandalous retelling of the Biblical story of Salome. Wilde zeroes in on the sex, murder, fetishism, incest, torture, imprisonment, with Wilde's subliminal critique of the hypocrisies of Biblical teachings in his time vis-à-vis human nature. In his time, it was banned in many places and championed in others. Strauss wanted to turn it into an opera a soon as he saw it.
Strauss' tells the story of some horrible people in mostly shrill musicality. There are no arias, like Electra, it is built on the tempers of the characters. A little less relentless when John is singing about God and Herod is consuming wine. The conversations of the religious consuls, is musically so interesting, that you want it to go on, but Strauss sticks to the script.
Nézet-Séguin kept the volume up and seemed to be an extra hurtle at points for the singers who were already distanced from the audience. At one point you could hear him grunt, moving frantically through one of the more vertiginous crescendos.Through the bombast, principal violin David Kim's tone just floated through and bathed the hall. Other standouts, among many, are violist Choong-Jin Chang, flutist Jeffrey Khaner and lead Richard Woodhams diamond clarity on that voluptuous oboe voicing of Salome.

Of course, what is Salome without the 'Dance of the Seven Veils' in this rendering, a big disappointment choreographically. The music just blooms to a mysterious, exotic, lush orchestral, with scintillating contours and effects, but stage director and choreographer Sean Curren had nothing to visually match this climax. When Nyjund wasn't pointing her arms at the moon like a spear, she was scrambling uncomfortably around the platform. So much could have been done with lighting, minimalist movement, less would have been more.
Finishing his second season as musical director with this robust programming on top of the historical tour, Nézet-Séguin is covering a lot of musical ground, literally and figuratively.