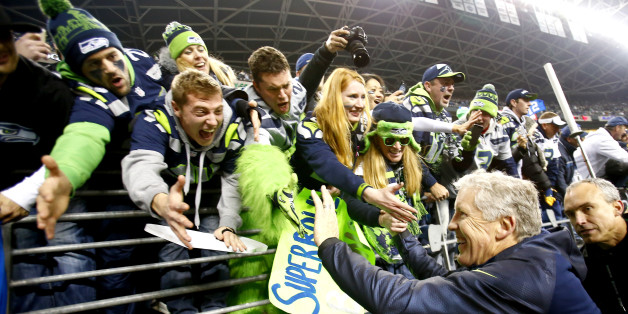 A recently completed study shows definite proof that the most obnoxious fan base in all of sports are Seattle Seahawks fans. This study was commissioned by me, carried out by me, and was based strictly on observations I have made in and around Seattle over the past few months. As a 49ers fan living behind enemy lines, a hero the likes of which America has not seen since Owen Wilson, I think my opinions are valid because they are so clearly unbiased.
If you are still with me after the opening paragraph then I thank you for being able to discern sarcasm. I thank you doubly for not immediately going to the comments section to call me horrible names but I encourage you to do so after you finish. The reason I have been thinking more about obnoxious fan bases stems from a recent conversation I had with a friend of mine that is not a sports fan. As I droned on and on after the NFC Championships game about all the ways I hate Richard Sherman and all the ways I find Seahawks fans to be obnoxious, she cut me off to remind me that all sports fans are obnoxious by their very nature. This seemingly obvious declaration was truly a revelation to me. Are we all that annoying? And as someone who never wants to be on the same side as these racist idiots, why did Richard Sherman's rant get me so upset?
I have spent far too much time having conversations with friends and reading "articles" (mainly on Bleacher Report, the last bastion of hard-hitting journalism) about the most obnoxious, the whiniest, the most entitled, the most violent and most importantly, the best looking fan bases in sports. I had never really stopped to think that although there is a definite spectrum of unlikable fans and teams, all fans of all teams are disliked by virtually everyone. At best, people will be indifferent about your allegiances. The only two ways to not be loathed as a fan is if you fall into one of two categories: you cheer for the same team as I do in which case I love you, or you cheer for a nationally irrelevant team in which case I am indifferent, or even worse, sympathetic to you.
When Sherman went on his now infamous rant after the NFC Championship game I was initially incredibly angry and I thought he acted like a completely classless idiot. I still think he acted like a completely classless idiot but what became apparent to me the more I watched the interview and the more coverage it received, was that Sherman himself was basically being an obnoxious fan of his own Seahawks team and of himself, the team's best corner. He said exactly what a whole bunch of drunk and happy people in bars and house parties all across Seattle were saying (BEST CORNER IN THE GAME, DON'T YOU EVER THROW ON HIM BRO) and he did it just as brash and loud as they did.
Many articles have been written defending Sherman saying it's refreshing to see a sideline interview that was actually interesting; but I think it's more interesting that he answered his questions in the same manner that Big Rick the Trucker from Burien would on sports talk radio. Richard Sherman himself is such a huge Richard Sherman fan that it validates other Richard Sherman fans. He is exactly as heart-on-your sleeve passionate as Seahawks fans are about Richard Sherman and about their love for their squad. I'm not saying that makes his actions right or wrong, but I do know that if I was a Seahawks fan I would have loved that interview. After all the time, money and emotion that goes into being a fan, it's nice to see a player that cares as much as you do about beating a rival team and making the Super Bowl. Just like his fans at home, he was happier about shutting down and shutting up Michael Crabtree to win the game than he was about anything else at the moment. The fans at home won't be receiving a Super Bowl bonus check like Sherman will, but they certainly felt the same elation as he did when he made his game-saving play.
This is a common theme in a lot of athletes that talk the most trash and make the boldest proclamations in interviews. Guys like Barkley, Rex Ryan, Kobe or Deion Sanders speak about themselves and their teams in such a way that we see a reflection of ourselves as fans that care way too much. You think Lakers fans love Kobe? That is nothing compared to how much Kobe loves Kobe. It's enjoyable having guys around that react and think just like we do. Watching robotic, passionless answers from virtually all NFL coaches and players doesn't bother me because it makes me bored, it bothers me because I think that they are bored. The cockiest and mouthiest players get vilified by many opposing fans and the media but as long as they can walk the walk, their passion is admired and they are always universally loved by fans of their team. Isn't that really all that should matter?
This whole Sherman story got me thinking about if such a thing as a non-obnoxious sports fan can really exist and I'm beginning to think the answer is no. For example, one of my best friends in the world is a diehard Arizona Wildcats basketball fan like myself. Every time we win, which may I remind you, is every single time we have played this year because we are No. 1 in the country and still undefeated (annoying sentence for non-Arizona fans!) he posts a status update on Facebook and happily and proudly proclaims his love for our Cats. Needless to say, I love him as a fan. However, this same friend is also a diehard Seahawks fan. Every time his Hawks win, which is far too often for my liking (annoying sentence to Seahawks fans!), he posts a status update on Facebook and he proudly proclaims his love for his Hawks. Needless to say, I fucking hate him.
This binary, black-or-white mentality of being a sports fan makes us all quite repellent. It's gotten to the point that I am even an annoying sports fan for non-professional sports. I care and talk way too much about my fantasy football team and my March Madness bracket. I will even give detailed breakdowns of my men's league basketball games to anyone that will listen. In case you were wondering, my team Lobless City, made up entirely of nonathletic Jews that never miss 3's, won the league championship last season. Average stat line per player you ask? No blocked shots, no vertical leap, two Master's Degrees. Mazel Tov!
After all these words written perhaps you want to know if I have come around on Richard Sherman and if I have convinced myself to join the masses around me and root for the Seahawks to win it all. I know deep down that if the Niners had won I would not have been a gracious winner. I know that if Crabtree had made that catch and gave the exact same interview Sherman did I would be writing an article defending him. As much fun as it would be to get swept up in the festive atmosphere of Seattle right now, I still won't cheer for Sherman or the Seahawks. One of the best aspects of sports is that it's acceptable to publicly hate anyone you want and I choose to exercise this right often. Although I'm happy that passionate and cocky players like Sherman exist to keep sports entertaining, it doesn't mean I have to cheer for all of them.
So Hawks fans hate Harbaugh and Kaepernick. They hate the Beats By Dre commercial. They hate the Niners because they are a model franchise of historical success, home to Joe Montana and Jerry Rice, five Super Bowl rings, the best jerseys in sports, and as many Super Bowl appearances as the Seahawks over the past two seasons. Well Niners fans don't hate the Seahawks to the same extent because we didn't think about the franchise ever until last year despite the fact that the Seahawks are in their 38th season of existence. You see? My friend was right, it's impossible to be a likable sports fan. I may have had an epiphany that we are all obnoxious but that doesn't mean my conclusion is that us fans should lose our passion. So stay obnoxious, stay proud, don't ever be a violent idiot and always remember the Golden Rule of Fandom -- don't be as awful as Boston sports fans. Go Broncos.