MQM, an acronym that initially stood for Mohajir Qaumi Movement, is a political party representing the Urdu speaking immigrants from India to Pakistan; it now stands for Muttahida Quami Movement, a name that literally means united national movement. Renaming the party was supposedly done to shift away from the party's narrow linguistic tribalism to a broader agenda that emphasizes secularism and economic egalitarianism. The following analysis recommends that the MQM redefine its political platform, bring new leaders in the forefront, and accentuate its all- inclusive progressive political credentials in consonance with its new name.
Indictments
In 1984, Altaf Hussain, a son of working class immigrants from India, born in Karachi, five years after the establishment of Pakistan, founded the MQM. Hussain continues to be the party's top cultish doyen, though he now lives in exile in London as a naturalized citizen of the United Kingdom. On a regular basis, Hussain makes telephone speeches to his party workers in Karachi. Some of his speeches criticize rival politicians in unkind words. Some disgrace the Pakistan armed forces. Some extol India. Some threaten bloodshed in Pakistan. Criminal cases involving money laundering and incitement to violence are filed against him in London courts. Pakistan's provincial assemblies have passed resolutions to condemn his derogatory addresses and pressure is building on the federal government to ban Hussain's provocative orations airing live on the electronic media.
With its primary political base in Karachi, Pakistan's largest city and financial epicenter, MQM is being increasingly accused of terrorism, target-killings, abductions, extortions, land usurpations, and ties with India's spy agency, known as Research and Analysis Wing (RAW). Rangers, a quasi-military outfit, have been deployed in Karachi to fight rampant crime and elusive criminals. In March, Rangers raided the MQM political headquarters and arrested several fugitives and recovered contraband. Hussain accused the Rangers of planting the incriminating evidence at the headquarters.

MQM, in its glory days, was allied with General Pervez Musharraf, himself an immigrant from India, who overthrew a democratically elected civilian government, undermined the constitution, and ruled Pakistan for nearly ten years. Musharraf is now facing several criminal cases, including charges of murder and treason and many MQM leaders side with Musharraf. Several criminal defendants have confessed to have been ordered by the MQM leadership to commit crimes, including target killings. Twice, Canadian courts have declared MQM to be a terrorist organization. Under pressure from all sides, MQM is re-embracing the 1980s rhetoric of persecution of immigrants from India and warning Karachi City's possible secession from Pakistan. MQM is turning into a political pariah both inside and outside Pakistan.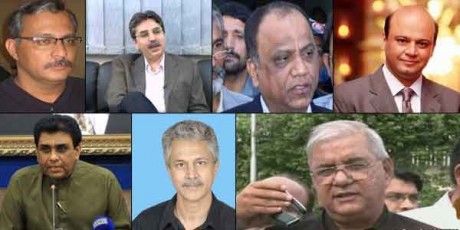 Reconfiguration

Cool heads both inside and outside the MQM need to reconfigure the party's role in national politics. Minimizing its ethnic obsessions, the MQM needs to become, more strongly than ever before, a progressive political party whose leaders do not belong to politically vested families. The MQM must double its efforts to support ordinary men and women to contest and win provincial and national elections. This authentic grass root invitation to leadership is most unique in a country where major political parties, conservative and liberal, are familial fiefdoms that favor "obedient servants" and "loyal serfs." Moreover, the MQM leaders must continue to contribute reasoned policy analyses to an otherwise highly mawkish culture of ill-informed conversations (one can see and hear on TV talk shows and in provincial and national legislatures) that generate little light.

Most if not all MQM leaders and followers are born in Pakistan, after the partition. It is unfair to trap these people into India-based identity. Children born in immigrant families have every right to be associated with their new homeland. Over the centuries, millions of families have immigrated to Pakistan from Afghanistan, Central Asia, Iran, and the Middle East including Greece. In the United States, white and non-white immigrants want to be Americans whether their families came from England, Senegal, China, or India. The same should be the case in Pakistan.
In order to turn into a truly national political party, the MQM needs to recruit leaders and followers from other provinces, particularly Punjab, the most populous province. There are lots of educated voters in all provinces who are sick and tired of politically vested families and their cronies. Furthermore, the MQM can build on its credentials to connect with minorities, including Christians and Hindus. In advancing Urdu, a national language under the constitution, the MQM should proactively strive to protect more than forty historically magnificent languages that face extinction in Pakistan.
The MQM cannot discard its founder, Altaf Hussain. For almost forty years, Hussain has led the party and his contributions to larger political discourse are many. However, the time is ripe for Hussain to take the role of a sagacious leader who no longer delivers inspirational, much less controversial, speeches to the public but politely teaches and guides party leaders who face the nation. Jean Tabaka, a Coloradan author who offers insights for building agile organizations, says "when leaders withdraw, they encourage teams to seek their own internal useful mentors and natural drivers."