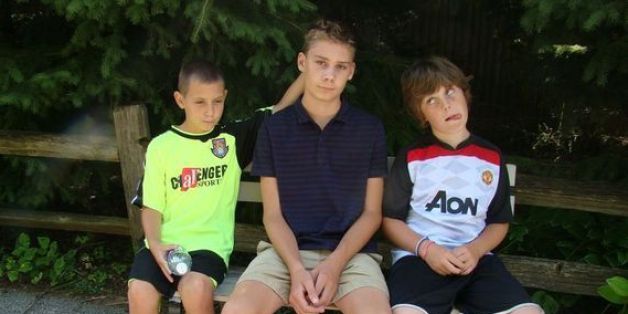 The last couple days my three boys were with their father and the house was quiet. I found myself repeatedly walking in and out of their bedrooms and their bathroom just to feel close to them.
There were underwear, socks, shoes, Lego figures, Webkinz, jeans, shin guards, and sheet music strewn about their bedroom floors. Clean and folded laundry, yet to be put away the previous week, was gathering dust. I found pistachio shells, empty juice box cartons, and Popsicle sticks under one bed. Under another, I found a crumpled blue sport coat, two overdue library books and my missing phone charger.
In the bathroom they share, the floor was covered with socks, underwear and towels, despite the massive hamper less than an arm's length away. Gobs of toothpaste streaked the countertop. Dixie cups arranged in a pyramid on the floor in front of the toilet, and the dental floss wrapped intricately around the empty toilet paper holder clearly signaled they were in need of a magazine rack. The mirror looked as though they regularly flicked wet, foamy toothbrushes at it just for fun.
I loved it. I loved being surrounded by the messiness of childhood humanity. I walked back into the room of my youngest child, just 8, crawled under his covers, bruised my butt on a light saber and closed my eyes. I prayed for all the families in Newtown, CT, and humbly gave thanks for receiving the gift of more time on this earth to relish the disarray of being the mother of three boys.