Valentine's Day may have passed, but there's still time to find love on the slopes this season. What more does a single skier or snowboarder want than to find that special someone who also loves sliding on snow? Knowing that, I can't think of a better place to meet that person than on the chairlift. You are guaranteed a solid 5 to 12 minutes to woo your target, and unlike hitting on someone in a bar, he or she can't escape you (aside from hurling herself off of the chair which would cause serious bodily harm). Yup, you've got 'em cornered and they can't even throw a drink in your face.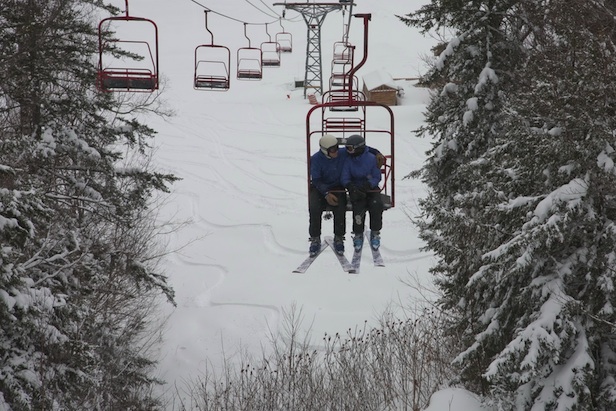 Beginner:
I wanna be the pizza to your french fries.
Don't make me fall for you.
Did you just fall through a cloud on the way down from heaven? Or did you just faceplant in some pow?
"Watch out, you don't want your scarf to get caught!" [Smoothly slide arm around shoulder]
Let's go back to your gondola and get down(loaded).

Intermediate:
What is your DIN setting?
Do you believe in love at first sight, or should I ski by you again?
Is that a Red Bull in your snow pants or are you just happy to be sharing a lift with me?
Nice moguls.
Consider this your season pass, can I buy you a drink?

Expert:
Nice rockers, wanna see my top sheet?
I think my heart just did a double cork 1080 and got 15 feet of air out of my throat.
Looks like they have been doing avalanche control around here, because I just found me a bombshell!
I won't pull your pass if you duck my rope.
I hope you find me under an avalanche because I could use some probing.
And the surefire ski-bum line to get every girl going:
What are some of your favorite pick up lines for the chairlift? Share with us in the comments below!
By Kate Christiaanse, Liftopia