For those that crave the snow even when winter is over -- fear not! Somewhere in the world, at almost any time of the day, a snowy slope is open for your skiing or boarding pleasure.
Today, there are more than 5,000 ski areas around the world and while some 97 percent of these are closed between May and October, a stoic 150 or so do stay open during the six months of the year when the rest do not.
One hundred or so of these ski areas are located in the Southern Hemisphere, which is the place to go from June to September if you want real winter conditions (You can choose amongst Chile, Argentina, Australia, New Zealand, or even South Africa and Lesotho). And if you live near one of the world's 50+ indoor snow centers, consider yourself lucky because you can satisfy your snow craving any time you'd like.

PHOTO: Afriski Resort
But for those who like their snow outdoors and aren't able to make it out overseas, here's a quick guide to where you can get your annual snow fix all year around!
MAY
Although most Canadian and U.S. resorts have traded in their snowy slopes for Summer preparations, there's usually about a dozen that stretch their ski seasons well into May, June or July.
This year, despite starting the season off with a drought, California's bases have been building within the past month. As a result, Mammoth, which has passed the seven-foot base mark, says they now plan to stay open until at least Memorial Day. In 2011, during the last super snowy winter, Mammoth was one of nine California ski areas (12 in North America) that stayed open for the 4th of July. They have stretched their ski season as late as August.
In Colorado, Arapahoe Basin is usually open up until June and its closing date is decided on a week-by-week basis, depending on the conditions.
Two other good bets for skiing towards the end of May are Mt. Bachelor in Oregon and Snowbird, Utah. Mt. Bachelor is currently offering a spring skiing pass valid until May 25th.
Over in the East, Killington manages to maintain its season late into spring by piling a lot of snow on its main high run in order battle mother nature's thaw.
North of the border in Canada, Sunshine at Lake Louise is planning on staying open until May 19th this year. Whistler's Blackcomb glacier is also open until around the same time and re-opens in the Summer for their Summer Glacier Camps.
JUNE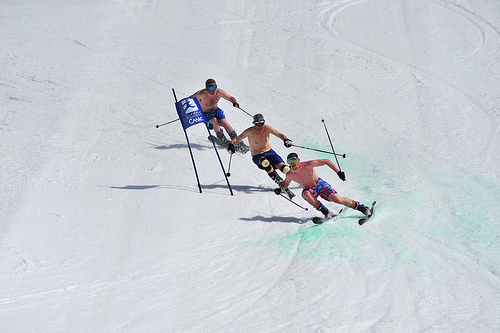 PHOTO: Crystal Mountain Resort
Some of the California and Colorado resorts that were open May still stay open in June; however, the options greatly decrease as Summer hits.
One resort that we have not mentioned yet is Crystal Mountain in Washington State, which is often open until Independence Day and usually stays open at least late-June. This year, the Red Lodge Racing Camp in Montana actually kicks off its season on May 24th and usually operates into June.
Or, if you fancy a long flight to find winter, ski areas in the Southern Hemisphere begin to open in June.
SUMMER (July to September)
During the last week of June and through July, Whistler Blackcomb opens their Summer Glacier Camps for both skiers and rider, offering wide range of snow camps to choose from (June 22nd - July 28th, 2014).
Timberline in Mt. Hood in Oregon is the closet thing to year-round skiing in North America. In a good year, it's open almost every month of the year, with three or four weeks closure for maintenance in September.
Outside of North America, it's high season in the Southern Hemisphere and in the Alps, where around 20 glacier ski areas are open for part or all of the Summer. Hintertux in Austria and Zermatt in Switzerland (which operates the continent's highest lifts) endeavour to open 365 days a year.
OCTOBER
And so it all begins again.
In the beginning of October, we'll start hearing news from high resorts in Colorado -- particularly Arapahoe Basin, Loveland and Copper -- that they've started night-time snowmaking operations and ready to kick off winter 2014-15!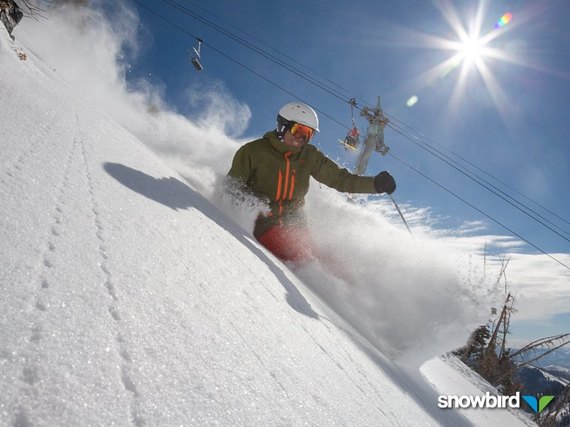 PHOTO: Snowbird Ski and Summer Resort
There's a similar battle on the East Coast, with Killington usually as a leading player.
Let's not forget that Mother Nature does tend to throw some curveballs, both good and bad. Steven's Pass in Washington State received two feet of snow in the first week of October, resulting in its earliest opening ever.
This time of the year, the season in the Southern Hemisphere starts winding down with most resorts closed by early October. In the Alps, there's a similar feeling that summer skiing is over and it's time to build up to the coming winter.
Oh dear, I'm already getting excited for 2014-15 season and it's only May.
This post originally ran on the Liftopia blog.
By Patrick Thorne, @Snowhoper.