The 'Green IS Award' engages young filmmakers to shine a light on environmental issues that impact women and girls.
World Environment Day is in June, so it seemed fitting to post this article in June. Then, I got to thinking, every day should be a day where we are working to make sustainable changes for our environment. Green IS our commitment to making lasting change. Elaine Robbins, a connecther supporter and advisor, caught up with Iwani Mawocha and Sarah Khan (winners of the 2014 Green IS prize) to discuss the impact their films are having on creating positive environmental change in their local communities:
At just 16 years old, Sarah Khan is already becoming the Rachel Carson of Pakistan. As a student at the Headstart School in Islamabad, Khan came across Carson's groundbreaking book Silent Spring, which sparked the modern environmental movement. The book inspired her to learn more about the effects of pesticides in her own backyard -- in particular, the effects of exposure to pesticides on Pakistan's cotton pickers, nearly all of whom are women and girls. The result was Harvesting Hope, which won the 2nd prize 'Green IS Award' at the Girls Impact the World Film Festival this past February.
The Green IS award, launched last year, has inspired student filmmakers like Khan to become powerful voices for the environment. The award was created in a brainstorming session with Lila Igram, founder of the crowd-funding website Connecther, and Ian Somerhalder & Kim Klingler, co-founders of the Ian Somerhalder Foundation (IS Foundation). It is funded by the foundation's actor and UNEP goodwill ambassador Ian Somerhalder, which engages youth to speak out about the earth and its animal inhabitants. "It's been amazing to watch young people who are using the Girls Impact the World platform to create social change," says Igram. "We are so grateful to the IS Foundation! In creating the Green IS prize, we hope to further engage and inspire youth to create positive change around so many issues that negatively impact both women and the environment."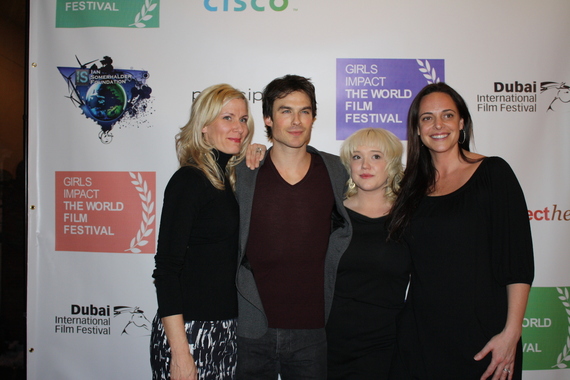 The lovely Ian Somerhalder Foundation Team at Connecther's Girls Impact the World Film Festival. From left: Kim Klingler, Ian Somerhalder, Jessica Ramsey & Katie Basinger Evans

Khan's project took her to a small village in Pakistan, where she met women and girls who labor as cotton pickers. "Many of the girls I interviewed were only a few years older than me," she says, "and not a single one of them had been spared from the issues caused by pesticides. They had rashes on their hands, skin problems, and respiratory problems." Khan also noticed that many of the young women struggled with reproductive health issues, which is linked to pesticide exposure. Their infertility problems often triggered divorce and doomed their future marriage prospects.
As the title promises, though, Harvesting Hope also offers a message of hope. The problem, she says, has a simple solution: to revive Pakistan's 10,000-year-old tradition of natural cotton growing. Khan interviews Samiya Mumtaz, a woman whose organic cotton initiative is creating a model of how women can earn a livelihood from cotton while keeping themselves and their water supply healthy.

But can one short film really impact the world? Just ask Khan. Since winning the Green IS prize, she's been interviewed for Pakistani newspapers and television. She was invited to screen her film at two other film festivals and at the Heinrich Boll Foundation. "It's amazing to me how a five-minute film, which I made with basic filmmaking skills, has already gained so much attention," she says.
Women's Handcrafts Meet High Fashion
The $2500 1st prize at last year's film festival went to 18-year-old Zimbabwean Iwana Mawocha for her short film Rural to Ramp. The film focuses on an inspired idea: to find lucrative new markets for handcrafted products made by some of the world's poorest women.
"In many parts of the world, handcrafts is the second-largest source of rural employment, after agriculture," says Iwana. Women help to support their families by selling their handcrafts, and they teach these skills to their daughters. Iwana and her mother, Gail Mawocha, noticed that there was a vast untapped potential for these handicrafts, which aremade of locally sourced, sustainable materials. They launched a project in Swaziland and their native Zimbabwe to fill that gap.
Watch the 2014 Girls Impact the World Film Fest Awards at Harvard
"Our aim is to change the perception that handcrafts are just cheap curios," says Iwana. "We wanted to show that they can be transformed into projects that don't just follow market trends, but set them." The project brings some of the world's top designers together with women artisans to create high-end fashion items. The result? Mind-blowing African designs infused with contemporary flair--all made of sustainable materials like seeds, clay, sisal grasses, and recycled paper, plastic, and metal. The Rural to Ramp fashion show is attended by luminaries from Africa and around the world, and the fashion items are sold internationally.
"We take an interest in the entire chain of the rural groups we work with," says Iwana. To ensure sustainability, we research and analyze the resources and raw materials required, and we work closely with product development, marketing, branding, and packaging."
Watch Rural to Ramp, or any of the other Green IS finalist films, and you'll feel filled with hope. In a world with big problems, it is inspiring to see what big things happen when women and girls get a chance to pursue their dreams.
You can now watch the full video (click here) of the Girls Impact the World Film Festival Awards held at Harvard this past February (2014).
To get more details and fill list of winners, click here.
The Girls Impact the World Film Festival is an initiative of Connecther, co-sponsored by the Harvard College Social Innovation Collaborative and co-directed by Ara Parikh, Kerry Hammond and Lila Igram.