Wednesday Facebook COO Sheryl Sandberg launched the new social network LeanIn.org devoted to helping women encourage each other to "lean in" to their careers. This week and going forward, HuffPost Women will be featuring posts from women reflecting on the moments in their careers when they "leaned in" -- pursued their ambitions despite their fears -- or "leaned back" -- focused more on other aspects of their lives so that they could lean in with more energy later on.
I am a firm believer in being open to possibilities. My motto is "open arms, open to the possibilities." As optimistic as I am by nature, I chose to look for challenges as opposed to doing things that are safe and comfortable. I open my soul and heart to my wildest wish, as crazy as it may seem, and lean openly in to it.
Looking at my life, I can connect the dots backwards to see that each time I nudged myself forward, I was working towards finally giving myself the courage to run for public office in Beverly Hills. I put myself "out there" for people to judge me, like me or completely hate me -- the 35,000 people who live in my city who if I had lost, I would have to see each and every day.
Not only did I lean in to the challenge, I dove in full force! My campaign color was bright orange, a color that, to me, represents, "Here I am, I am going for it!"
I did win and won big, winning every precinct, which had never been done before. I love the idea of leaning in to our possibilities... next up for me? I will be the Mayor of Beverly Hills for our Centennial year in 2014! Imagine the possibilities for our community when we greet ourselves and each other with open arms and an open heart, leaning together. I know the best is yet to come!!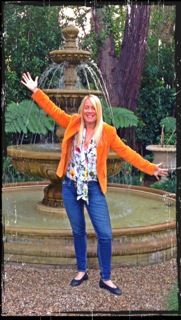 Have a "Lean In" or "Lean Back" story of your own? Please email it it in 500 words or fewer, along with a headshot, bio and personal photo to women@huffingtonpost.com.
RELATED ON HUFFPOST WOMEN:
Sheryl Sandberg Launches New "Lean In" Site For Women
PHOTO GALLERY
11 Quotes From Sheryl Sandberg's "Lean In"