Yes, I was one of those few thousands of Americans who traded a night-out-on-the town for watching the GOP debate this past Saturday night. But how could you not? In a race of ups and downs and unexpected jabs and blows, watching the leading candidates battle it out for the 11th time was almost as exciting as the concurrent Pay-Per-View UFC fight!
But unlike the bloody Republican debate from Vegas, this one was memorable for the funny, dumb, smart, "kitschy" and even humble moments that kept us engaged and watching.
So, here is my recount of the top five moments you missed while you were socializing, having dinner or out with friends this past Saturday night -- don't worry, this is why we are here to keep you informed.
1. A Quick and Funny Gingrich: When top contenders Romney and Gingrich were faced with a moment to highlight their differences and uniqueness, Newt was quick to dive deep into his political track record while Romney emphasized his experience in the private sector. That was quickly muted when a somewhat funny Newt Gingrich said, "The only reason you didn't become a career politician is because you lost to Teddy Kennedy in 1994" -- Ouch and funny.
2. Kitschy Bachmann becomes the sound-bite queen: Kudos to Michele Bachmann, her campaign advisers and her speech writers for making her the most quotable candidate of the night. While she may not be at the top of the polls she put herself at the top by creating the new term #NewtRomney which became a trending topic that unleashed the forces of Twitter. Close to a hundred thousand tweets (according to a Tweetreach report) quickly turn her words into pop-culture. Also her revival of 9-9-9 turning it into win-win-win reminded us that simple and memorable sticks with the public. Some of the peoples' tweets read as follows:
@jacobtauer: ... #Bachmann made some good moves...#WIN-WIN-WIN, #NewtRomney, and referring to herself as president are great #psychmoves!

@Ohans2: lol.. I adore Michele Bachmann's grouping of identicals: #NewtRomney

@AuthenticChange: #IowaDebate is history, newest soundbite: #NewtRomney ala Michele Bachmann. #Sadthatishascometothis :(
3. An Unoriginal Romney Borrows a Line from Lloyd Bentsen: Yes, as quick and funny as Romney's response to the NewtRomney parallelism sounded, it was a borrowed line from an epic moment in 1988 when from Lloyd Bentsen puts down Dan Quayle at a debate. "I know this man, and he is my friend but he and I are not clones!" (Romney)
4. Romney's Career-killing $10k Bet; so outrageous it became the #1 Twitter trending topic! A bet, really? Everything about it was wrong! From the ego-trip that fueled it, to the outrageous amount of $10,000, which represents 25% of Iowans median income, the move was plain dumb. When questioned by Perry about his healthcare reform and individual mandates a not-so-cool Romney put out a $10,000 bet to Perry. Now, if you thought #newtromney was hot on twitter, #what10kbuys got the public fuming. At 11:30pm the trending side bar on Twitter showed the term as the number one world-wide trending topic. Below some of the tweets:
@dccc: Mitt's $10k bet could pay for the Payroll Tax Cut for 10 middle income families: http://t.co/0SyklIEt #What10kbuys

@karlgroves: #What10kbuys 4 months income for the average family in Mississippi

@Upwithchris In Romney's defense, one can't buy a lunar colony for 10K #what10kbuys #uppers
Congratulations Romney for quickly jumping to the #1 spot!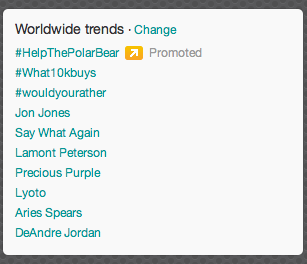 5. Infidelity, the 800-pound Gorilla in the Room: Diane Sawyer's sneaky question on infidelity actually came out better than I expected. With an obvious personal and marital baggage that adds up to three marriages for Newt, the topic of infidelity was clearly seeded to trip the leading GOP candidate. However, surprisingly enough while the candidates "politely" articulated that moral character is important in a leader, and Santorum reminded us of his 21 year-marriage and seven children; what could've turned into ugly was well-managed by all. Some highlights below:
"When I make a vow to God, that is even stronger than a hand shake in Texas." (Perry)
"If you would cheat on your wife, why wouldn't your cheat on your business?" (Perry)
"You are electing a leader, that trust is everything." (Santorum)
And what was Newts response? A humble, vulnerable and believable answer that reminded us candidates are also humans and that the faith that binds the party is rooted on the power of forgiveness. "I've made mistakes at times and I've had to go to God for forgiveness..." (Gingrich)
So, there. Twenty-three days to Iowa and Newt Gingrich solidified his position, Romney sabotaged his possibilities with a bet and Bachmann won with memorable and "kitschy" sound-bites became the phrase that pays! And according to the people of Twitter, the debate can be summarized as:
@Gabesmom: #IowaDebate in a word. #Santorum: Inspiring. #Perry: Resurrected #Paul: Modified #Bachmann: Trite #NewtRomney: Defensive
p.s. For those of you wondering how to engage via Twitter during these debates or live TV shows, simply go to Twitter and type the #tag (i.e. #iowadebate, #xfactor, #newtromney) phrase on the search bar to see all the people chatting about a given topic. You can join the conversation by typing the #tag into your post. Also trending topics are the subjects that are most-talked about by Twitter users world-wide and are always listed to the right of your screen. Enjoy the tweeting!
Lili Gil is an award-winning business and Hispanic market expert, business, politics and news media contributor and creator of the online show and channel Moments2CulturRise. She is also co-founder and managing partner of XL Alliance a multicultural strategy and marketing firm dedicated to helping business executives and leaders navigate and enter emerging markets. Gil was recently selected by the World Economic Forum as one of only 190 Young Global Leaders identified across 65 countries for her leadership, community and business impact.