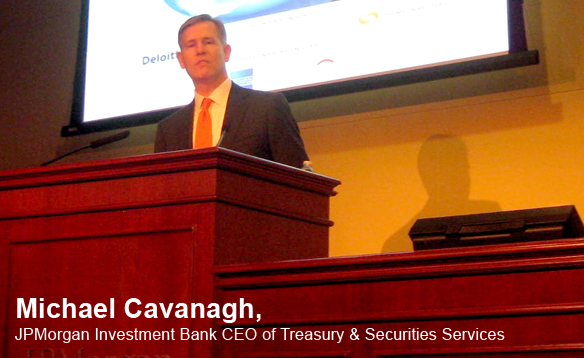 In a hectic month of market fluctuations and political distractions, most CEO's and executives lose sleep over global uncertainties and the implications of economic downturn on the bottom line and growth.
While many board rooms may be discussing the challenges of having to do "more with less" and restructuring to reduce costs and infrastructure, some other are going back to the core that make businesses excel and thrive: the power of its people and leadership from within.
This was the theme and spirit at the CEO Roundtable hosted by JPMorgan Chase & Co., Deloitte and Thomson Reuters at the heart of Manhattan this month part of their annual Hispanic Heritage Month activities. With an impressive group on over 400 attendees from various Fortune 500 companies and the support of top executives like Michael Cavanagh, JPMorgan Investment Bank CEO of Treasury & Securities Services, Carlos Hernandez, JPMorgan Investment Bank Head of IB Global Equities and Ami Kaplan, Deloitte Deputy Managing Partner NE Region the session was inspired by a focus on identifying and supporting the next generation of Latino leadership. The event was organized by the Latino Networks Coalition, an internal and fast growing Latino Employee Resource Group co-founded by JPMorgan and Reuters, in supports their organizational business, people and marketplace objectives.
Recognizing the power that Latinos represent in the global marketplace as a vibrant market of 50.5 million strong with a $1 trillion in buying power growing at an impressive 347% rate in the last decade, the prestigious group of banking, Wall-street and other major corporate professionals discussed candidly the need for action. "We're here tonight to talk about America's future...the country needs a diverse pipeline of leaders to move our country forward", said Cavanagh as he compelled his employees and leaders to take action. "Latinos are the key to reaching these goals", said Cavanagh, which is representative of the company's commitment to diversity as an engine for growth and marketplace differentiation. JPMorgan Chase in 2011 was the recipient of three prestigious diversity recognitions including Top 100 Employers by Stonewall organization in the LGBT Workplace Equality Index, Top Companies for Multicultural Women by Working Mother magazine, 2011 and seven prior years and Top 20 Adoption-Friendly Workplaces by the Dave Thomas Foundation for Adoption, 2011 and four prior years.
The presentation continued with a CEO panel including Manny Espinoza, CEO of ALPFA National, Carlos Orta, CEO of Hispanic Association on Corporate Responsibility (HACR), Rudy Martinez, CEO of iHispano who shared their roadmap and strategies for fostering the leadership and development of Latino leaders across the nation. Also a concern for the gap and disparity in leadership was discussed in length. While the demographics are strong the fast growing Hispanic market is not aligning with growth in representation at the C-suit. In looking at our future, Victor Arias a senior partner at Korn Ferris International in Dallas, notes that even if the focus is widened to include the top 1,000 companies and the nearly 10,500 directors who serve on their boards, U.S.-born Hispanics only make up about 1.5 percent of the total. Also, respondents to this year's HACR Corporate Inclusion Index (HACR CII) survey demonstrated that for a median average of 60,810 total US employees, an average of 4,393 Hispanics employees held those positions; this means that only 7% of the U.S. employee base was represented by a Hispanic employee. A focus on sourcing young talent from alternate channels as well as focusing on education and mentoring, were some of the key takeaway's shared by the panelist. And to close the panel, HACR shared with the audience a sneak peek at a documentary sharing an intriguing and compelling story of commitment to our community from corporate leaders who understand that in order to move the needle and be successful...you have to play an INSIDER GAME. www.insidergame.org.
In closing, Ami Kaplan from Deloitte shared her personal journey as a female executive and shared on the company's commitment to diversity. She emphasized the need for leadership engagement and the importance of tracking measurements for accountability and success.
While Latinos are certainly gaining the spotlight in news, politics and entertainment, they remain almost invisible at the C-suite. However, the commitment of companies like JPMorgan Chase & Co., Deloitte and Thomson Reuters and partner sponsors American Express and Citi, serve as an example of the types of business sessions and new thinking that is required by top corporations to succeed in this new America.
Congratulations to the Latino Employee Resource Groups (ERG's) for their passion in elevating the Latino voice within the corporate hallways, and to the companies whose leadership, structure and measurements are reflective of their true commitment. They are walking the Latino walk from the top down!
--
Lili Gil is an award-winning business and Hispanic market expert, media/ TV contributor and host of the online show Moments2CulturRise. She is also co-founder and managing partner of XL Alliance a cross-channel marketing strategy organization dedicated to helping business executives maximize their efforts into profitable growth. Gil was recently selected by the World Economic Forum as one of only 190 Young Global Leaders identified across 65 countries for her leadership, community and business impact.