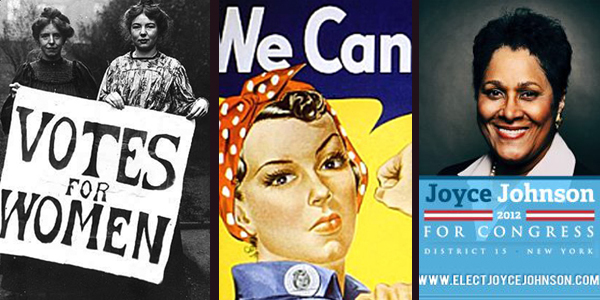 In the middle of a heated election year, a never-ending GOP race and "white-male-discussions" over contraception and abortion, could the issue with our government be the absence of diversity and a fresh female perspective in places of power and decision-making?
While most media outlets and blogs obsessively focus on issues of the economy, global security, immigration and even birth control, one topic seems to remain untold in the race to the White House: The crucial role and need for women in politics. The U.S. population is 51 percent female, yet their representation in U.S. Congress is only 16.6 percent. Also ethnic minorities are underrepresented at 16.8 percent vs. 35.8 percent of U.S. ethnic population.
No, this is not a feminist column or a complaint letter -- so please keep reading -- it simply is a reminder of the embarrassing facts that ranks the United States 78th worldwide in female political representation, according to data gathered by the Inter-Parliamentary Union in 2011. The Nordic countries (Sweden, Iceland, Finland, Denmark and Norway) lead the world regionally with 42.1 percent female representation in national legislatures, according to a study published by the Congress Research Service. Also, it is quite shocking that our "progressive, democratic and developed" nation has greater gender disparities than Rwanda, Cambodia, Costa Rica, Bolivia and many other "developing" nations. The percentage of voting female representation in U.S. Congress (16.6 percent) is slightly lower than averages of female representation in other countries. Women represent 19.3 percent of national legislative seats across the entire world. Clearly there is a big pink elephant in the room being ignored. While on one side we speak of inclusion and great intentions, the actions and trends are indicative of a crude reality.
So what is as the bottom of this issue? Besides the silent boys' club mentality that prevails at most circles of political power, there is also a gap in female candidacy and overall awareness and support for those running.
Are there not available and qualified female candidates to choose from? For example, it is likely that the average New Yorker in Upper Manhattan's 15th District -- which is a majority minority district with approximately 70 percent African American and Latino representation -- doesn't know of Joyce Johnson (D), currently running for Congress. Daughter of Columbus L. Stanley -- who was the first African American elected to the city council in Poughkeepsie, New York -- Johnson grew up in a family of community leaders and activists who founded the first grassroots organization to empower the city's black population. A graduate of Howard University, Johnson has held various positions at the office of the Manhattan Borough President, the Mayor's Office of Children and Families and the office of NYC Schools Chancellor, among others. Most recently she has also served as President and CEO of the coalition-building, nonprofit organization Black Equity Alliance.
Clearly, Johnson's unique blend of activist and public service lineage combined with her strong track record in both private and public sector success differentiate her as a candidate equipped to truly represent the needs of New York's highly diverse community. In a recent interview exclusively for The Huffington Post, Johnson addressed her background, story and challenges as a female and minority running for public office.
While Joyce represents one story in one district, her profile serves as a snapshot for the many more potential "Joyces" in America who represent qualified, educated and experience female candidates that are riding under the radar of big-money, inner-circles and mass-media awareness.
How do we fix this? Certainly this is not an easy task and the product of years of systems, stereotypes and closed inner circles that need some shaking up.
The big pink elephant in the room must be tackled in small bites, which takes the active participation of party leaders, media, donors and voters alike taking accountability in filling the gap. So... what are you doing in your place of influence today? Are you welcoming qualified women into your circle of power, covering stories of remarkable females in politics, donating at least $5 to a qualified candidate or identifying those who are running in your state or district?
Startling numbers are hard to argue with, and it will take a change in the process and ecosystem -- which involves your participation -- to dig us out of that embarrassing 78th spot!
For more information about women in politics and gender issues please reference "Women in the United States Congress 1917-2012", Rutgers' Center for American Women and Politics (CAWP) and Feministing.com.
Lili Gil is an award-winning business and cultural marketing expert and business and political contributor to various national networks. She is co-founder and managing partner of XL Alliance a cultural strategy and marketing firm helping business executives and leaders understand and embrace multicultural markets. Gil was recently selected by the World Economic Forum as one of only 190 Young Global Leaders identified across 65 countries for her leadership, community and business impact. Her online channel She is the creator of the online channel Moments2CulturRise provides insights on the impact of culture to business, politics and trends in America.