This review is part of our series on the most popular fitness tracker devices. Read the full story here.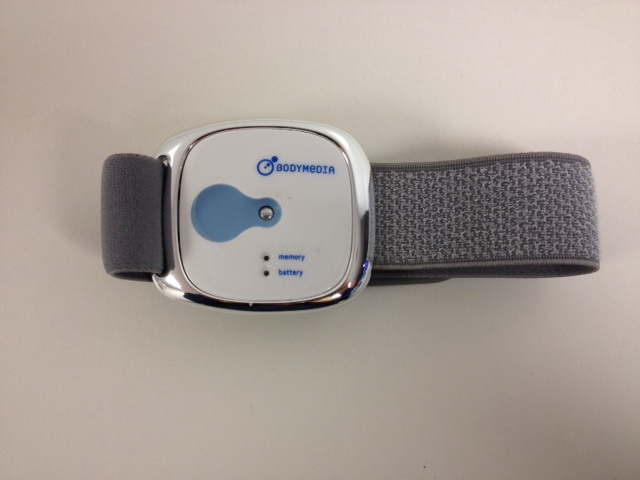 If you're really set on being more active or losing weight then a maybe a fitness-tracking device is the way to go. I can't say that I would wear this again, but it was encouraging to learn that the body can burn 2,000 calories in a day (workout included) just by sitting at a desk, breathing, and typing.
Wearability
If you fancy an 80s aerobics vibe, then you'll enjoy this dull grey armband worn on the least flattering part of the arm -- around the bicep. It's adjustable, of course, but its presence is always known. The device itself is white and blue, but the font seems to date it, like I picked this up in Back To The Future. Points for a consistent look!

If you cover the armband with a sweater -- as I did out of embarrassment that I appeared recently hospitalized -- then it's slightly uncomfortable and lumpy. When you go sleeveless it looks like a peculiar fashion choice. This tracker cannot be mistaken for a stylish upper arm cuff.

Usability
The set-up of this device revived my tech anxiety. In retrospect it's not too complex, but going through the motions was chaotic and stressful: After setting up an e-mail account it should work seamlessly, but no, you have to select a plan for purchase in order to make the device work. The iPhone app is an easy download as it should be: idiot tested by me.

After selecting your goal -- either weight management, weight loss, or becoming more active -- the app adjusts to your choice. You input weight and height so it can calculate the amount of steps you need to take in a day and calories you need to burn to reach your goal.

The device syncs with an iPhone, but only after it's been plugged into the computer, and tracks the amount of steps taken in a day and the calories burned from the movement. It also takes into account the level of physical activity (either moderate or vigorous), but I was unsure how accurately it calculated these because after 45 minutes of spinning I was told I'd done only 12 minutes of vigorous activity. Perhaps I am worse at indoor cycling than I initially suspected (but probably not).

Luckily the armband is easy to wash because sweating in it and then wearing it to work the next day doesn't feel super clean.

Use
This was a great tool in helping me recognize how much energy the body expends just living. I sit at a desk all day and still manage to burn many more calories than I believed. This is an important lesson, to remember that you're ingesting calories throughout the day as fuel and not from a lack of restraint. You need energy because you're expending it all day long.

Effectiveness
When you plug in the tracker it connects to your personal online profile and always sends positive notifications when you've beat personal records.

Like I mentioned before, learning how many calories you do burn is impressive and definitely makes you feel good about yourself. And if you're trying to lose weight you can input what you've eaten for the day.

The tracker does beep when you first slip it on. It feels, resembles and sounds like a Tamogotchi. I wouldn't mind it beeping more to encourage more steps!

It does get tedious plugging in calories into the iPhone app, even when you've eaten very healthy food. The list of recognized foods isn't incredibly inclusive (though there are some surprising elements like FAGE yogurt!) and it forces you to define your serving, but let's face it, if I could calculate things I wouldn't consider writing a sport.

Price
I am not a connoisseur of fitness trackers, but $140 irks my frugal mindset.