Beyonce cut her hair. After she cut her hair, she posted an Instagram photo of her pixie cut. In so doing, she singlehandedly gave music, fashion, and style blogs the journalistic equivalent to an aneurism. Short hair versus long hair? Is Beyonce still just as gorgeous as ever with her new 'do? After a long day of hundreds of stories, thousands of tweets, hoards of bickering commenters, we were left with our own very important opinions on Queen Bey and her hair decisions.
Beyonce's hair decision was very traumatic for me. I got a pixie cut a few days before Beyonce and now that the opinions on the subject are flying every which way, I wake up grateful that I finally took the plunge despite the haters. Everyone came out of the woodwork to announce their distaste or support for girls with short hair.
It all started when I saw the Michelle Williams' Louis Vuitton advertisements, her normal pixie cut was grown out longer on the top, complimenting the round shape of her face and highlighting her features. The cut was also very angled and messy and I decided immediately that I had to have that haircut.
Making the decision wasn't easy, I was a nervous wreck at first, but I went to a longtime friend of mine to discuss the issue. I met Wendy Kidd when I was on a very bad date and she was crying into her margarita after just being dumped. I offered her a lollipop and we became fast friends. She intrigued me -- she was the former drummer of the all-girl band, Lez Zeppelin, and she owned one of the hottest boutique "speakeasy" hair studios in the East Village. I'd heard about it before, but you had to be in the 'know' or be referred to get an appointment.
Wendy and I kept in touch for years and I called her last week and bombarded her with emails about Michelle Williams and her haircut. Wendy told me I'd look great with the 'do, but I always had an excuse as to why I couldn't pull it off. My nose is too big. My cheeks are too chubby. My chin, my forehead, my lack of cheek bones....
BEFORE: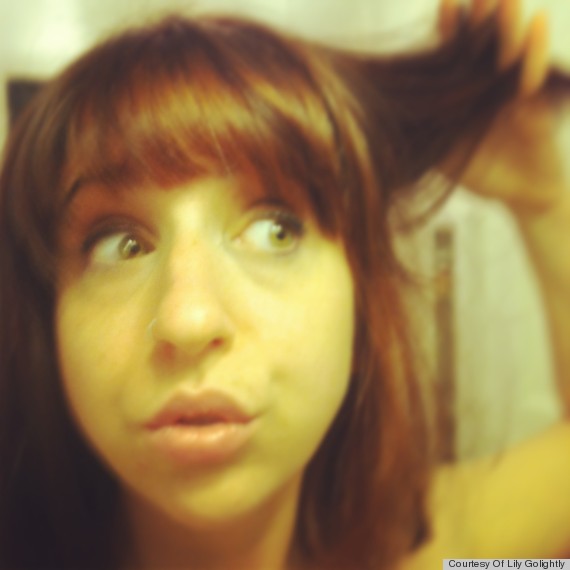 In a triumphant moment of bravery I took the plunge. I was at Wendy's upscale studio, a single chair in front of a wall to ceiling mirror looking at myself terrified. She took a fistful of hair from the back of my head and... snip! No turning back.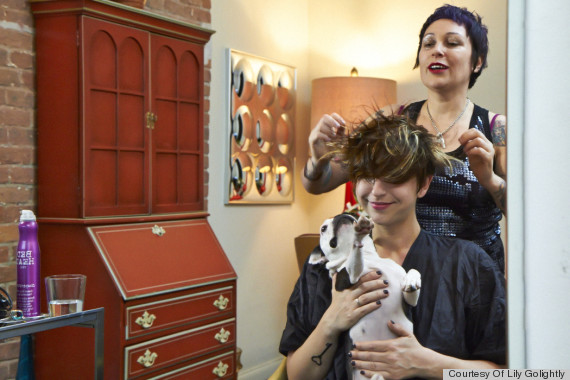 As the hair fell to the ground I felt more confident. I'll admit I am being a tad overdramatic, but I was the stone and Wendy was Michelangelo -- carefully chiseling away like a master.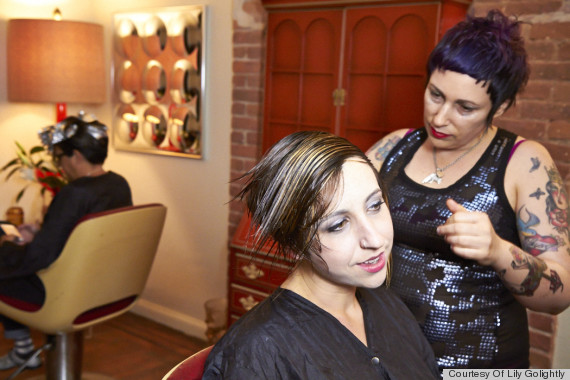 When the cut was over, I walked out of the secret salon and around the East Village, strutting my stuff.
AFTER: