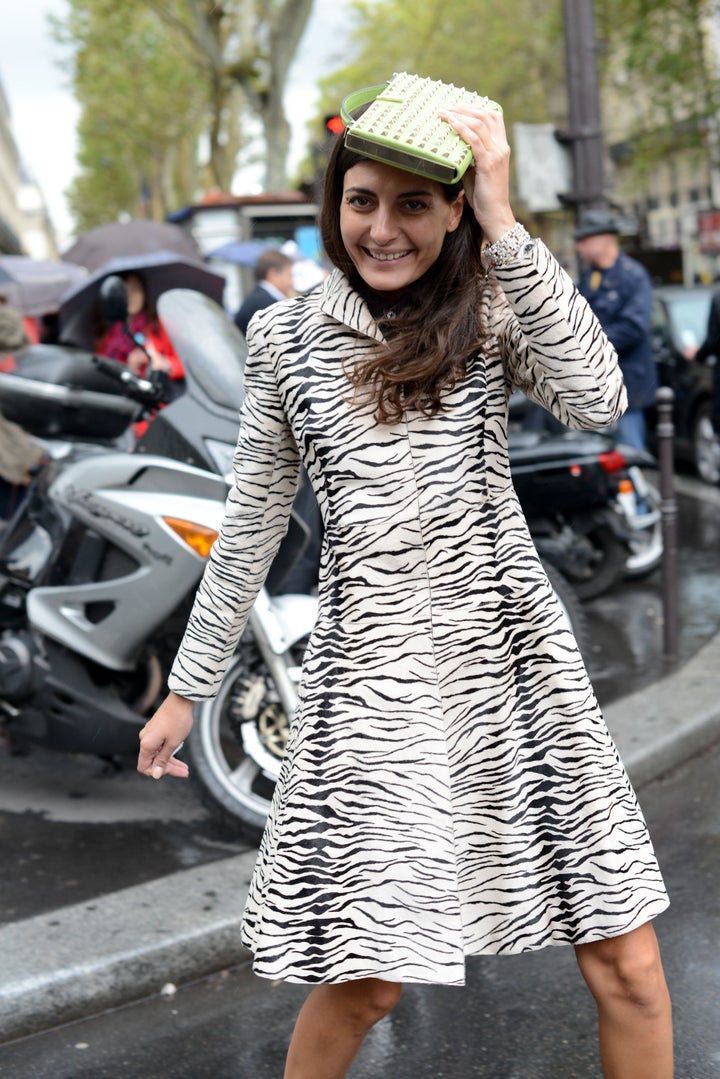 I ran into casting director Kannon Rajah in the lobby of Hotel Costes (I know it sounds like this is the only place I went while in Paris -- but it's not true! I swear I only went twice, but apparently this is where things happen during Paris Fashion Week). I was coming for an appointment, he was just going, and as Kannon drifted off with a group of very important-looking (and handsome!) gentlemen, he insisted: "You really have to come to the show I'm working on -- Shiatzy Chen, it's really special. Mel is working on it!"

"Mel" is only one of the coolest women working in fashion. In fact, she was really my first contact with the fashion world. I used to spend a lot of time at my cousin Joseph's studio, Altuzarra. Five years ago, Altuzarra was a very small brand, and I was always hanging around because the studio... was my apartment! That's right, I used to live among samples and swatches, interns and garment racks, mood boards and the occasional model. Altuzarra has since gone on to win the prestigious CFDA/Vogue Fashion Fund award, which helps emerging American designers find success through financial support and guidance from an industry icon. Since the beginning, fashion editor Mᅢᄅlanie Huynh has been a strong influence and the stylist behind the brand. I've always been so impressed with her, so when I heard Mᅢᄅlanie was working with Shiatzy Chen in Paris, I knew that I had to go.

Mᅢᄅlanie greeted me backstage at Le Grand Hotel last Tuesday evening before the show. As she led me out of the makeup area and towards the bright racks of clothing, supermodels Liu Wen and Carmen Kass breezed by me with their hair tied back in perfect low ponytails. I only had a few moments to examine the clothes up close before a bevy of models descended on the clothing racks to dress in their "first looks." Shiatzy Chen has come to be known as the "Chanel of Asia" because of the brand's intricate patterns and exceptional tailoring. I had the opportunity to catch up with Taiwanese-born designer Wang Chen Tsai-Hsia only moments before the show began, who explained her most recent collection was inspired by the folk art of paper cutting.

"This practice has flourished in China for more than fifteen hundred years! I wanted to marry an artisanal sensibility with modern fabrics," the petite designer explained. Surrounded by willowy models, I was able to see the traditional influences in the collection: lustrous silk and satin, motifs embroidered on frocks displaying various rituals and events, large patches of printed paper-cutting patterns. I thought back to the robes and quilts passed down from my own grandmother, and felt inspired by Chen's modern approach to Asian fashion.

By the time I finally took my seat next to stylist Vanessa Traina and singer Sky Ferreira, the room was packed. To my left, the press was consuming a row of young women dressed to the nines: Hollywood actress Michelle Yeoh, Miss World 2012 Yu Wenxia and TV presenter Li Jing. When the lights went down and the paparazzi scattered, Jing took her place next to me and chirped into my ear throughout the show: "See that shape? It's so luxury, and it's 50 years old. That skirt style is like that of a school girl, it means something to us." Jing was right, the designer had just told me backstage that the collection was influenced by the silhouettes of the 1960s. Jing pointed out the vivid colors, her excitement causing her voice to quiver: "Yellow means royal or king to us, the colors Chen is using are all so special. She is such a good student of Chinese history!" No wonder Shiatzy Chen is so popular in Asia -- the brand truly celebrates Chinese craftsmanship and her designs speak directly to her consumer base.
Just before Li Jing disappeared into the sea of elegant shapes, embroidered organza and bumper crop jacquard she turned to me and said very matter-of-factly: "Everyone is talking about China now and it's very exciting, but now we need to show the world how strong our design is... and I think this brand can do it!"
PHOTO GALLERY
Shiatzy Chen