Can a rock musician with an electric guitar and a classical string quartet share a creative space? Live on a traditional concert hall stage? In an age where fusion of musical genres are increasingly commonplace, and where "mash ups" are regular DJ fare, there are still too few collaborations that jump disciplines and genres. Within the classical music construct, there is so much innovation and room to play -- however, adding an amplifier is still pushing it for classical crowds. The fusion of rock and classical music is not new, it just often feels that way.
Many times, these collaborations yield rich music with vibrant results. And like any piece of music, the quality is completely dependent on the composer and the performers, regardless of their genre identity. Often this is where rock-meets-classical falls under attack. Many critics maintain that rock musicians lack essential technical abilities, and rock musicians respond that classical musicians are simply recreating what was fresh decades or centuries ago. While this seems so absurdly stereotypical, it is true in some cases. But when a musician possess the skill and musical intuition, the ability to synthesize the existing with the improvised, there is a very real union in the notes and in the sound -- a great piece of music becomes less about the interplay of string and rock and more about a work that can stand on its own.
David Longstreth with Calder Quartet at the Met Museum. Photo by Teresa Cajigas, MMA
A few weeks ago, when David Longstreth of the Brooklyn-based band, Dirty Projectors, joined the acclaimed L.A. quartet, Calder Quartet, at the Met Museum for a set of new compositions for voice and string (here, string included an electric guitar) the energy in the theater was transformed. As part of a complete Bartók Quartet Cycle, in which Calder Quartet performs alongside various guest artists, this program, in particular, really experimented with the depth of Béla Bartók's vision and voice. Longstreth and Calder Quartet are both seasoned in edgy partnerships, and Longstreth's music did not fall into the trap of pre-determined genre lines and constraints. Rather than focusing on the role of classical instruments, he found the similarities in the reverberation of a violin and the strum of his guitar.
A good collaboration between rock and classical is when you can no longer find the distinction. Maybe it is the limiting "you play, then I play" mentality of fusion that riles the critics. And why wouldn't it? Music that simplistic is frustrating.
Audiences also have a mixed reaction to classical music infused with another genre. Place an electric guitar with a string quartet and all of the sudden we are back in 1913 listening to Stravinsky -- or worse, John Cage just annihilated a millennium of musical understanding. Audiences get uncomfortable; many walk out simply at the visual cue of the electric guitar. However, we need more of this on the live stage -- new commissions and more daring programs. Classical venues should embrace these types of performances, and not just to court the flighty and inconstant "younger demographic."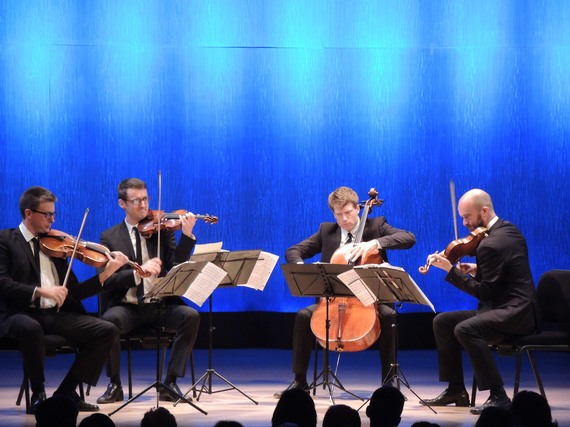 Calder Quartet at the Met Museum. Photo by Alethea Brown, MMA
There are important performance venues that have championed surprising partnerships. In recent years, musicians like Sufjan Stevens composed scores for the New York City Ballet (for the ballet, Year of the Rabbit) and Rufus Wainwright wrote the opera Prima Donna, which premiered in the U.S. at the Brooklyn Academy of Music. As long as musicians are eager to challenge their own technique and collaborate outside of the box, rock and classical music will provide exciting performance experiences.
The Complete Bartók Quartet Cycle at The Metropolitan Museum of Art concludes with the Calder Quartet joined by contemporary violinist Iva Bittová this Friday, November 22 at 7 p.m.