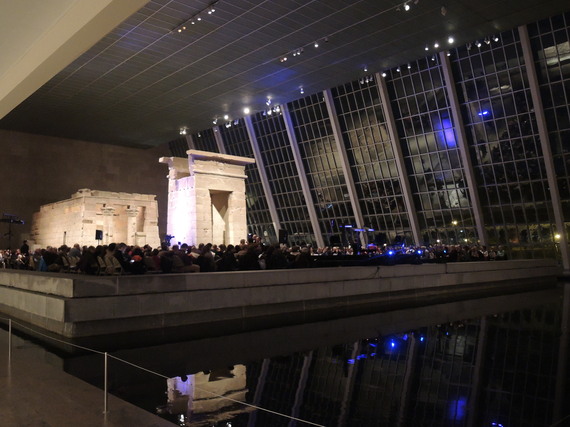 The Temple of Dendur in The Sackler Wing before a performance. Photo Courtesy of MMA.
Fear is a great motivator. It gets us out of bed in the morning, it bathes us in adrenaline, and helps keep us on task and grounded. In moderation, fear can be our friend. But fear-based motivation, in the long run, gets toxic and counter-productive. It stunts our growth; keeps us in unhealthy relationships; shrinks our world. In the classical music world, fear often gets top billing as the primary driver of programming. So much of classical music programming, live and on the air/web, is fear-based. Programs are religiously kept within some arbitrary boundaries of time and geography, as if the programmers are afraid of tripping some wire, which will then cause, what? Loss of audiences? (Cue laugh track.) Market share? (Cue louder laugh track.)
Fear's first cousin is Set-It-n-Forget-It. SInFI is powerful. And because it wields quantitative data, it speaks in an incredibly persuasive voice: "Hey, this program worked last year, and the year before that, and 10 years before that. Why even question it?" SInFI rules classical radio, for example, because it's measurable. Public radio can tell you exactly how many membership dollars a poor, DOA Smetana trifle is worth, or some 19th century adagio, as opposed to an equally dreamy, but unfamiliar adagio by, say, Jennifer Higdon.

If It Ain't Broke, Why Fix It is SInFI's younger sibling. Not quite as sure of itself, but equally corrosive. It's not as measurable as SInFI, but it holds the upper hand of making intuitive sense. It carries within it the built-in assumption that applying change, like applying pressure, may break something.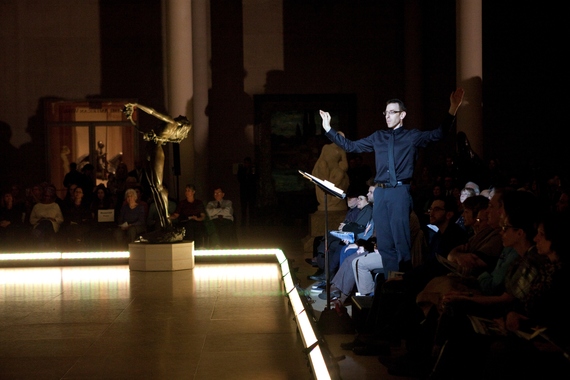 Conductor Alan Pierson leading Alarm Will Sound at the Met Museum. Photo by Rebecca Greenfield.
When planning a new performance season for the Met Museum, I try to reject fear and its extended family. The main motivation for me, first and foremost, is curiosity. Also a comfort level with the artistic imagination. I have a high tolerance for complexity and for non-linear planning practices. To tell the story of an iconic gallery, or interpret and explore an exhibition through performance requires constant experimentation. The opposite of fear is not just courage, it is also confidence, and a willingness to trust. Trust the performers to create work that has resonance and meaning; trust the audience that they will be curious enough to come; trust the curators that they'll embrace the collaboration. Armed with an awareness of your space, your audience, your city, the imagination has room to play.
With this freedom comes complications. For example: how do you tell the story of The Temple of Dendur through the imagination of a composer and a librettist? In I Was Here I Was I, a new opera commissioned by the Met Museum for the ensemble Alarm Will Sound, the librettist/director Nigel Maister and composer Kate Soper were charged with creating an original work that illuminates (literally and metaphorically) this extraordinary work of architecture and art -- an artifact two millennia old, which embodies so much of the unfathomable miracle that is the Met's collections.
Here's what the facts are: The Temple of Dendur, dating, we think, from 15 B.C., travelled to New York from Dendur, Nubia (Egypt), 50 miles from the Aswan Dam, is made from Aeolian sandstone, and is covered in extraordinarily beautiful images (as well as centuries of visitors' names).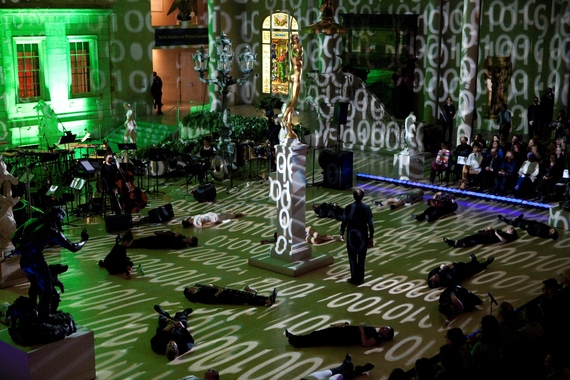 Twinned in The Charles Engelhard Court. Photo by Rebecca Greenfield.
This is where knowledge stops and imagination comes in. What compelled the Nubians to build this amazing temple? What drove centuries of visitors to memorialize their encounter? What does it mean, for a 21st-century tourist, to behold the temple?
On June 20, we will have an opportunity to look at the temple through the artistic imagination of Nigel and Kate. Risky? Sure. New? Yup. Complicated? Also yes. But really, what choice is there, for a place as vital and essential as the Met?