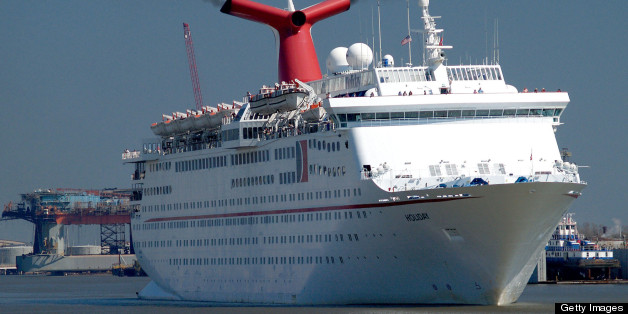 I have watched recent events unfold around Carnival Cruise Lines with a mix of curiosity and sadness. While teaching my marketing class at Texas Tech University, I proudly recounted my time working for Carnival in marketing. Sadly, hardly a week passes without a new hiccup surrounding a Carnival ship. In addition to the Carnival Triumph fire, the line faced propulsion and steering issues on multiple occasions, along with shipyard issues in Mobile.
Normally, global firms are able to circumvent PR crises, but this has not happened with Carnival. Even with the news of an operational program to prevent future issues, the media responded with skepticism.
Based on my observation as a marketing academic and veteran of the industry, I propose five steps Carnival should take to improve its media problems.
Step 1: Face Facts. In an interview with Travel Weekly, Carnival President Gerry Cahill was asked if the Carnival Triumph was a PR disaster; his response of "I can't answer that" is a very bad sign. Mainstream news outlet CNN references the raw sewage and overflowing toilets of the Triumph in any story related to the line. With Vanity Fair describing Carnival Triumph as an "excrement-caked incubus of budget-friendly misery," Carnival has become an easy target. Make no mistake: this was a PR disaster.
Cahill indicated that he could not determine the severity of the media problem because of his focus on the lines' consumers. This strategy is inadequate at best. Public companies have multiple stakeholders. Ignoring the media (including trade and consumer) means ignoring company shareholders. Negative press hurts consumer demand and pricing (and thus impacts Carnival's financial performance).
For an informed point of view on the severity of the issue, I spoke to former Carnival Corp. PR executive Tim Gallagher for his insight. He concluded that a new approach is needed to protect the investors: "As a shareholder, I'm concerned whether the senior management at Carnival Cruise Lines truly understands the damage they've done to the brand especially in the media relations area. They don't act like they do. And if they do, what is their plan to restore confidence and respect for the Carnival brand? At this point, "business-as-usual" isn't a strategy."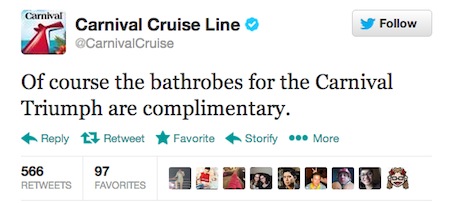 In times of crisis, triage and a focus on critical stakeholder needs (including the media) are mandatory.
Step 2: Find an Empathetic Spokesperson. For decades, Carnival had a strong executive team under brand CEO Bob Dickinson. He knew how to handle the press and guide Carnival through crises (including issues similar to those faced today). The media received effective responses when things went wrong, and communication with the distribution channel (travel agents) was handled swiftly. Cahill is clearly a talented financial executive, but it's clear he is ill suited in the spotlight. He is either not following the advice of senior PR professionals or is uncomfortable with media interactions. Because of the severity of the situation, Carnival should select another executive spokesperson with crisis management experience.
Step 3: Dump the Triumph. Deleting Carnival Triumph from Carnival's portfolio is no small decision, as cruise ships typically cost well over $500 million. Wall Street has expectations on passenger counts and pricing yields, and a full fleet delivers on those expectations. That said, the vessel's name is tarnished (even cursed, according to some media descriptions).
To stem the damage from the tarnished name, I recommend removing Carnival Triumph from the fleet; two viable options exist: 1) Overhaul the ship and rename the vessel. The line is doing just that with the former Carnival Destiny. After an extensive refurbishment, Carnival Sunshine will erase all traces of the former ship. By pursuing this strategy, the tarnished name disappears. 2) Redeploy the vessel into another fleet within Carnival Corporation. The parent company has shifted ships like this for years. This tactic allows the firm to build up a different geographic market with a newly refurbished vessel, and it avoids the skepticism a name change might arouse domestically.
Step 4: Redouble the Focus on the Distribution Channel. Carnival has faced a rapid turnover in its executive ranks recently. When these executives either retired or left, they took strong relationships with them. When longtime travel agent champion Vicki Freed left for Royal Caribbean in 2007, she was able to build strong agent support for Carnival's top competitor. That growing Royal support has been at the expense of Carnival.
Michael Driscoll of trade journal Cruise Week summed up the complexity of the issue around Carnival's dilemma and the agency distribution channel: "What should be done is they need to have somebody besides them telling the consumer public why this product is safe and why they should go on it. So one recommendation would be to ramp up support of retail travel agents. They need third party advocates and that level of support is currently lacking in comparison to their main competitors -- Royal Caribbean and Norwegian. There are other actions they need to do to gain support of third party advocates -- agents are just one of them. But it's all going to take time and no more ship problems during that time period."
When asked if recommending Carnival is risky, Driscoll reiterated the line's past success: "For all the deserved ballyhoo over a few bungled cruises, any agent can honestly argue that the satisfaction rate is staggeringly high for the Carnival Cruise product overall."
Step 5: Act Immediately. The time to act on these suggestions is now. Gallagher concluded, "Carnival has a very celebrated and storied history that is now being badly tainted by an event that really shouldn't have reached this level. It should be over by now but isn't. Going forward, it is contaminating everything they do and will continue to do so until they make some changes in their M. O."

I sincerely hope that Carnival can recover from this. I have fond memories of my time with the company working with amazing people. Despite the criticism the line has received, Carnival has the opportunity to show great leadership in how it responds going forward. Acknowledging the severity of the issues, switching the media spokesperson for the line, redeploying the cursed Triumph, and refocusing on the agency relationships immediately are all positive steps towards regaining the trust and respect of the public, the distribution system, and the media.
Will Carnival have the courage to do what needs to be done? That question remains for Mr. Cahill (or his handlers) to answer.
This post is part of my ongoing investigation into the Connected Consumer. If you would like to share how you use mobile and social technology as part of my Ph.D. program research, join the study online.