In my recent piece featuring recommendations for Carnival Cruise Lines, I mentioned the strength of business-to-business (B-to-B) relationships that Royal Caribbean has built. Despite the prevalent consumer advertising and online booking capabilities cruise lines have in the marketplace, most cruise vacations are booked by travel agents. Leading the charge to advance these long-term distribution system relationships for Royal Caribbean is Vicki Freed, Senior Vice President of Sales, Trade Support, and Service. Freed, who was recently honored with HSMAI's Legend in Hospitality career award, served as my mentor during my Carnival days. I asked Freed to chat with me about why she has focused so intently on the agency community throughout her career and how Royal Caribbean has found success in fostering long-term B-to-B relationships.
Investment in the Distribution System. Over the course of her career, Freed has been a tireless champion for the travel agency distribution system (even when other suppliers were shifting support and marketing dollars to drive direct sales).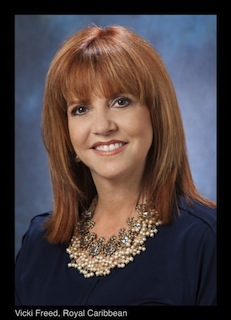 Freed explained, "I truly believe the travel agent is essential to the cruise purchase. They are not salespeople - they are guides, directing the customer toward the very best buying decision for that customer. What are the most important investments we make over our lifetime? You would probably say college education, our homes, schooling for our children, care for our pets - and also - vacations. These are the most memorable moments of our lives. Let an expert guide you through the overload of information and misinformation, saving you time, finding you the very best value, and ultimately, creating a vacation you will never forget." Taking a long-term view, Freed invests in a distribution system that can foster long-term repeat business, even when others take a different path towards direct sales.
Commitment & Trust Matter. Seminal research on relationship marketing by Morgan & Hunt (1994) stresses the importance of commitment and trust for relationship success. Freed agreed, noting, "There are all kind of gimmicks, one-offs, and other plays across the industry that try to sway travel agent loyalties. Royal Caribbean's loyalty is not born out of a strategy devised in a boardroom somewhere. It's proven in our years-long partnership with, and endorsement of, professional travel agents. No relationship is perfect. It can be affected by occasional speed bumps, industry challenges, and learning moments."
In this discussion, the recent fire on the Grandeur of the Seas must be mentioned. While this incident is quite different to the Carnival Triumph fire (as the Grandeur was back in port the same day), comparisons in the press are inevitable. Overall, Royal Caribbean was praised for its rapid response and executive outreach. Proactive messaging early in the event and images of line President Adam Goldstein on board the vessel helped assuage the mainstream press. An important component of the company's response was Freed's social media outreach to her B-to-B audience. By having strong relationships with the distribution system, Royal Caribbean had the relationships in place to deal with this issues with consumers (both prospects and existing customers).
In comments made before this event, Freed concluded, "Travel agents trust our safety record, they love our product, and they continue to believe in us and in cruise vacationing. They counteract the media frenzy with their continued endorsement of cruising with Royal Caribbean." Freed also points to emphatic support for agents from Royal Caribbean CEO & Chairman Richard Fain in recent comments about the firm's positive financial performance in the face of industry turbulence. Fain observed, "One possible reason [for the positive performance] is the very strong support we have received from the travel agency community. They have been effective in communicating the industry's high safety standards, especially to inexperienced potential cruisers, who are...the most influenced." From the top down, there is a commitment to the distribution system that is enduring and strong. This investment in the distribution system has become a foundation of the firm's marketing, not a whim or reaction to short-term performance mandates.
Mythbusters. Freed also views the travel agency distribution system as having a key role in overcoming misperceptions about the industry. Freed explained, "Since the very beginning of cruising, it's never been without its perception challenges. Back when only a small population had ever taken a cruise, the outsider view was that it was a vacation for the 'newlywed, overfed, nearly dead.' That it was boring. That there was nothing to do but eat. Royal Caribbean turned that early style of cruising around by building the world's most innovative ships."
Freed continued, "But there's something even more challenging than devising a revolutionary ship design - and that's turning the tide of public opinion and stereotypes. That's where the travel agent community came in, over the past decades, and where they make a huge difference now. They were the earliest champions of cruise vacations, and I can promise our industry would not have boomed if not for their very early and lasting support. With recent challenges, they have more than proved their worth, rallying around the industry, driving conversations about safety record in a more positive direction, and ultimately reassuring consumers as they make their vacation decisions." Whether it is changing incorrect views of what a cruise is to reassuring consumers that Royal Caribbean is a safe, fun vacation, Freed credits her B-to-B partners with much of the line's long-term success.
Respect from Customers & Team. To illustrate the impact Freed has had on the travel agency distribution system, I spoke with Joe McClure, President of Montrose Travel, a national travel retailer. He described Freed's role in relationship success: "Each year when Montrose Travel's sourcing team considers its preferred supplier partners for the following year, beyond the typical financial metrics, we heavily weigh two additional considerations and ask ourselves, 'Do we like and do we trust this company.' If we don't trust the supplier as a whole nor like the people individually, it doesn't matter what the financial metrics are, we won't support that company in a preferred relationship."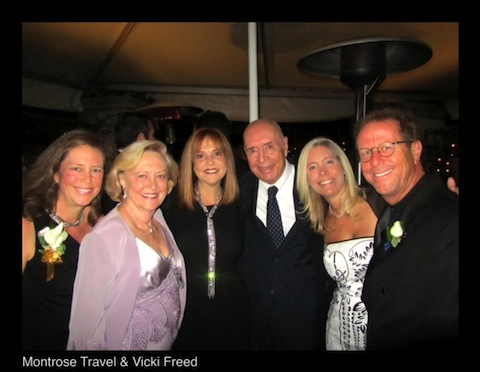 McClure continued, "The trade [journals] have recently noted one major cruise brand that has significantly reduced their support of the travel agency distribution system during 2013, which has certainly hurt their financial results as are currently being reported. In contrast to that company, Royal Caribbean has taken the opposite approach. Lead by Vicki Freed, Montrose Travel's relationship with Royal Caribbean has flourished with both companies enjoying the benefits of our mutual success. Vicki Freed is the poster child of what positive relationships are all about, and we trust her implicitly." John Jerkovich, Royal Caribbean BDM, also described Freed's impact: "Vicki has walked-the-walk, having been a travel agent, DSM, and director of sales; she knows first hand what its like to sit with customers, to get them excited about buying a cruise vacation and the follow up required. She also knows what it takes as a cruise line supplier to deliver excellent sales support to the agency and an outstanding cruise for their customer."
While Freed's example focuses on the cruise industry, it reinforces the critical need for firms to maintain positive relationships in their distribution system, which will help weather unexpected storms. As noted previously, Freed's comments were gathered before the Grandeur incident, but the insight she shared hold even greater relevance after. I consider myself extremely lucky to have had Vicki Freed as a mentor early in my career, and her views of the importance of relationships have stayed with me well after I left industry and returned to academia.
This post is part of my ongoing investigation into the Connected Consumer. If you would like to share how you use mobile and social technology as part of my Ph.D. program research, join the study online.