In the crowded smartphone market, a rich app ecosystem is a minimum requirement for manufacturers. It's no longer enough to have the fastest processor or the brightest screen; in fact, having the right apps available is make or break for manufacturer success. This success might depend on word of mouth. Today, a person's network is critical to product selection, such as micropurchases like smartphone apps. Research indicates that consumers rely upon one another more than traditional media, and, tellingly, a consumer's network is more influential than celebrity spokespeople. Ratings and reviews are two of the oldest forms of online consumer influence channels; taking this idea a step further, Nokia, handset maker focused on the Windows Phone operating system, recently launched a platform to leverage this trend to help its customers discover new apps and increase handset satisfaction through consumer app recommendations.
Nokia App Social allows Nokia customers with a Lumia device to curate their favorite apps via lists. Participants can create lists of helpful apps they have discovered related to interests, such as productivity apps, the best travel apps, etc. These lists provide additional insight into what actual users consider useful, which gives more context and color than just a one to five star review. This strategy has much upside in driving handset satisfaction from new users.
Engagement with the Handset. As Windows Phone is the newest and currently the smallest ecosystem (as compared with iOS and Android), helping new users find the best apps to maximize their new phones is a consumer positive.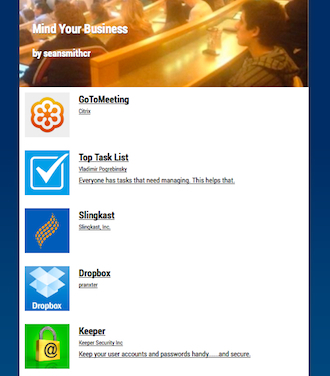 As most carriers have a reasonable return period for device exchanges, the sooner Nokia can get purchasers engaged, the better. By getting users engaged with the handset and finding the right apps (with insights from other users), Nokia stands to retain these new adopters.
"Spotify for Apps." While tech blogs and Twitter pundits have deep knowledge of the pros and cons of each new handset, these experts may not be readily accessible to the mainstream phone buyer; early adopters and social sharers may be the real experts and influencers for novices new to Nokia. By empowering social users to share and advise new phone owners on what's hot and what's useful, Nokia provides authentic ways to show additional uses for the phone.
To better understand the strategy, I spoke with Vincenzo Belpiede, Head of App Discovery for Nokia. Belpiede summarized Nokia's genesis for this project: "Getting app recommendations from friends today is difficult, so we designed App Social to make the mobile app discovery experience fun, fresh and easy. [Users can] think of App Social as Spotify for app[s], where you discover new apps and ask for recommendations from people you know who are already using them." Straight out of the box, Nokia novices have access to recommendations from users just like themselves.
Developer-Consumer Connection. An operating system can be the best on the market, but it is utterly useless without a rich app ecosystem. This creates a burden on handset manufacturers and OS developers to provide an attractive environment for developers, including potential for profit from consumer adoption. A social network for app advice has not been executed at this scale in the mobile space before. In doing so, Nokia effectively adds a new promotional channel that relies on user participation; through this forum, app mavens can share their top finds and give new users an authentic and trustworthy way to discover and buy new apps.
Additionally, Belpiede indicates that app developers have reason to participate: "With App Social pre-loaded on millions of Nokia phones and the App Social community now in place, developers can take their fate out of the hands of the 'app store gods' and firmly into their own hands. I've seen many developers practice this new form of viral marketing, generating app downloads by launching their new apps within their own App Social app lists and socializing them within the App Social community." Thus, App Social has created a new way for developers and consumers to connect via social curation, an interaction that the mobile marketplace has not traditionally seen before.
Expertise Inside. Finally, Nokia eliminated any barriers to consumers accessing the app. Rather than merchandise App Social in the app store and hope consumers will download it, the firm decided to pre-load it on Lumia devices. As consumers familiarize themselves with the Windows Phone environment and their new devices, App Social will be prominently available to help guide new users. Consumers won't have to stumble upon the community--it will be front and center.
In talking with Belpiede, I was struck by the potential that this concept has. Because Nokia and Microsoft have an uphill battle based on Android and iOS market penetration, the social app recommendation concept has merit in retaining new customers and driving word of mouth to encourage new recruits to the Windows Mobile ecosystem. With so many social apps integrating positive reinforcement through gamification, App Social has a great shot at gaining traction and maintaining engagement and usage. Consumers love recognition for their expertise, and App Social will provide this ongoing positive reinforcement through recognition; plus, new handset owners will see what app mavens have found most useful. Both existing and new Lumia owners benefit from the service.
In short, future iterations of the community have strong potential. Belpiede agreed with my assessment; he concluded, "We want to evolve App Social rapidly to meet the needs of today's connected consumers, so we're crowdsourcing our product roadmap with input from App Social users and Windows app developers worldwide. In the future, look for several enhancements that take into account how social users and content curators want to take advantage of our global, social app discovery network."