A key trend in digital and social media marketing is identifying influencers and their scope of influence. LinkedIn recently put in place a list of the most influential users in a participant's network. Klout has long curated lists of influential consumers by category, but the metric has often come under fire for lack of transparency in how rankings are determined. Marriott quietly rolled out a mechanism to identify influencers to drive social conversation, which is still in beta. Each of these companies is trying to drive engagement and encourage influential consumers to continue participation and spreading word of mouth about the brand through quantifying consumer influence.
One area where online influence is just coming into examination is sports and sports marketing. A branch of my research is in sports marketing and social media community, both on which my dissertation chair (Debbie Laverie) and I presented recently to the American Marketing Association Sports and Event Marketing Special Interest Group. A key component we identified as driving the formation of sports brand community is relevance of the reference group (or people that observers deem are like them) and identification with others in the community.
Shortly after this presentation, Mark Fidelman, author of Socialized!, contacted me with details of his company's latest influencer rankings. Interestingly, Fidelman's company, Raynforest, is blending sports community and influencer identification with a "top" list as part of his social sports influencer practice, which ties in beautifully with connected consumer research.
In keeping with with my past analyses on strategies for courting connected consumers, I have outlined four key areas where I think Fidelman's influencer list strategy makes sense:
Transparency in Identification. While no company will readily share its 'secret sauce' for how it operates, a level of transparency is required to foster trust.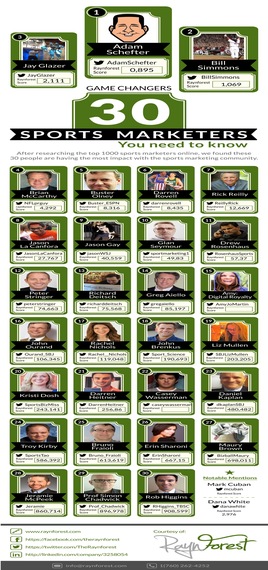 Influencers are identified using a number of tools, including Google search results, Alexa, Littlebird, and GroupHigh. Social footprint, message amplification, frequency of engagement, and citations are then used as part of Raynforest's algorithm to identify its lists of influencers. From here, the list is identified and reduced to the Top 50.
Engaging Influencers. Raynforest alerts influencers making the list that they will be featured in advance of the publication, which drives word of mouth once the infographic is released (see sidebar). Typically, these influencer lists generate upwards of 80,000 views and between 6,000 and 20,000 social engagements. From there, Raynforest serves as a platform that connects influencers and brands wishing to spread brand launches outside of traditional media spend. If a sports or athletic brand wants to start a discussion around a campaign or new product launch, these influencers can start the buzz.
Building a Pipeline. While organic word of mouth is always the optimal form of social sharing, firms are increasingly engaging influencers who align with their brands to help spread the word. In this case, Raynforest connects these influencers with brands or teams to potentially match for partnerships. As influencers partnerships are established, word of mouth is spread.
Authenticity in Messaging. Brands have found that if they do not have transparency with their compensated influencers, it can cause a significant backlash. To participate in Raynforest, influencers must follow a code of conduct and share that they received some type of compensation or product trial as part of the program; influencers only work with brands and teams they like, so authenticity and transparency are encouraged.
Fidelman launched his Top 50 Sports Marketing Influencers on Wednesday, which are highlighted on his blog. This group of 50 online mavens features a mixture of press, bloggers, and connected consumers whose influence drives conversation and the extends reach of content for sports and athletics topics, and the infographic highlights the top 30 from this list. Fidelman concludes "Our research has shown that these top 50 sports marketers move the needle the most online. They are the ones people tune into and the people that are most engaging with their content and discussions." For sports marketers looking to stimulate discussion with an engaged audience, this top influencer list may be a strategically sound place to start.
This post is part of my ongoing investigation into the Connected Consumer. Follow me on Twitter at @LinHumphrey.