Last week, on an unseasonably mild December day, I headed to Dish Cooking Studio in Toronto for some stellar southern California cuisine. SoCal chef and restaurateur Suzanne Goin was in town to launch her second book, The A.O.C. Cookbook. She named it after A.O.C., one of the restaurants she started with her business partner and wine director, Caroline Styne, in what is shaping up to be a mini-empire of Los Angeles eateries. Goin prepared a four-course lunch to celebrate California Restaurant Month, an annual toast to California food and wine taking place across the state throughout January.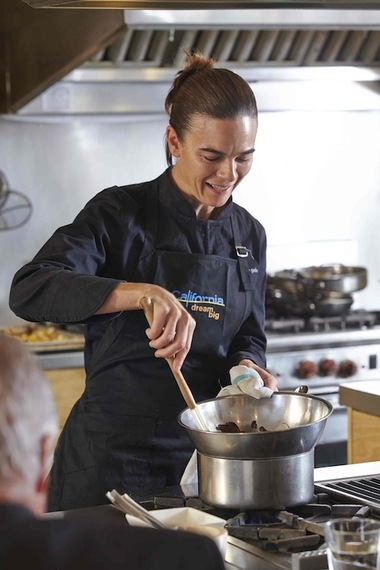 Pomegranates and Persimmons: Born to Be Together
Chef Goin, whose Lucques,A.O.C. and Tavern restaurants are all L.A. foodie landmarks, was front and center in the open kitchen. Her husband, Chef David Lentz, owner of The Hungry Cat restaurants in Hollywood, Santa Monica and Santa Barbara, manned the grill.
With a deft and charming manner, she dazzled us all with an engaging hands-on demonstration complete with running commentary. She crushed grapes and mixed them with sherry vinegar and saba, a rich Sardinian condiment based on unfermented grape must. She pureed sweet potatoes and pooled them under slices of lusciously grilled duck breast. She made a vanilla pot de crème with dark chocolate, Marcona almonds and cream, because, well, "sometimes you have to lighten things up with a little heavy cream."
Pomegranate and persimmon are two of her favorite fruits: "They come out at the same time and they're born to be together." She whisked them with citrus, olive oil and pomegranate molasses (who knew?) to make a knockout salsa for what was unarguably her piece de résistance: a fusion of curried cauliflower, "the chicken of vegetables because it takes on flavors really well," fregola (Italian couscous), chickpeas and cilantro topped with a perfectly grilled fillet of orata.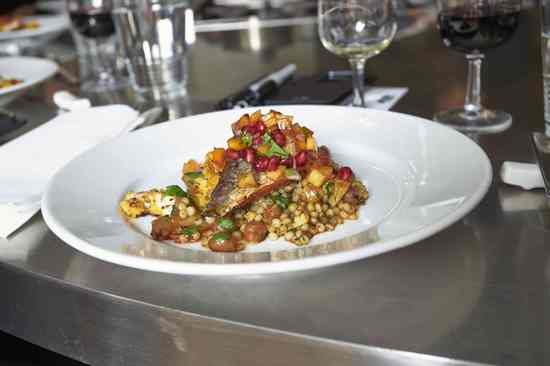 Goin' to California in my Mind
Thanks to the quality of the state's farmers, ranchers, fishers and food producers, California chefs are outstanding and the cuisine is vibrant statewide. Chef Goin's lunch was L.A. all the way -- ultra fresh, ethnically diverse, farmers-market fare treated with artistry and understanding. She made preparing the dishes look almost as much fun as it was to eat them.
It was enough to make me want to go to cooking school, or at least to California in January, where I could happily wind my way down the coast, from Mendocino for locally-harvested Dungeness crab, down to the legendary Chez Panisse in Berkeley and on through the San Francisco Bay area to Carmel, where I'd rest up in a winery spa. Then I would cruise through the trailblazing vineyards and tasting rooms of Paso Robles and the Central Coast, taking advantage of prix fixe specials and staying at gastro-inns along the way. I'd be sure to get to Brentwood in time for lunch at Goin's Tavern, my favourite L.A. restaurant, where the turkey burger with tomato coulis is the best I've ever tasted.
For more info on California Restaurant Month or to plan a trip of your own, check out www.visitcalifornia.com