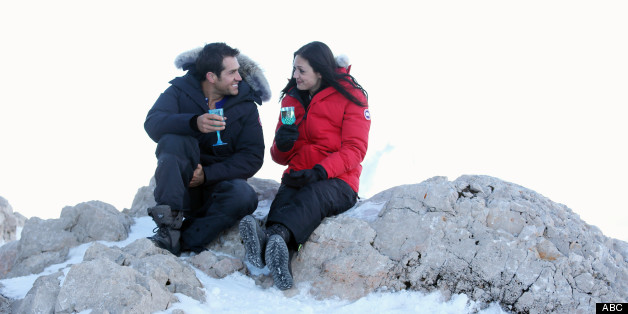 Note: Do not read on if you have not yet seen Season 9, Episode 5 of ABC's "The Bachelorette."
Guten tag, readers. It's week five and you know what that means? ABC foots the bill for the entire show to fly somewhere overseas because "Fill In The Blank Country" is totally the best place to go when you're on a journey to find true love. Here's hoping Desiree can narrow down her search for Mr. Right in Munich. I'm sure there are several stereotypical German scenarios that she will have to maneuver in order to weed out the men who are not here for the right reasons. Let's take a look.
Beer Steins, Polka & Lederhosen ... OH MY!
Chris is the lucky suitor to land the first one-on-one and the date starts off with our love birds trying on Oktoberfest regalia in a local shop. I'm sure Chris will never live down the fact that he has both worn a pair of high heel shoes and rocked a pair of lederhosen in one season, but he's willing to take the licks and will probably write a poem about the experience in his journal. Just as he and Des arrive in the town square to awkwardly polka dance in front of confused towns folk, we spy a creepily acting Bryden among the crowd. He waits for the last breath of the oompah chord to play from the band before rushing over to Des, to steal her away and tell her that he's no longer in it to win it and will be leaving the show. She waves goodbye and celebrates with Chris at ratskeller with an enormous stein of beer. Auf wiedersehen, Bryden. Hello, morning hangover.
Dangerous Snowy Activities

My first clue that the boys received a German swag bag was when the group date card was read and I noticed that they all had on the exact same jewel tone hoodies. Hooray for matching! Then they all showed up on the mountain with the same winter coats and Ray-Bans. Twinkies times six! After a quick yodeling lessons, ABC sends them down a steep mountain on sleds. Ironically, there are no lessons on how to steer or stop these death traps and the next 10 minutes feature our bachelors careening off into the wild blue yonder. One with a camera strapped to his sled even manages to slam right into Des. He thinks she's so cool because she didn't cry. Dude. I think her tear ducts are frozen. She's totally bleeding internally.
Later, Des takes them to a partially underground basement made entirely of snow and ice. There are actual decorated rooms with fluffy throw pillows and turquoise colored champagne glasses. Some idiot lit candles. IN THE ICE HOUSE. I developed a weird case of anxiety just waiting for the dwelling to cave in on itself. It didn't. But things did get hot when Des attacked Brooks in the makeshift snow bedroom. And then she did the same thing later with James. Brooks scored the date rose though. They are definitely front runners. Mikey T. took Des outside to lounge on the side of a snowy mountain before Zak stole her away and thanked her for bringing him back to Germany where he once decided NOT to become a priest. I think it's because he knew his affinity for going shirtless and pantless would more than likely be frowned upon. It's just a guess.
Hot Tugging
Yes. This is a thing. No, I'm not being gross. Apparently, you can fashion a hot tub into a motorized boat and float around in the freezing cold with two people who loathe each other. SIGN ME UP! The Federal Prosecutor is determined to throw Ben under the hot tug. And he does so multiple times during the date. I can understand his "feelings" for Des and his desire to let her know that he is "not here for the right reasons," but to constantly bring up his questionable character and love of his son first on the bench, then in the tug, later at dinner and again in private was a bit much. Instead of punching him in the face, Ben took a walk and Des explained to the Fed that what he was doing was completely uncool. Then she rewarded his horrible behavior by giving him the date rose and sending Ben to the limo where he immediately told the ABC Psychologist that he wasn't going to act sad, but he did want to go get drunk somewhere. Des should have sent them BOTH home.
Wine and Cheese
Drew and #Kasey think that something is up with James, and it has nothing to do with the infinity scarf he sported the majority of the trip, or the random rubbing of Mikey T.'s face and shoulders. They overheard a conversation that had something to do with being the king of Chicago, beautiful rich women and how he is vying to be the next bachelor. Drew calls a meeting of the cool kids (Juan Pablo, Brooks Chris) and let's them know that he will be sharing this newfound information with Des at the next rose ceremony cocktail party. Just kidding! Des decided there wouldn't be a party because she knows that it's time for Mikey to hit the road. Drew doesn't have the kugels to talk to Des now, so James stays for one another week. Mikey T. and his gingham shirt are outta here. The limo takes him to the same bar as the other roseless guy.
What did you think, "Bachelorette" fans? Should Ben have stayed? Was it a surprise that Bryden went home? Will we ever see Juan Pablo on a date? Sound off in the comments. Danke!
For a full recap, visit iHateGreenBeans.com.
"The Bachelorette" airs Mondays at 8 p.m. ET on ABC.
PHOTO GALLERY
Summer TV Guide