The vast continent of Africa is well known by global travelers to host some of the world's most intriguing cultural festivals, whether it's South Africa's "Grahamstown Festival" and "Splashy Fen," Nigeria's "ThisDay Festival," or Mali's epic "Festival in the Desert." All distinct in their own contexts, a local festival is quite often a fitting way to experience a bit of the environment's culture while traveling. During a recent research trip to East Africa I had the pleasure of participating in some Tanzanian music, film and art at Zanzibar's widely anticipated annual music festival, Sauti za Busara.
Sauti za Busara, or "Sounds of Wisdom," showcases new and emerging artists (often quite popular even though many of them rarely receive airplay on East African radio) alongside established musicians of various genres. The groups come to Zanzibar from all over East Africa (and some from outside Africa as well) and perform in perhaps the most striking of all venues I've ever witnessed: Stone Town's Old Fort, or Ngome Kongwe. This sprawling, open-air structure was built around 1700 by Omani Arabs on the site of a Portuguese chapel in order to defend themselves from the Portuguese. It now houses the Zanzibar Cultural Centre as well as the offices of the Zanzibar International Film Festival: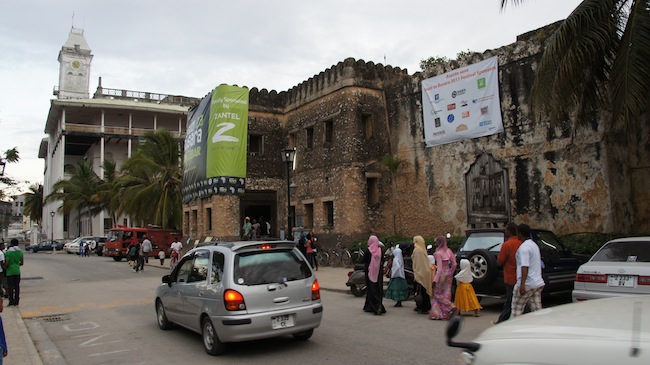 The main stage area: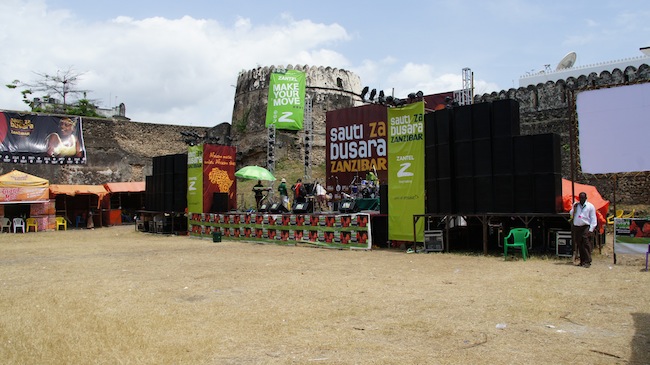 Staff Band Namasabo of Tanzania took the stage early in the evening to begin the night of music: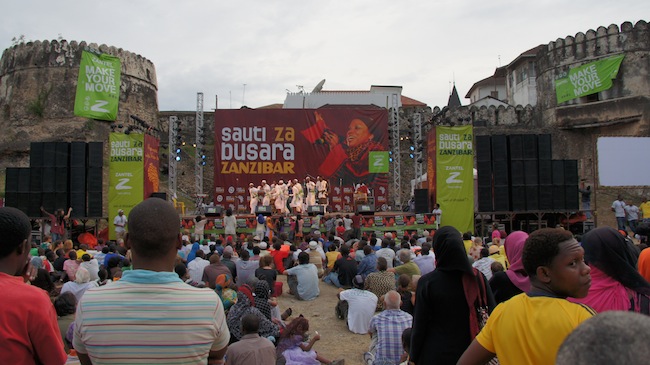 The sponsor list for this year's Sauti include the British Council, the Norwegian Embassy, Goethe-Institut Tanzania, Grand Malt and Memories of Zanzibar (a local gift store):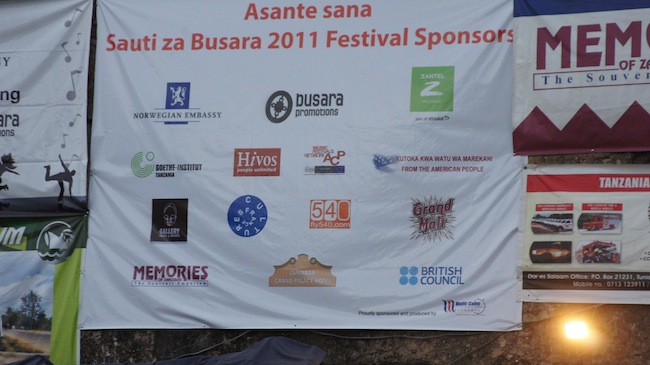 General admission is $20 USD per person and $40 for VIP seats, per day. East African residents enjoyed waived admission before 6:00 pm and only 12,000 TSH daily admission fees afterwards. The elevated seating in the center of the photo below is the VIP area: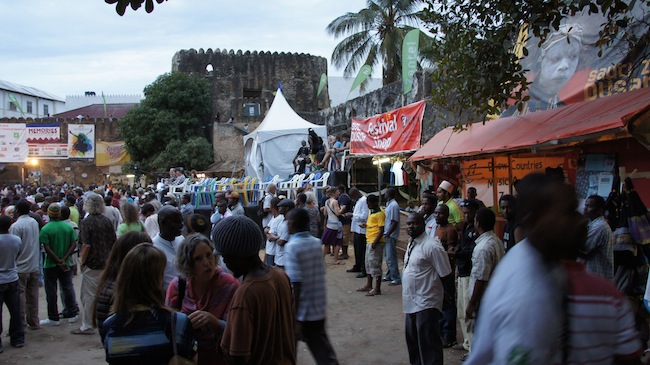 With the music and art stalls comes food, naturally. The main draw was an abundance of meat skewers, freshly sizzling on the grill: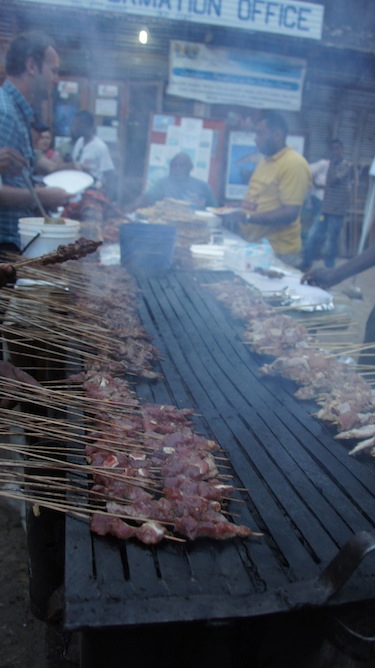 This year, for the first time at Sauti, the festival featured seven screenings of African music films in Old Fort's open-air amphitheater. Supported by Goethe-Institut Tanzania, attendees could opt to take a break from the live stage performances and indulge in a cinematic cultural experience throughout the night:
One of Stone Town's most prominent buildings, the Beit el-Ajaib (or House of Wonders), overlooks the amphitheater. It houses the Zanzibar National Museum of History & Culture: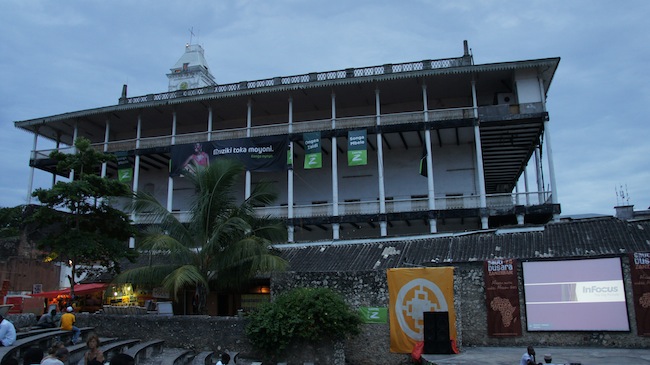 Nomokanjani Arts was simply amazing and definitely got the crowd going with their dramatic choreography and singing:
Back in the amphitheater, viewers were quite engaged in As Old As My Tongue (2006), an intimate portrait of Zanzibar's living legend Bi Kidude. She is perhaps the oldest performer on the world music stage today but continues to court controversy with her provocative stances, lyrics and body performances regarding women and sexuality in Muslim society. She is a must-see in person, and the film is extremely informative: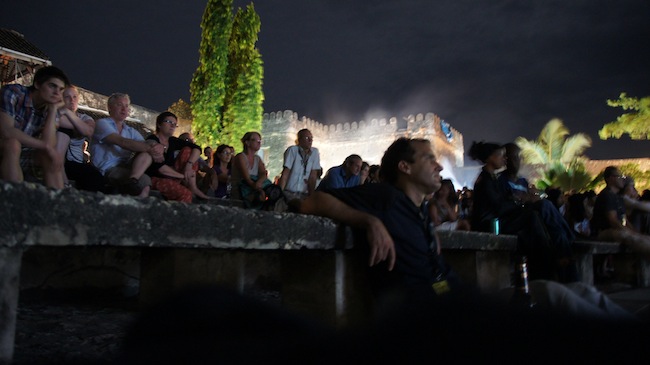 I noticed that I encountered very few Americans during my stay in East Africa. While South Africa and Western Africa perhaps receive more attention by tourists from the U.S., the eastern region is an absolute gem of a destination -- a true crossroad of deep Africa, the Muslim Middle East and Western Asia. Getting to Zanzibar from the States isn't quick and easy, but well worth the long trip, particularly if you can coincide it with Sauti za Busara!
Visit www.balanceofculture.com for more photos of my journey to Tanzania (here and here) and Sauti za Busara.