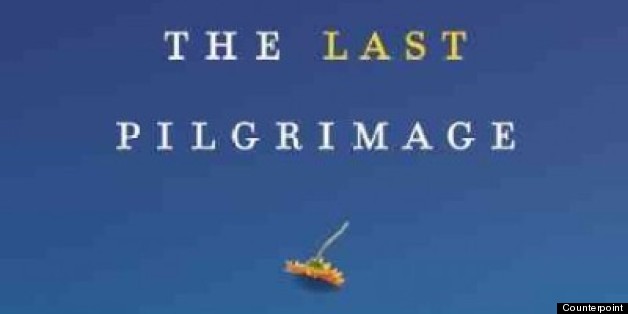 Excerpted from The Last Pilgrimage: My Mother's Life and Our Journey to Saying Goodbye by Linda Daly ($26, Counterpoint Press)
In the beginning of 2009, I had made a decision about my mental health. My mother's cancer was getting the better of me, so I had to take control over whatever I could. I was gaining weight and showing signs of depression. I was sleepless, lacked energy, and could not wait to get into bed every night. I was snapping at my children and stopped talking to friends about how I was feeling. I was slipping into a darker place every day and became frightened about who I was becoming. So I applied for a position in the Los Angeles County Master Gardener Program.
Only fifty people were accepted to this rigorous program each year. I held great hopes that I would be able to become grounded again with more education about gardening and would take advantage of everything this program had to offer.
Being a Master Gardener meant that I could choose a garden project, teach lower-income Angelenos to grow their own food, and become part of a state-wide network of people hell bent on turning every available space into a haven for homegrown produce. These people cherished the earth as much as I did. I already knew being in the garden was good medicine for me, so spending time with others like me could only be a good thing.
The anticipation of that acceptance was like waiting for my college letters. I was so excited about it. I held such validation in this acceptance and vowed to take it all seriously. It was going to be a huge commitment, ten Saturdays from nine to four, in a county building on Cesar Chavez Boulevard off the 710 freeway in East Los Angeles. From the second I walked into that door, I knew I was with my people. There were a bunch of people in Birkenstocks and socks and natural fibers.
I smiled as wide as I could and found a seat. I knew from the equally grateful smiles of those around me that this would be even better than I thought.
I could escape once a week to a place where my mom's cancer didn't factor into anything. I could escape my sadness and focus on learning. It occurred to me partway through this program that I may have found my religion and my people. Every week, we opened our big books to a different chapter. We listened to the words spoken and all had interpretations of what we should do with them. Sometimes I knew more than others, but other times I felt like I knew nothing. The sharing of experiences and methods was enlightening. I learned from some serious professionals that a good gardener is measured by failure. I could identify with that, since every year the cumulative knowledge about tomatoes made me think even further outside the box on how to properly care for them. This new community was blooming and I was an active member. I would leave every session feeling my spirit lifting. The dark hole of depression that may have swallowed me shrank every time I completed a class. I should have been tired, but I was energized with the possibilities of finding a different path to spirituality. Driving home, I wondered if I could assuage my guilt for finding the key to my happiness. Wasn't religion supposed to do that for me?
I found myself in an extraordinary predicament. I was still enmeshed in my Jewish community, finding spirituality in East L.A. with my garden buddies, and fantasizing about a pilgrimage to visit a Christian healer trumping the other two. Was I a hypocrite? Could someone of my former faith really hold the answers for me? I had read about people who had given up their former lives because they had been "touched by God." Would I be that lucky to be chosen for that experience? Maybe my Joan of Arc fantasy would be realized. Or, worse, what if I went and felt nothing? I tortured myself with questions and, I am sure, tortured Mike as well. I was at a serious spiritual crossroads.
I had the feeling that any sliver of spirituality I had was slipping away. I wanted my life to be a whole entity that would encompass a deeper understanding of the world on a spiritual level. I yearned for life to be simple where I could hear myself breathe and feel my heart beat. I wanted to be connected to something greater than I was. I began feeling hopeful that I would have a spiritual awakening with John of God, if I could somehow just get down there.
The fantasies continued. I wondered what it would be like to be one of the pilgrims that flocked to John of God's side. I was intrigued at the deepest level about the blind faith and conviction that made their lives look so much easier than my own.
My fear that God was really Catholic and I had totally screwed myself by converting would be over. I could just follow and not think. It would all be part of God's plan.
Regardless of how I dissected this fantasy trip, none of it really mattered towards the end. The lives of my family members evolved to a new normal, peppered with cancer setbacks and emotional hurdles. As my mom squeaked into September of 2009, the increasingly difficult task of making it through the day pushed any trips to healers in far-off lands further into the realm of the unrealized. Team Nancy's days were riddled with bullet holes created by the ever-present conversations about my mom's frightening condition. As local healers promised "relief" and asked for more money, our family had more realistic conversations about my mom dying.
As we were gearing up to have painful discussions about hospice, hope arrived in the most interesting fashion. One bright day in September of 2009, in the healing light of my mother's closet, I was trying on a striking, newly delivered pair of Oscar de la Renta black silk heels with oxblood gems and feathers as my mother was asking questions about the new garden project I was planning to install at the charity she had founded. It made her laugh as I twisted my ankle turning on the carpet. She wondered outloud how I would look in the garden in those shoes, teaching worm composting to teens aged out of the foster care system. My mom had become tired, really looking worn out. I was trying to keep the conversation light when the phone rang. Rita buzzed on the intercom to say Krishna, Bobby's wife, was on the phone.
It was a short conversation, but my tired mom went from weary to purposeful as she grabbed a pen to write down details.
"What is it?" I asked.
"You're not going to believe this! Guess who is going to be in New York in three weeks!" she shouted with the joy of hearing the best news possible.
I couldn't begin to think of who could get my mother that excited.
"Krishna just told me John of God is visiting the Omega Center in Rhinebeck, New York!"
I am fairly sure the glee on my face matched my mom's. I smiled as big as I could, first thinking my mom could finally meet him, and then thinking about my own possible salvation.
Weak no more, my mom once again had purpose. As she started ripping through her closet, my mom gave Rita the list of things she needed to prepare for the trip. Rita looked at me with hopeful yet concerned eyes. The message between us was clear and simple: It was time to get Mama to New York.