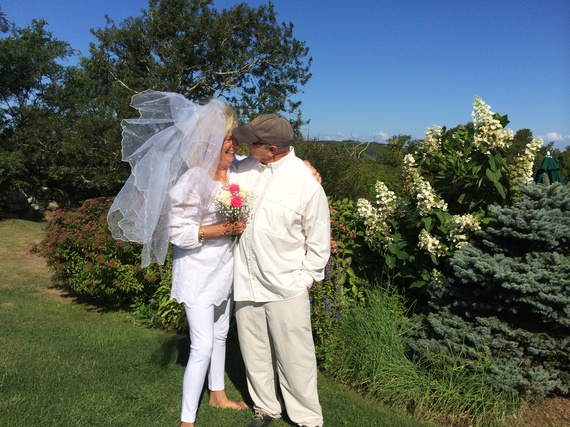 I met Mike Goldberg the first day of law school at the University of Virginia in September, 1969. By virtue of the alphabet, the F's and G's were separated into a small section for one of our subjects. I was one of a dozen women in the 340 man entering class, and we formed a close friendship, among a group of other guys, that strengthened throughout the years.
I came to New York City, hired by Frank Hogan as an assistant D.A. in the great office of the New York County prosecutor. Although from the South, Mike and his family moved here, too, and he practiced law at Cravath, Swain and Moore, before becoming a partner at Skadden, Arps. Robert Morgenthau tapped me to head the country's pioneering Sex Crimes Prosecution Unit in 1976, a fascinating job which kept me in the office for 30 years -- as we made groundbreaking advances with sexual assault, domestic violence, child abuse, and DNA, the science that has revolutionized the criminal justice system.
In 1987, I married Justin Feldman, a prominent lawyer and long-time political adviser who had been a leader in the Reform Democratic movement in New York. It was with Justin that I first came to Martha's Vineyard and our beautiful home in Chilmark. Justin died at the age of 92 in 2011, having had -- as he was the first to say -- 'a great run.'
Mike and I had remained best friends throughout all these years. After his divorce in 2013, we began to date.

The transition from best friendship to romance was....well, unusual. There was a slow progression at first, because I feared losing my dearest friend if it didn't work out well. But there was nothing mysterious about the outcome, and by the summer of 2013, we were pretty much inseparable -- spending time on the Vineyard, at Mike's ranch in Montana, and on his yacht TWILIGHT -- all incredibly romantic sites.
Late this summer, the talk turned to marriage. A week before Labor Day, we made an impromptu trip to the Chilmark town clerk to ask what was necessary for a wedding on the Vineyard. Very little, we learned. So we filled out the one page Intention of Marriage certificate, and when the clerk asked us where the wedding was going to be performed and by whom, we looked at each other and laughed. We had no idea but as it turned out the clerk, Jennifer Christy, was also a Justice of the Peace, able to perform the ceremony.
We didn't want a big wedding with a party. We'd both had way too many parties. Mike had business to do, I had a book to write, we had a Vineyard home to renovate and a Manhattan apartment to decorate. So for a wedding, we both wanted intimate, and we wanted to surprise everyone.
I'd always loved the idea of an elopement. It just sounds so romantic, and avoids all the fuss and anxiety of planning a big event. But how to elope from our home to our home, on one of the prettiest Vineyard hilltops on the island.
We had the perfect solution. The TWILIGHT sailed into Vineyard Sound on Saturday, September 6th and Jennifer had agreed to marry us in our garden on Sunday the 7th at 10am.
So we boarded the TWILIGHT on Saturday afternoon and went ahead with our plans to give a dinner cruise for a group of friends, keeping our plans secret all the while. It was an ideal distraction - a great meal, close friends, a magnificent vista of the island, and all surrounded by Mike's five-man crew, who are like family to us.
We were up at the crack of dawn, had breakfast on the boat and at 8am, we set off for the drive home. I stopped at the grocery store to get the Sunday Times and spotted some roses - three pink and three white. I snapped them up so I could make myself a bouquet.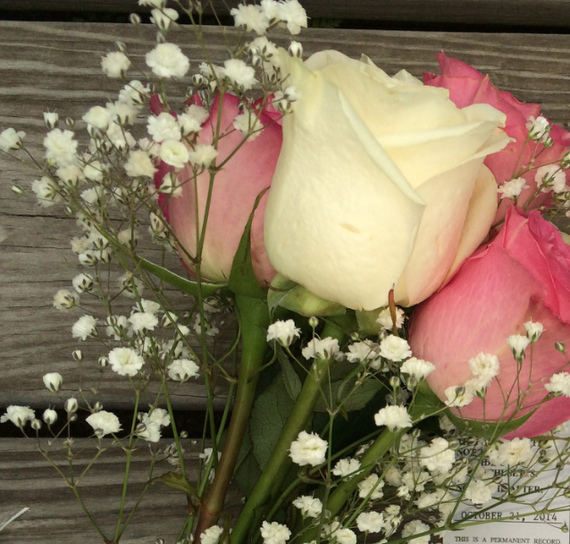 At the house, Mike left me alone to dress. He was determined to get married in one of his fishing shirts and his baseball cap. I opted for a new white cotton Escada blouse, leggings, and bare feet. There's no bridal shop on the Vineyard, so the previous week I mail-ordered a white veil for $26.99. Mike met Jennifer outside in the garden, while I executed my two surprises -wedding music on my iPad, for my walk out of the house (Dean Martin singing "SWAY" -- our song), and my veil.
Jennifer's ceremony was short and sweet. A minute later...after forty-five years...we were married.
As we went inside to sign the certificate, Jennifer asked if we wanted a photograph. She took the shot, with my veil blowing in the wind.
Afterwards, we picked up a white wedding cake at The Black Dog Bakery to celebrate with the crew. The captain and crew were stunned to see me in my wedding whites, veil and bouquet. Then TWILIGHT took off, as planned, for our fishing trip off Nantucket. We turned the voyage into the first leg of a honeymoon cruise, and soon were out fishing, complete with my veil.
I wouldn't have done it any other way. The elopement was so personal, so perfect for the two of us, and such a touching denouement to forty-five years of a rare friendship.