My family and I could not be more ecstatic! Nick won the bronze medal in his Olympic debut and his U.S. team members swept the podium! My husband, children and I are all smiles now and celebrating his success at the P&G Family Home.... what a difference from this morning!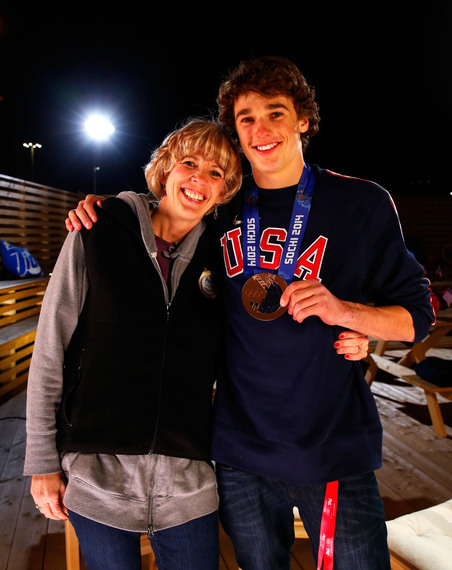 The day before competition, Nick had said that he was a little worried about the soft snow, especially since he is one of the smaller guys on the team and weight helps generate speed. Being from Indiana and learning to ski there and also in Vermont, I knew he was used to these conditions and had a game plan. I told myself to stay calm. He would focus on going forward in his jumps rather than switch, which is slopestyle lingo for going backwards. He spoke with my daughters, Kasey and Bradee, who always know how to ease his nerves and say exactly what he needs to hear. They are level nine gymnasts and understand the pressures of competition, so he listens to their advice. They told him we are proud of him, to stick with his plan and to just do his thing!

When we woke up on competition day, my husband and I were nervous. Very, nervous! As a mom, it's hard to be the voice of reason when all you want is for your child to achieve his dream, but I had to stay positive for him and my other children. My youngest, Jason (12), is always extremely anxious before a big competition. Not only is it my job to provide him and the girls with emotional support, but I always have to remind them to stay cool and show good sportsmanship while watching the event. The cameras are always on and that can be hard for a 12-year-old! In your heart you know it's not about winning, it's about staying true to yourself, trying your best and going out there to compete. My husband and I reminded our children of that and we left the hotel for Rosa Khutor. It was a beautiful day, the sun was shining and I knew it was the perfect kind of day for Nick to ski. It was "go" time!

When we got to the mountain my daughters were relatively calm. My son went to watch the competition from the fence and my husband and I were the antsy ones -- full of nervous energy. I thought I would have been prepared after seeing Nick compete a million times in the past, but this day was different. The Olympics are the pinnacle for any athlete. I smiled for this moment and waited for Nick's turn to shine. During the qualifying round Nick fell, which was almost too much for me to bear. My daughters calmed me down. They knew he would pull through and make it to the finals. Relief washed over me when he did well during his second attempt and he would in fact be able to compete for a medal.
During the finals I felt concerned that something was off. Nick seemed more nervous than usual and he didn't follow through on his typical pre-competition routine. Next thing I knew, his name was called. We looked at Nick on the big screen -- my family and I turned to each other and it was all a blur from that point on. He took an early lead in the final by landing a triple cork and we all held our breaths. His second run wasn't clean, but it didn't matter. He had put it all out there -- and for me, that was pure gold. After one more competitor we knew he would be bringing the bronze back to Indiana. We couldn't hold back our tears and joy!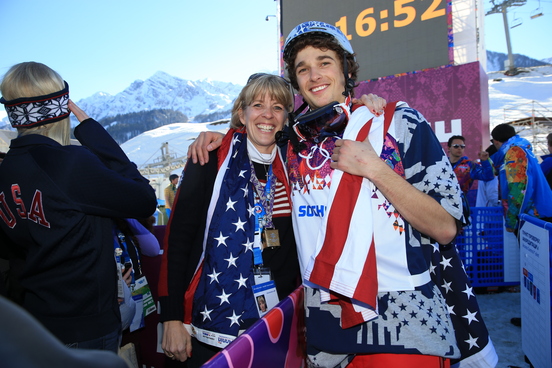 Nick wanted to team up with P&G and Tide on the Thank You, Mom program so he could honor our journey together to get to the Games. Now, all I want to do is thank him. Thank him for teaching me so many lessons of strength, courage and determination. I am so proud of him and as I look back on our journey in our Raising an Olympian film, I feel honored he is my son.