It's a deeply held notion that education is one of the greatest tools we have for lifting children out of poverty and giving them a chance to succeed in life. Nelson Mandela summed it up in his famous quote, "Education is the most powerful weapon which you can use to change the world."
As mothers, we share a universal desire to give our children the best start in life, and a good education is high on most of our lists. But simply offering access to education doesn't mean our children can or will learn. Genetics, health, the environment and a host of other issues can get in the way.
That's why I was so excited to learn about a program in China that's helping to close the education gap for poor children. While visiting the BabyCenter China team in Beijing last month, I met with the Rural Education Action Project (REAP). These dedicated researchers and public health advocates from Stanford University, Northwest University of Xi'an, and the Chinese government have found that a key barrier to education success -- and one of the cheapest and easiest to fix -- is good nutrition.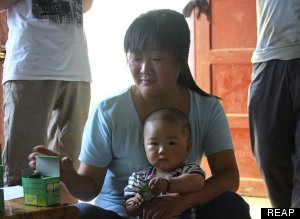 Through rigorous, evidence-based research, the team at REAP have proven that iron deficiency anemia, which affects nearly 40 percent of children in rural China, is directly correlated with poor education performance. Low iron status affects the way the brain functions and makes it extremely difficult to learn. The impact lasts a lifetime.
"This is a serious problem that's going to have real implications for China's economic development," explains Scott Rozelle, PhD, Helen F. Farnsworth Senior Fellow and co-director of the Rural Education Action Program at Stanford University. "Rural kids aren't staying on the farm anymore. They're entering the labor force, and if they aren't able to learn the skills they need to land a job in China's advancing economy, that's going to spell trouble for both economic growth and social stability."
The exciting news is that when children receive a daily nutrition supplement containing iron, their iron levels return to normal and their test scores and school performance dramatically improve.
Yes, a multivitamin that costs less than 4 cents a day can level the education playing field for poor and undernourished children.
The results of the REAP project were so convincing, the Chinese government recently doubled its investment in nutrition programs for rural children from $20 to $40 billion. Two-thirds of China's children (well over 100 million) live in poor, rural areas and they are critical to China's future.
Next up for the REAP team is a focus on baby nutrition in China, as initial results show that focusing on nutrition during the baby years could have even greater impact. "The numbers we have been finding are really astounding," says Rozelle. "We've surveyed 1,000 babies so far and found that 55 percent are anemic, and over 80 percent are borderline anemic. That's huge! Not only that, but around 70 percent of babies are developmentally delayed."
We all know how important the early years are for our children's development. Helping mothers and babies is one of the best investments we can make in our future.
What about you? Do you see changes in your children's school performance and behavior when they're eating healthy, well-balanced meals?
BabyCenter is a proud member of the Johnson & Johnson family of companies.