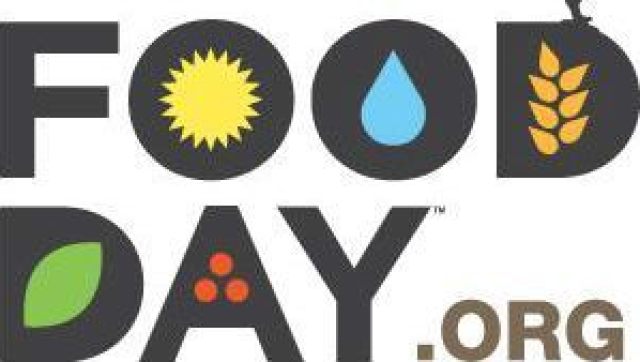 There is nothing more perfect than a simple bowl of oatmeal or cracked wheat with some seasonal fruit, other than watching children gobble it up. That for me is joy.

Knowing the farmer who harvested your kale that you marinated overnight in sesame oil, white wine vinegar and local honey with a mission (like Sweet Beginnings) is just delicious and watching your daughter ask for seconds gets my love light going.

Having a friend (Chef Bill Kim) come to your house to teach you to roast a chicken, make a stock, and meal plan with that chicken for the rest of the week is a lesson I will have for a lifetime and one I will pass on to my children. Hearing that the chicken came from a local processing facility with a reputation for clean, humane processing or if you prefer steak, to be assured your cow was "as cool as a cucumber as he made his way to the end of the line" (very Temple Grandin) could potentially be more than you wanted to know. Happy Food Day! Today we might take a wakeful moment to give thanks to Mother Earth for nourishing us and our families over the centuries. It is a great day to consider what we put into our bodies and to take particular notice of the beautiful domino effect of supporting local food systems.
National Food Day is an annual, nationwide celebration and movement for healthy, affordable and sustainable food. Created by the Center for Science in the Public Interest (CSPI) the day is powered by a diverse coalition of food movement leaders, organizations, and individuals with the ultimate goal of strengthening and improving our nation's food policies, addressing issues such as nutrition, hunger, agricultural policy, animal welfare, and farmworker justice.

Last week, the City of Chicago's Farmers Market Program co-hosted a "Meat Market" marquee event organized by the Food Day Chicago 2012 Planning Body, Red Meat Market, sponsorKIDS Charities CanUDigIt Campaign, and Building a Healthier Chicago to spread the word about healthy recipes and cooking to hundreds of eager residents.
Whole Foods in Coral Gables is supporting healthy eating and National Food Day by donating 5 percent of the store's net sales to the organization I work for Common Threads. These funds will go towards supporting a new pilot for 20 targeted Miami Dade Schools, all in low-income minority neighborhoods where at least 80% of students participate in the free or reduced school lunch program. Each of these schools will receive integrated, in-school and after-school programs that creatively and uniquely teach students how to live healthier and how to cook. Each of these courses has been mapped to the common core standards and the in-school programs have extended lesson plans for integration into the classroom. More on this later, I promise.
Babson College in Massachusetts, a school dedicated to public health, nutrition and agriculture, is celebrating Food Day by hosting their annual Food Sol events on October 23 and 24th. Entrepreneur in Residence Andrew Zimmern (host of Bizarre Foods and Bizarre Foods America and a very cool to the core guy) was invited to campus to host a discussion to help inspire, activate, and accelerate food entrepreneurship. On October 24th, the university is hosting a marketplace full of fresh produce and ideas to captivate your minds and bodies. I wish I had that in college.
Island Grown, a non-profit organization, offers a model with a commitment to seeking environmental and social returns. Equal parts community support, education, and sustainability, this organization offers farm-to-school programs, educates beekeepers, and provides processing facilities for local poultry farmers. Should I ever visit Martha's Vineyard, I will need a stove so I can roast one of these chickens.
Check out the National Food Day website to find out about local events such as these in your area and see how you can support the movement: www.foodday.org.

My offering to you, in honor of this cool holiday, is one of my favorite recipes made with "Fruits of the Gods" and is just pure love. OK, so maybe not pure, but love nonetheless.
Low-Fat Mexican Chocolate Brownies
12 servings (each serving contains 177 calories and 4 grams of fat)
INGREDIENTS:
1 cup water
1 cup pitted dates
¾ cup unsweetened cocoa powder
¾ teaspoon ground cinnamon
3 oz. 70% high quality chocolate, coarsely chopped
2/3 cup packed light brown sugar
3 large eggs
¾ teaspoon vanilla
¾ teaspoon baking soda
1/3 cup all-purpose flour
Vegetable oil cooking spray
1 teaspoon confectioner's sugar for dusting
DIRECTIONS:
1. Preheat oven to 325 degrees.
2. Chop dates in food processor. Bring water and chopped dates just to a boil in a 1-quart heavy sauce pan, then transfer mixture back to food processor and add cocoa powder, cinnamon and chocolate, pulsing once to combine. Let cool for 2 minutes.
3. Add brown sugar, egg, vanilla, baking soda and a pinch of salt to chocolate mixture. Puree until smooth. Add flour and pulse just until incorporated.
4. Spray a 9-inch baking pan with cooking spray. Pour batter into pan and bake in middle of oven until a wooden pick or skewer comes out clean, 18 to 22 minutes. Cool on a rack 10 minutes. Just before serving, sprinkle tops with confectioner's sugar